I heard from my friend Cindy who lives in Kansas City, that she and her daughter were coming to Florida on vacation. We decided to head to Miami for some shopping at the Top Miami Malls and sightseeing.
There are a total of eleven malls in Miami that are worth visiting. Our top three picks are Bayside Marketplace, Dolphin Mall, and the Miami International Mall. The Bayside Marketplace is a festival market located in downtown Miami in Brickell. Bayside is the most popular and is the closest to most tourist activities. It offers the full Miami experience with shops, restaurants, and great views of the Biscayne Bay area.
I had not been to Miami in years, and I was not sure what my friends wanted to see or liked to do. Shopping in the Top Miami Malls was on their list, but I wanted to visit Miami since I recently went to Cuba. I thought it would be fun to tag along and get some great food, like tostone burgers, and see the sights of Little Havana as well, while we were in Miami.

Getting There
Miami is a straight shot down I-95 on the East Coast of Florida, or you can get there from Florida's Turnpike and then head east. If you are coming from the southwest coast of Florida, you can get to I-95 from Alligator Alley.
The great thing about Vero Beach is that it is centrally located, and Miami is only three hours away.  We wake up at 5 and head out to make the most of our day. The first thing my friends want to do is go shopping.
1. Number One Pick – Bayside Marketplace
The Bayside Marketplace is surrounded by Biscayne Bay, so there are great views of the water and city.
There are plenty of eateries and live music for your entertainment at Bayside Marketplace.
There is a Hard Rock Cafe, along with other great restaurants. You will also find plenty of bars and entertainment. Most of the restaurants are open-air, and they are spaced out nicely so you can enjoy the music without other venues interfering with your experience.
The marina hosts all kinds of personal yachts and boats as well as commercial vessels to take tourists out. While walking around the mall, you will find tour companies offering information about their excursions and how to see the sights of Miami.
We arrive at 10 AM, and they are just starting to open.
The Bayside Marketplace was nice because it is an open-air market with an international feel.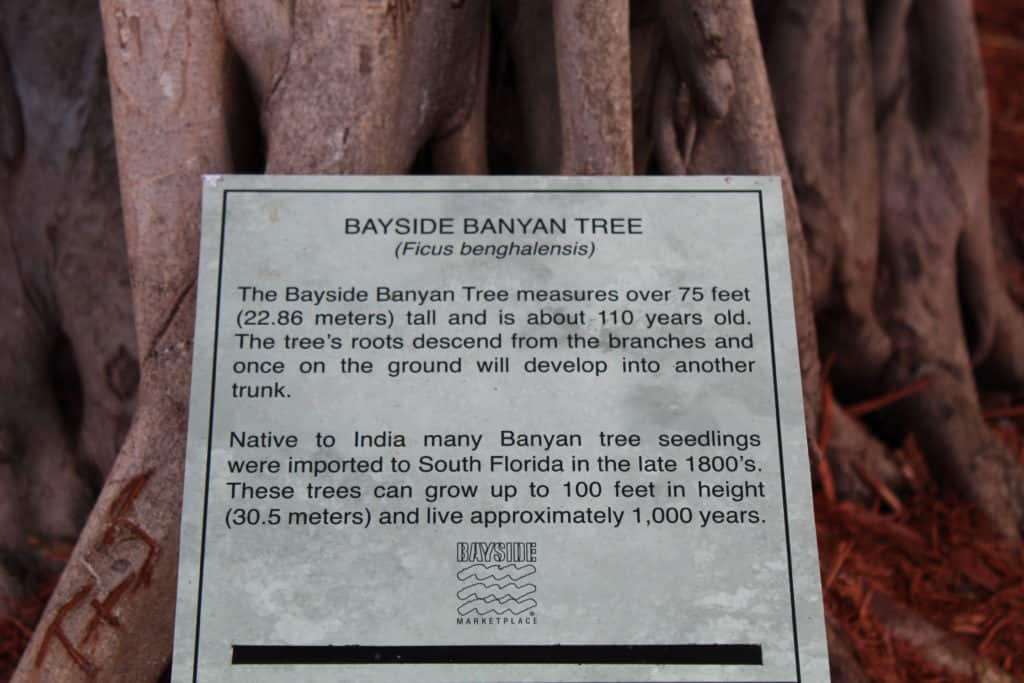 There were plenty of the usual mall shops like Nike and Sketchers at The Bayside Marketplace, but you could also shop in smaller open areas that provided you with unique tropical clothing, hats, and accessories. Kiosks are all over the outer areas before you even reach the mall, so there is something for everyone and every budget.  
Dress in lighter clothes as it does get warm by noon.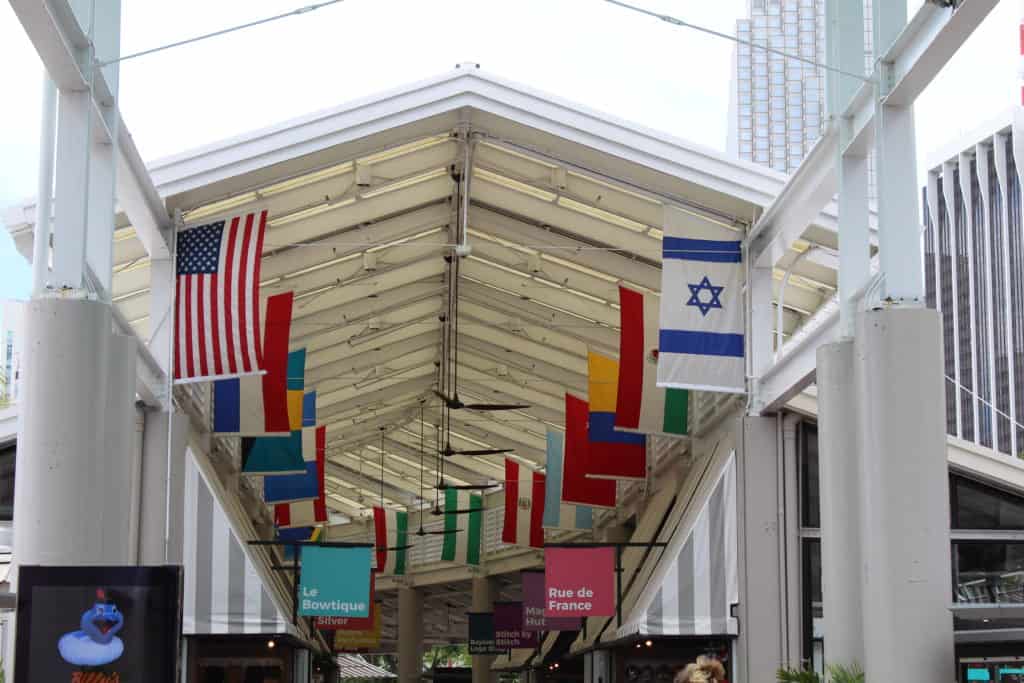 Many high-performance boats and yachts were docked in the area.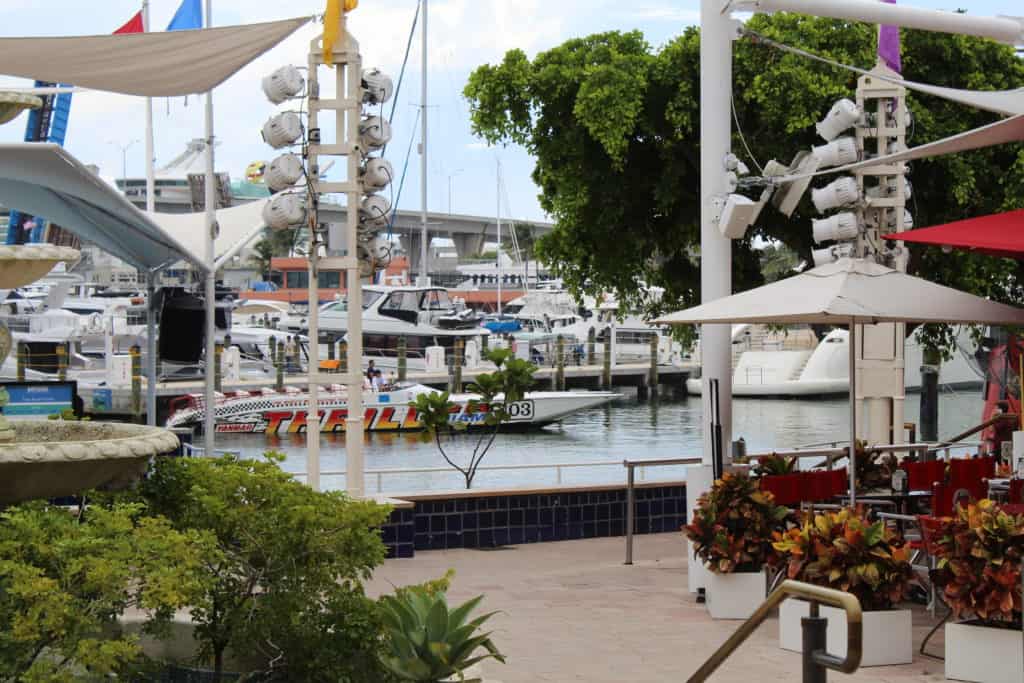 Surrounded by water, my favorite part was the boats and water views. You can enjoy lunch or a cocktail and watch the boats come in and out of the marinas.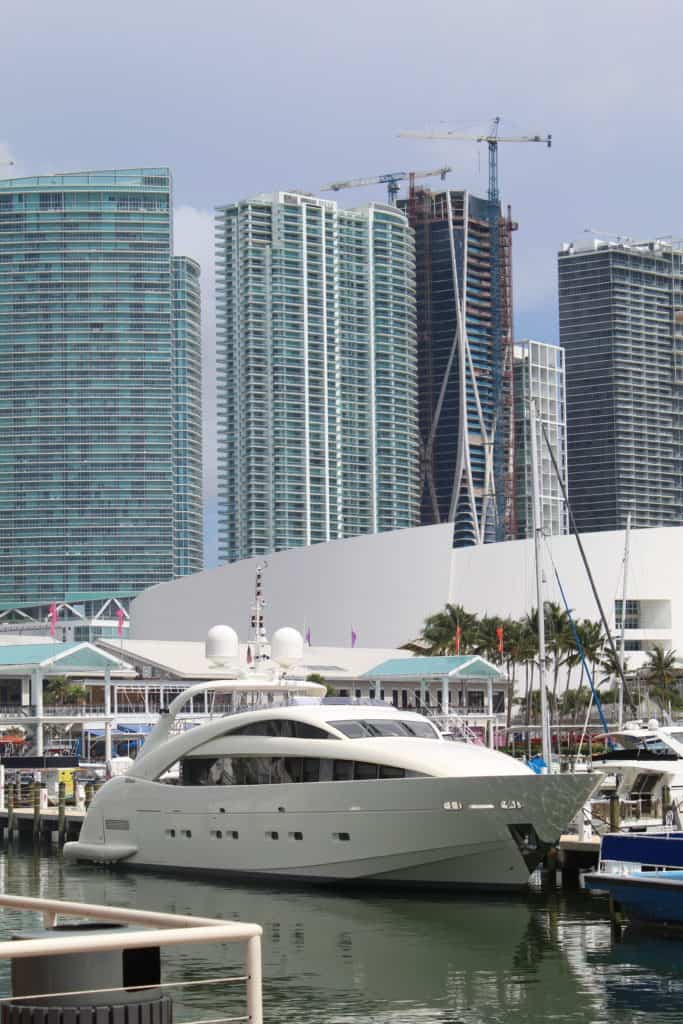 Tourist Excursions
There are also plenty of tours and excursions along the bay and at the entrances that you can book while you are there.
This red ship was a Pirate Excursion that was offering tours of the Biscayne Bay area. This would be a fun excursion for kids. The parents still get to see the islands, downtown skyline, and houses of the rich and famous of Miami, all from the decks of a pirate ship! There's no better way to discover Miami and keep the kids happy as well!
Here is Cindy enjoying some Nitro frozen cereal. She thought it was ice cream when she purchased it. Great for kids!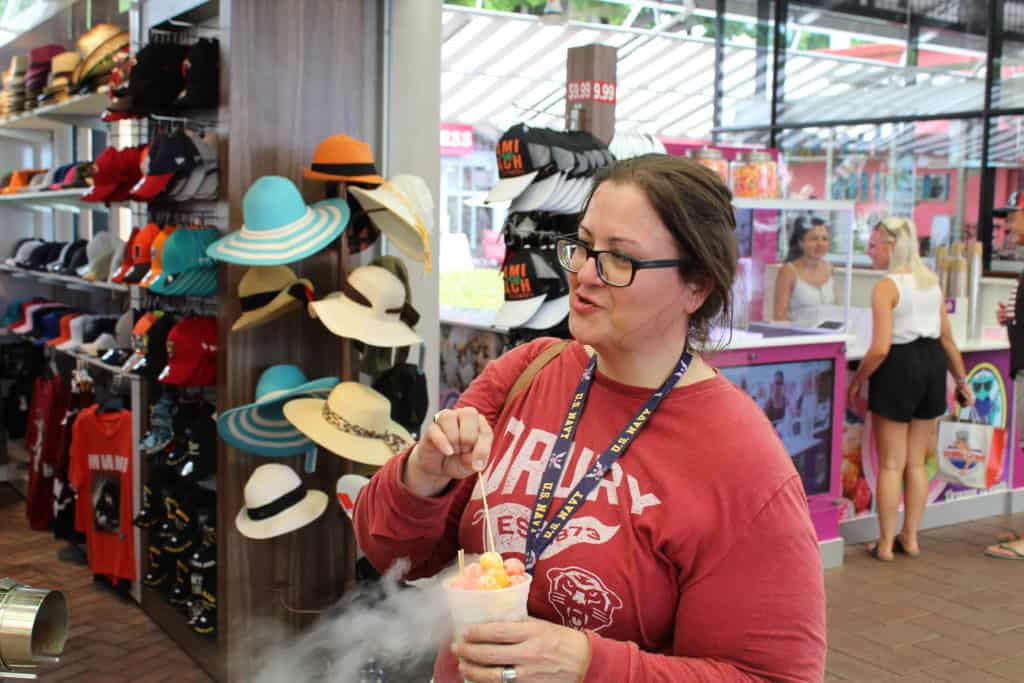 Tip: If you plan to explore more of Biscayne Bay and downtown Miami, leave your car at Bayside. There is all-day parking, and it is very inexpensive. Once you leave Bayside, you can get on the Brickell Loop to get around the downtown area.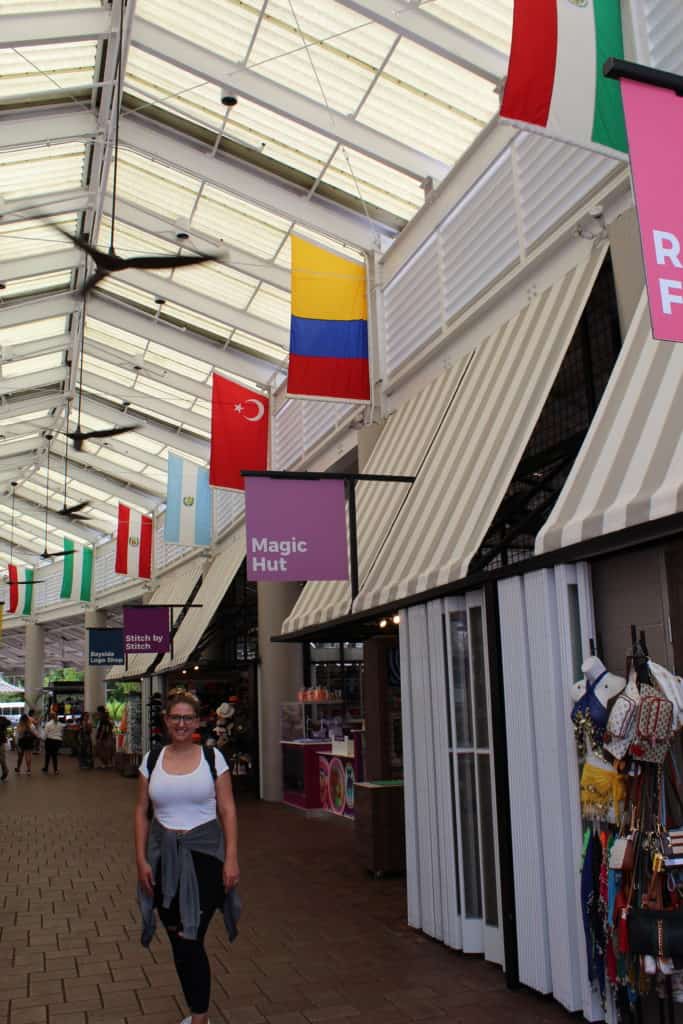 The Dolphin Mall was on the list of the top ten places to visit in Miami as well, so we made the drive there and decided to get lunch at the Kobe Steak House. Dolphin Mall was more of an outlet mall with shops like Neiman Marcus Last Call and Saks Fifth Avenue Off Fifth. If you are looking for deals on designer clothing, this is the mall to go to.
Miami International Mall is an enclosed shopping mall in Doral, Florida in southwestern Metropolitan Miami. Its hours are 11 AM – 7 PM compared to the Dolphin Mall, which is open from 10 AM to 9:30 PM. It is only half a mile away from the larger Dolphin Mall.
It is also close to the airport, hence the name International. I needed to get to a Macy's, which was housed at Miami International Mall and has more mainstream anchors and stores. 
Miami, Florida, is one of the nicest and cleanest cities I have visited in a long time. Visiting the top Miami Malls should be on your list if you like to shop. I look forward to going back with my husband for a trip.
See where else we went to while in Miami!