This is how I found Pincho's Toston Burger. One evening I was on Facebook and I saw this video with a new burger floating around on my news feed. It was essentially a burger in between two plantain patties that were smashed and then seasoned and fried and it was called a Toston Burger from a restaurant called Pincho. There was a special secret sauce and I am not sure what captivated me, but I had to try a burger from Pincho!
I updated this article to reflect the new name Pincho. They are no longer calling themselves, Pincho Factory.
As I headed to Miami with my friends I told this was a must for our trip. It was not negotiable! I had to find Pincho and try the Toston Burger.
Here is a video about Pincho Factory from Pincho Factory!
As you can see they have unique foods with both a Middle Eastern and South Florida influence.
Getting There
We are at Bayside and we start asking around to see if Pincho Factory is nearby. Someone mentions we can take the Metromover, which is a free tram just a few blocks away and keep our car parked at Bayside which is far less expensive than where the restaurant is. Locals instructed us to get on the Brickell Loop for a much easier time.
I love this tram. It takes you on a loop all throughout the Brickell Financial District and it is totally free. We hop on and pull up our GPS so we can see where to get off the tram.
I am so glad we walked to the tram. Once off the tram, we were in a pretty cool neighborhood that we probably would have never seen. I love architecture and Miami is full of beautiful buildings and scenery. I do not think I have been in a cleaner metropolitan city. The people in Miami are happier as well. All of the bright colors and sunshine keep people smiling in this city!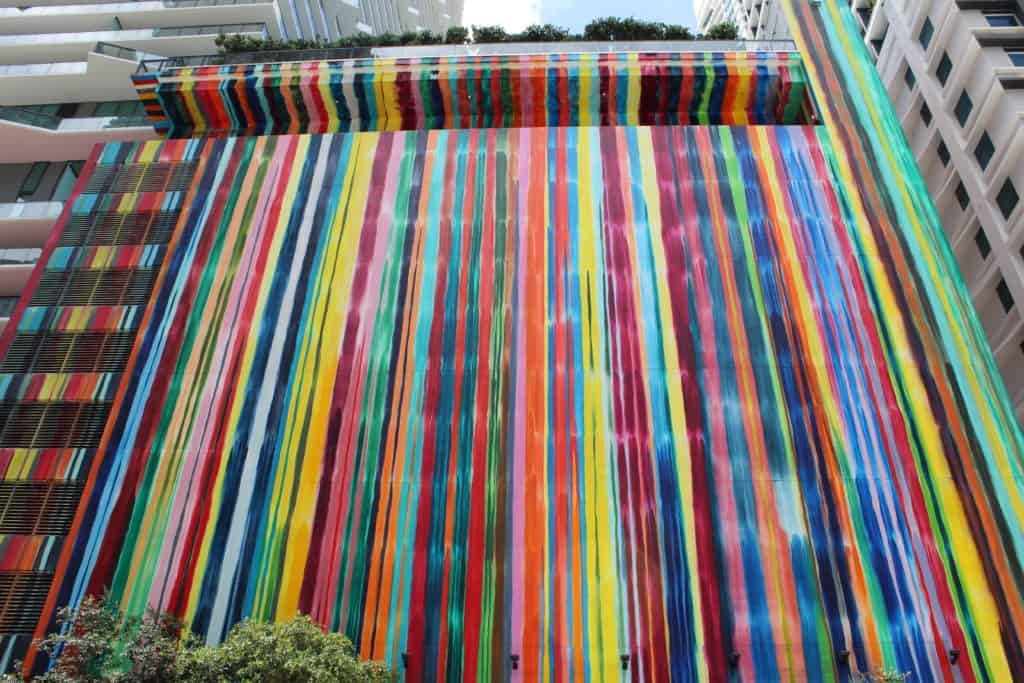 We head down to the corner take a left for another half block and we are at Pincho Factory! I can't wait to get in there! It is blazing hot out and I need some water.
There are several locations in South Florida as far north as Fort Lauderdale. 10 total with their newest addition in Doral, FL. I will continue to check back and see if they are adding any more restaurants further north. It will definitely be worth going out of my way for the Toston Burger.
Their Story
Here is a link to their website with their story. It is worth watching as they represent the American dream. I love when young entrepreneurs come up with a great idea and it takes off! These guys have taken their different cultural backgrounds and taken that diversity to disrupt the food industry. At least in South Florida. I have no doubt that if they wanted to go national they could. They are currently offering franchises.
Now I am there for one thing and one thing only….. the Toston Burger!
We walk in and it is simple but modern. It is a little before lunch so we are just in time to beat the crowd. There are tables outside and inside so we go in to get a reprieve from the heat. My friends order our food and I sat down to mess with my camera, cool off and get some water. They provide you with a number for your table and you wait for the food to be delivered to your table. You get your own drinks at a drink station.
And it comes out within minutes……
I can not wait to dig in. It was worth the walk-in 90+ degree heat. The plantain bun is crispy and has a savory seasoning on the outside and lightly sweet and firm inside. Savory and sweet… what a great combination! It comes with its own sauce. I have no idea what was in it but it was perfect for this burger. They call it the Secret Pink Sauce which has cilantro.
The beef here is also high quality. I am a huge beef eater but I am super picky. You can tell the owners are too. Humanely raised and handled meat, all their food is made from scratch never frozen. I would highly recommend you stop by any of their locations and try something. You will not be disappointed!
The Menu
They offer several other burgers and they all look amazing. They offer six burgers all under $9 with most being $7.99! The prices here are super reasonable for the quality of food. You can also opt for chicken as well. The add ons are another patty, fried cheese, a fried egg and bacon.
Their signature dishes allow you to pick and choose your ingredients starting with a base of a wrap, rice bowl or salad. Then you add your meat. Chicken, beef or shrimp which are all humanely raised and hormone-free. Then you pick your style if you are getting a bowl. Fresco, Latin, Chimichurri and Mediterranean. For the wrap and the salad, you have your choice of the Mediterranean, Fresco and California.
They also offer a Kabob. Steak, chicken or shrimp with your choice of the above sauces and seasonings.
My friends ordered for me so I had no idea they had something other than regular fries. I should have known better. They offer cajun fries. But what caught my eye on the menu are the Perfecto Fries. Smothered in onions and the secret cilantro sauce. That would have been the perfect side for the Toston Burger. Next time that will be on my plate!
Have you gone to Pincho? Please let me know about your experience in the comments below. What is your favorite dish at Pincho?
I look forward to hearing from you!
See where we went next in Miami! Also, check out Miami's top shopping spots!