This is a sponsored post with Visit Johnson City. All opinions are 100% my own. As you know, we love the time we spend on Boone Lake. This year I have made a commitment to get out and see the sights in Northeast Tennessee. I wanted to start with Johnson City which is one of the three cities that makes up the Tri-City regional area of Northeast Tennessee. It is also the closest city to where we are on Boone Lake. We plan to be here more often and there are so many things Johnson City has to offer so I wanted to make sure to find out everything about the downtown area.
I reached out to the Johnson City Convention & Visitors Bureau to get the inside scoop on this great area. It is rich with history and has fun outdoor activities for all ages. Jenna Moore, the Director of Sales for the Johnson City Visitors Bureau, offered to show us everything about Downtown Johnson City! Thank you, Jenna! All opinions are 100% my own.
History of Johnson City
Before we get started, I want to do a BRIEF history of Johnson City because it will tie into some of the sights we saw downtown. There were some famous settlers in the area dating back to the mid-1700s.
The town was actually founded in 1856 by Henry Johnson as a railroad station called Johnson's Depot. It became a major railroad hub with three major railways that crossed in Johnson City's downtown area. Johnson City, Tennessee is a part of the larger Northeast Tennessee region.
Recently, Johnson City was ranked #65 for "Best Small Place for Business and Careers" in the US by Forbes and #5 "The 10 Least-Expensive Cities For Living in the U.S.A." by Kiplinger's.
Climate and Geography
Being located in the heart of the Appalachians, Johnson City offers a diverse area of mountains, valleys, lakes and rivers. This makes it an outdoor recreational mecca! The temperatures in this area rarely exceed 90 degrees in the summer and it only snows a few times a year during the winter so you can play outside here 10 months out of the year.
With its mild winters, low property taxes and a reasonable cost of living it is becoming widely known as a great place to retire and live. You can find plenty to do all year long, which also makes it a great place to visit!
Touring Downtown
Tannery Knobs
The cool thing about Johnson City is that they have so much to offer right in the downtown area. One of the newer attractions to the area is Tannery Knobs Mountain Bike Park. Mountain biking is a newer trend in Johnson City and one that is quickly catching on.
Don't think this is just for young guys looking to shred the trails. Is that the right expression? Shred might be a surfer term! Regardless, there are trails for beginners and advanced riders.
The trails are professionally designed and built with all riders and abilities in mind. The park can be used for hiking as well which makes it accessible for the entire community. Situated looking over downtown Johnson City, the trail will take you around in a full circle back to the beginning.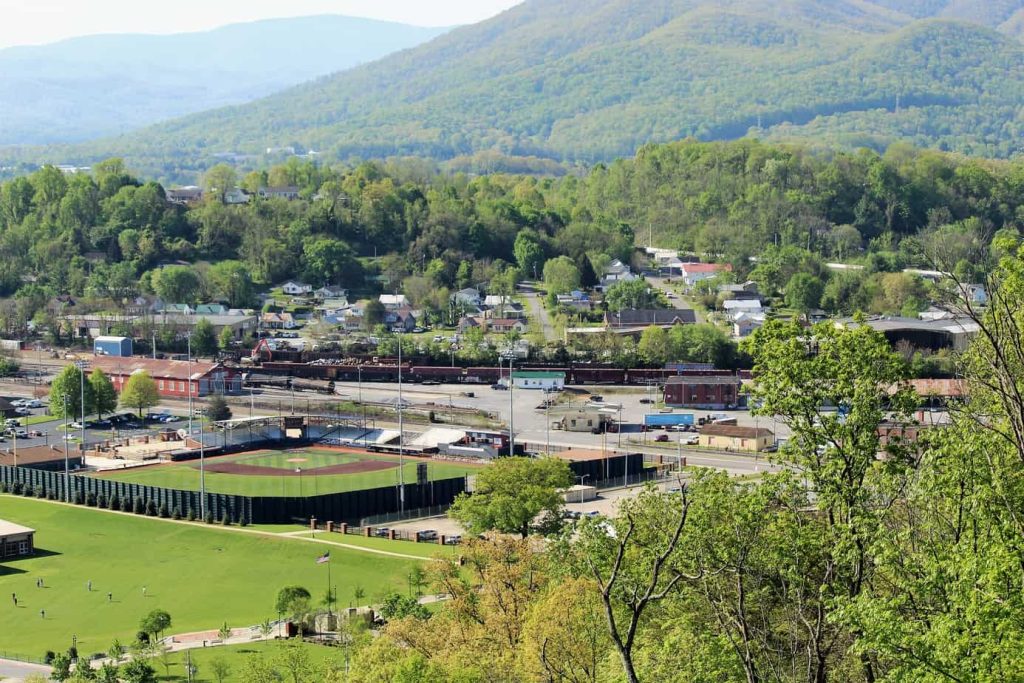 Tweetsie Trail
The Tweetsie Trail runs from Johnson City to Sycamore Shoals State Park in Elizabethton. It is 9.5 miles in length and it is the longest rails to trails project in Tennessee. We walked about a mile of the trail and although it was not crowded there were plenty of people enjoying the trail on this cool spring morning.
There is a lot of history on this trail as it is originally a train track that ran from Johnson City to Cranberry, North Carolina. It was formerly the ET&WNC train system. The trail now takes you to the downtown areas of Johnson City to Elizabethton where you can grab coffee or lunch after using the trail.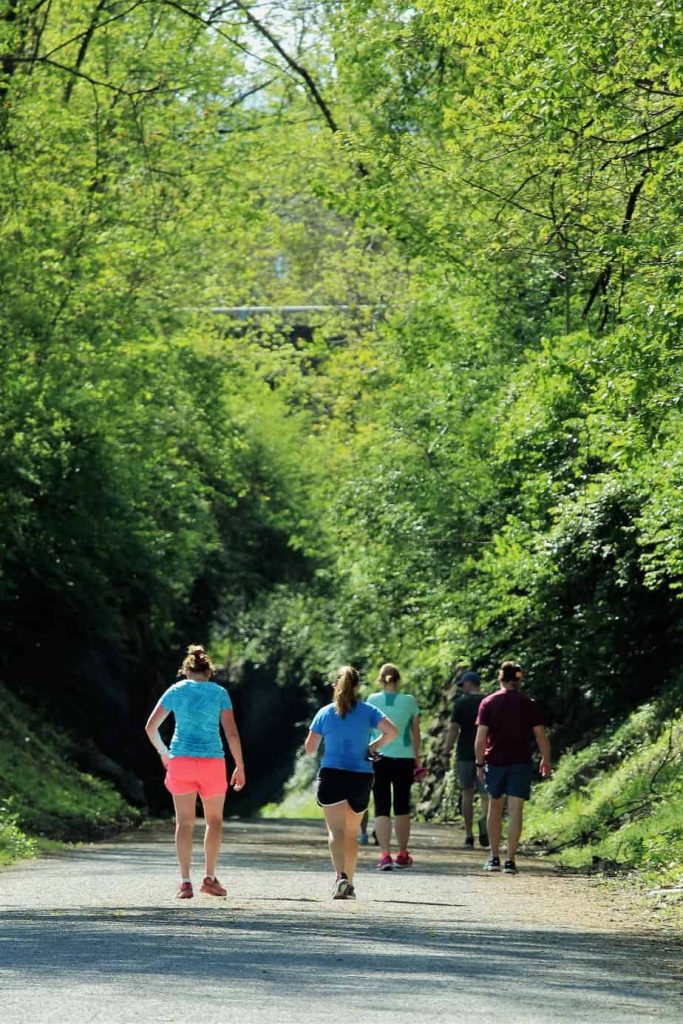 It is a gorgeous trail for walking, running or biking in downtown Johnson City. Pets are also welcome on the trail and it is wheelchair accessible due to its flat grade. The trail is made from crushed stone and has plenty of shaded areas and an interesting landscape.
BoomTown & Company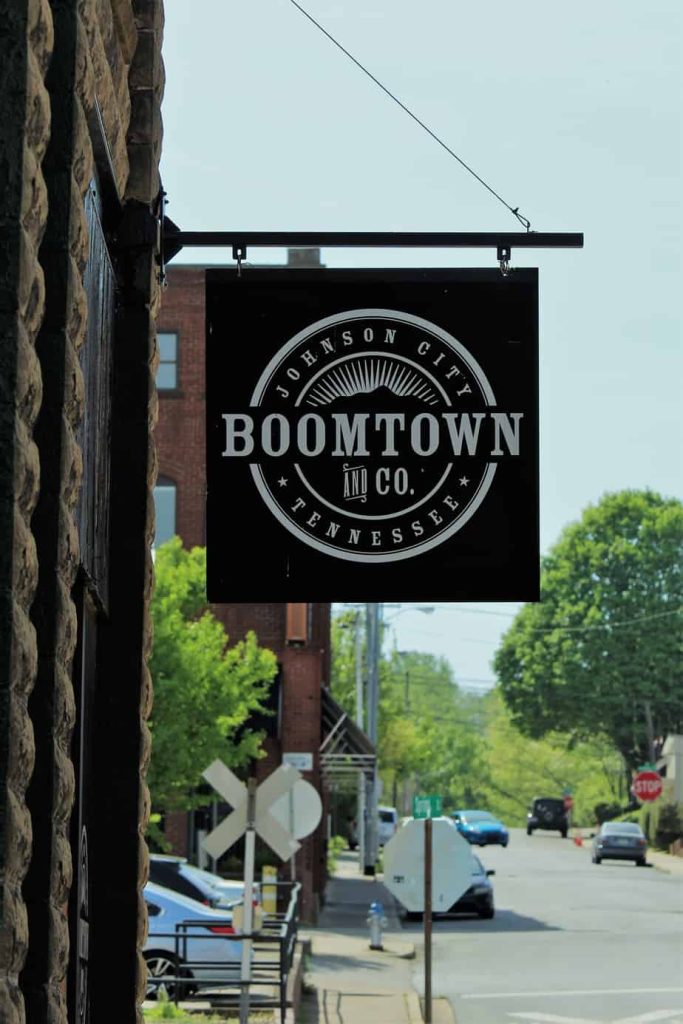 BoomTown & Company is a clothing shop that is focused on an urban mountain feel with a local and state focus. You can find hats, shirts and accessories in the shop. On their website, it states, "expressing local focus with state love".
All of the clothes there are of high quality and have a local or state theme. They have the shop in downtown Johnson City as well as a kiosk in the Johnson City Mall. They are pet-friendly in the downtown shop location.
Willow Tree Coffeehouse and Music Room
As we continued to walk around the downtown area I saw a lot of eclectic spots that deserve a mention. Downtown Johnson City is heavy on the arts and music scene. Pets are generally permitted in most spaces including indoor shops and outside restaurant areas. Willow Tree has open mic nights, a great menu and an art gallery. It is a super cool space just to hang out and read or connect your laptop.
As we continued to walk around the downtown area we saw lots of cool art and shops. No one seemed to mind that we had Bo and welcomed us into their shops. Here are some photos of random pictures I took as we walked around.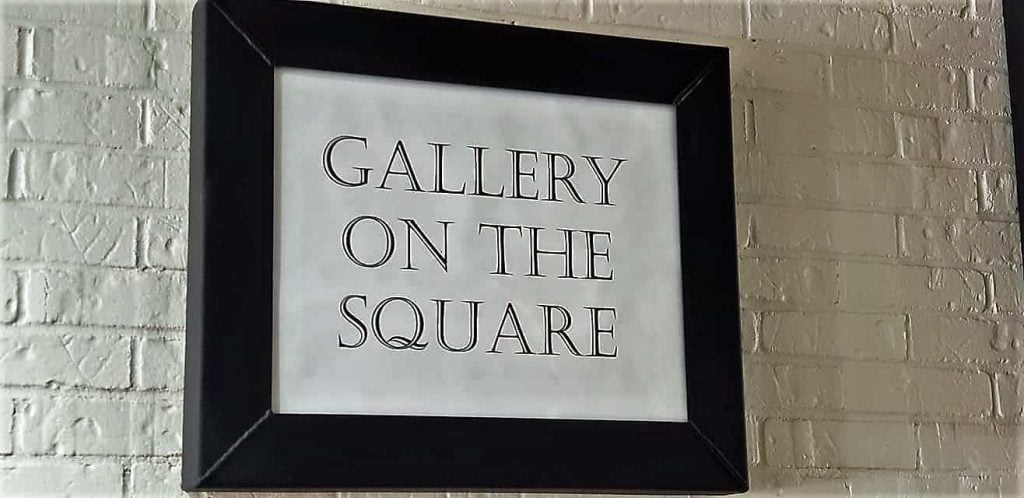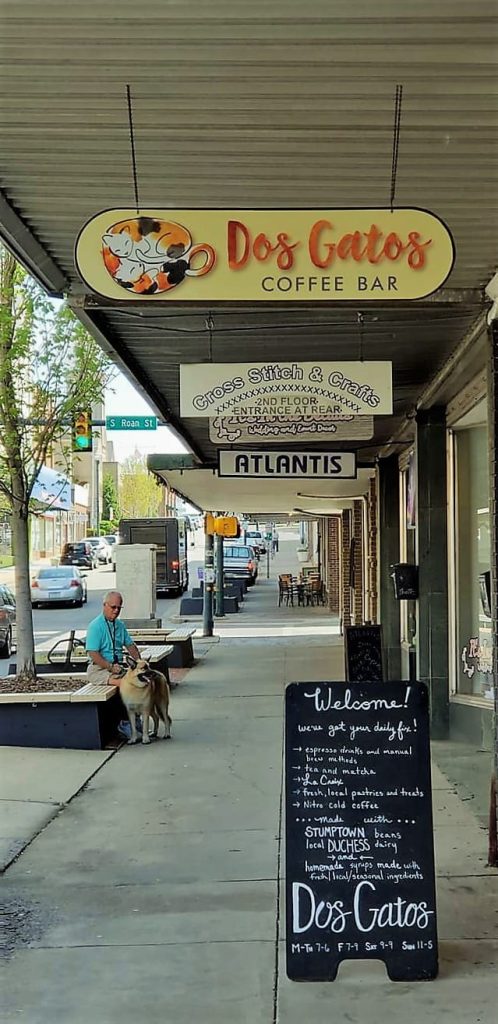 According to legend, Johnson City was nicknamed Little Chicago in the 1920s, during its bootlegging years. Rumor has it that this was the halfway point from Chicago to Florida and Al Capone used to stop here on his way to Florida and possibly even ran his business through Johnson City.
Reclaimed Inspired Goods
I absolutely fell in love with Reclaimed Inspired Goods. I am creative but whoever designed this store really has talent!
My words can not really do it justice but if you are looking to retire here or want to get some cool items for wherever you live, you will be able to find unique items to ship home. These are the people to hire to help decorate your home if you move here.
Here are some photos to enjoy the cool decorative home items and ideas they have to offer. Reclaimed Inspired Goods is also pet-friendly!
Trek Bicycles
I have to admit, I was a little surprised when Jenna took us to Trek. Although it is a cool place, I was not really sure why Trek would be on the list. That was until we met Chad Wolfe, the passionate manager of Trek. I understood why Jenna brought us to meet Chad.
We learned how much Trek Bicycles means to this community and how much Johnson City means to Trek. Trek opened in Johnson City in 2015 and has been investing heavily into this community. They were involved in the Tannery Knob and Tweetsie Trails projects.
Chad explained that Johnson City is the perfect place to build fun, versatile bike trails that are easy for any level rider because Johnson City is authentically an outdoor recreational haven right in the downtown area. Especially for Boomers!
Since opening in 2015, Trek has invested heavily in the Downtown Johnson City community with Tannery Knobs and the Tweetsie Trail for riders. They also started Taco Trek, in partnership with Holy Taco, as well as Bikin' and Eggs have turned a weekly ride with a few riders into a monthly event with over hundreds of participants.
Chad believes that Johnson City has the perfect climate and geography for the outdoor industry. Trek has followed suit and helped to build the industry in Johnson City and raised the quality of life helping to attract other businesses to the downtown area.
Chad is truly passionate about Johnson City, what it has to offer and building this community into a successful recreational area for all ages and abilities.
You can watch why Chad and Trek think Johnson City is an awesome place to come to!
Holy Taco and Cantina!
Time for lunch and it is Bo Approved! We head over to Holy Taco for lunch and a much-needed rest! The four of us had walked all over Johnson City and Bo needed water! We asked Jenna to make suggestions since she was a frequent flyer at Holy Taco.
We started with the Our Kind of Queso & Chips with a side of guacamole. The Queso dip was REALLY good because they add Gouda cheese to their Queso. YUM!
Next, we ordered the Nasty Nachos, Flat Iron Burrito and Jenna ordered a salad with their El Camaron, which is Diablo shrimp, lime, roasted red peppers, jalapenos, cilantro and cilantro sour cream sauce.
The food at Holy Taco and Cantina was so flavorful, reasonably priced with really large portions. We did not even think about dinner!
Holy Taco is also the partner with Trek in Taco Trek! Now, in a monthly event, the town comes together for a group ride and heads over to Holy Taco for some food!
Skillville Community Workshop and Makerspace
This is probably the most unique business we have found so far in Johnson City! Skillville Johnson City is a community workshop where people can come and take many different types of classes ranging from painting, welding, blacksmithing and woodworking, to resin work, fiber art, printing and pottery! The list is as long as your imagination!
At Skillville you can also purchase a membership, have group sessions, or take individual classes.
We were lucky enough to have one of the owners take us on a tour of the facility.
Green Space in Johnson City!
The businesses in Downtown Johnson City do not mind that we had Bo with us and there is also plenty of green space for your pups here as well.
In Founder's Park, you will find the Johnson City Farmer's Market as well as free yoga classes and music at their Founder's After Five events.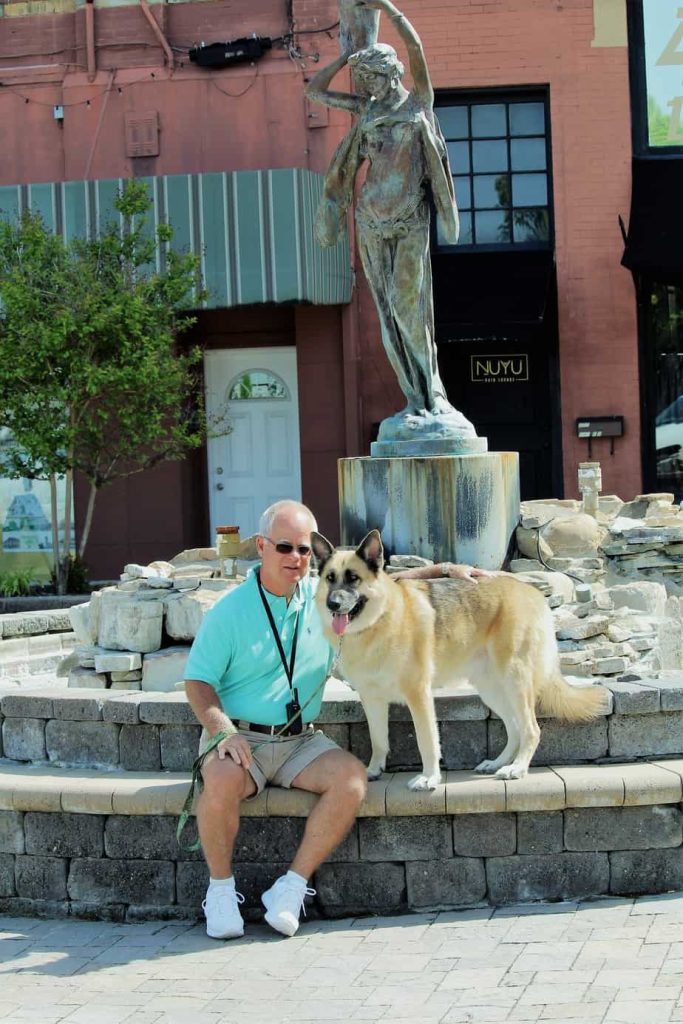 King Commons park is in actuality a flood control project turned into a park. The sidewalks, landscaping and walls were all built to prevent erosion and direct the water to protect downtown Johnson City. The park is three acres. You are able to bring your pets, kids or just yourself and relax in this green space when there is no water.
The Johnson City area is growing in popularity so we will keep you updated with the fun things that are available here. This summer we came back to the Northeast Tennessee area to show you many other cool places to visit. Be sure to also check out Jonesborough and Bristol when you are in the area!
In the comments, please be sure to tell us about your experiences here in Johnson City!