Every year Nascar fans come by the hundreds of thousands to Bristol, Tennessee for August Race Week to watch their favorite drivers compete on the Bristol Motor Speedway. Every year my husband's partner wants us to accompany him to his lake house on Boone Lake for this event.
This year we came to Bristol, Tennessee with our partners from Northeast Tennesse. We got a lot of great information about the communities that support the race and the fans! This is a sponsored post. All opinions are 100% my own.
This article was originally written the first year I was able to go to Boone Lake even though we did not attend the actual race. We did, however, get to visit Bristol and see the fanfare for this great event. I have since updated this article to show two years of sights and scenes from the Bristol events since I have been traveling to the area.

Book Highly recommended Activities and Attractions in Bristol Below
Downtown Bristol
Before the race even begins there are tons of events going on the entire week for the whole family to enjoy. We were able to make it this year to Food City's Family Night and enjoy seeing downtown, Bristol. The event is completely free and hosted by Food City! The free fan event will host the official autograph session for the playoff contenders in the NASCAR Gander Outdoors Truck Series.
I have to tell you the people driving through were awesome when we were trying to take this photo! They stopped and waited for us to finish even though they had every right to continue through. The folks here are super friendly and they love their Bristol race fans!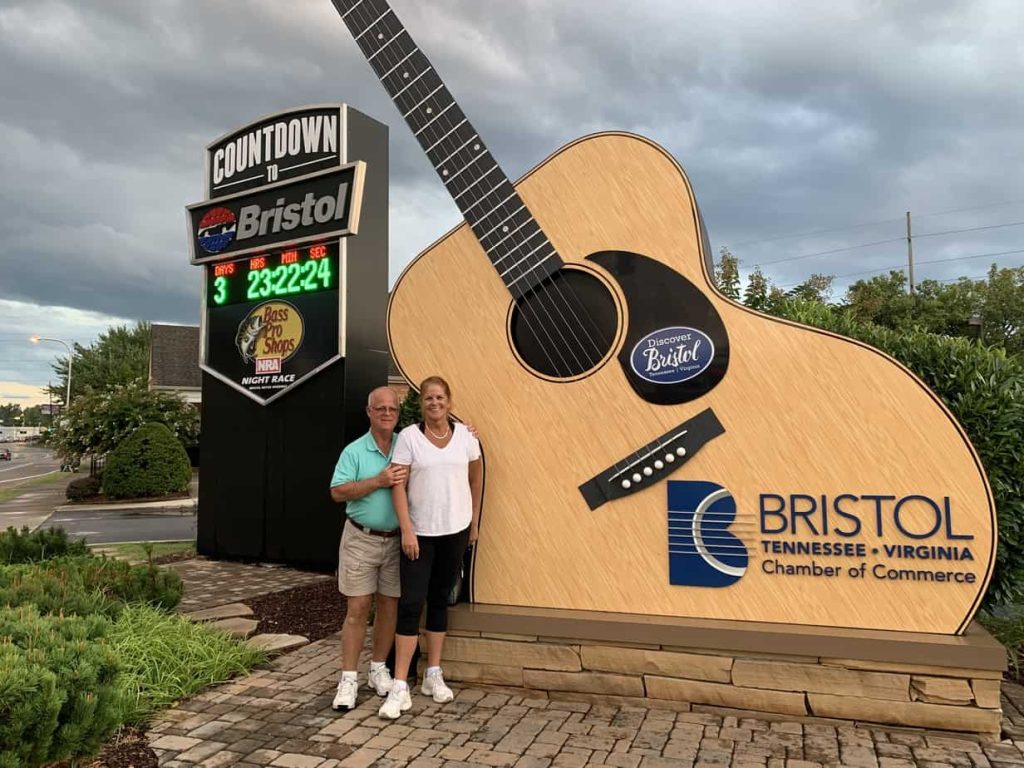 I also found out that Bristol is also the Birthplace of Country Music! There is a rich history in this area that can keep you very busy when you come for a visit!
Food!
We headed to dinner at Cootie Browns. A local restaurant with a pretty unique menu. We were lucky to get there early enough to get a seat right away. We opted for the outside seating so we could people-watch as race fans walked around.
They had an amazing appetizer of Blue Cheese poured over their famous curly fries. If you love Blue Cheese, get it! You will not be disappointed! The fries are covered in a warm chunky blue cheese sauce! They are also known for their authentic Tamales! The tamales tasted just like the tamales I have eaten in Mexico.
We headed over to the downtown area which was blocked off for a huge party! Food City Family Race Night was in full swing when we arrived. Thousands of fans were dancing and playing with their kids in the downtown area of Bristol.
As we headed through the downtown area we decided to pick up dessert at a local bakery. We walked through the crowds and there were vendors and food trucks everywhere. My favorite part of this scene was to see the families out with the kids looking at race memorabilia, cars and listening to music.
We turned the corner and headed towards our desert destination. The Burger Bar, where Hank Williams ate his last meal is also in Bristol was on the way.
Blackbird Bakery
Blackbird Bakery has to be the best bakery I have seen in years! Our host is excited to see the line is not out the door and down the street. We were stuffed from Cooter Browns but could not resist the offerings of this classic bakery! Everything looked amazing.
I can tell you without a doubt it was the best dessert I have had in a very long time. They are known for their donuts but I opted for the brownie tower and Jack went for the Key Lime Cheesecake. We did not even get to eat it for a couple of days and it was still amazing!
Jack's Key Lime Cheesecake being devoured after a day on the lake!
Accommodations
The Bristol Hotel is a boutique hotel that overlooks the downtown area but is located in Virginia. With a rooftop area, you can watch the scene in downtown Bristol. The Bristol Hotel was rated #4 Hotel in the US by Travel and Leisure! They offer street-front dining and mountain views!
Otherwise, families and homeowners in the area rent out rooms and their personal homes to race fans for the week. You can also bring your RV and set up shop in one of the many fields near the track.
The Track
Bristol Motor Speedway is the 3rd largest sporting venue in America and can hold up to 162,000 people. It opened in 1961. Not being a Nascar enthusiast, I had no idea that this track was extremely challenging due to the steep 36-degree angles of the track.
It has since resurfaced so it is much safer but the thought was if you could win at Bristol, you were a success. Bristol celebrated its 50th anniversary in 2011. A lot of famous drivers have made their mark in Bristol, according to the BMS website.
The Fans
I was amazed at the sheer volume of people. You hear the track holds 162k people but you can not imagine the sight of seeing them all within a couple of miles of each other.
People were parking up to two miles away. I was amazed at the dedication of the fans who were willing to walk miles to get to the race.
The roads were lined with fans walking to the stadium which was miles away. On the day we toured the area the race did not even start until 9:30 PM and people were hiking up to the stadium on foot at 3 PM. There were rows and rows of campers with BBQ grills going and people hanging out tailgating. According to my friend, there were reported to be 174k people attending in 2018. I have no idea if that is true but there were certainly more people than I had ever seen in one spot before in my life.
Here are my photos and videos of our drive around the area. Some of my photos are a little fuzzy since we were driving and I was using my cell phone.
Are you a NASCAR Fan? I would love to know how many times you have made it to a race?
Also, if you love Tennessee, check out our article about Jonesborough, Tennessee! Tennessee's oldest town!