The Chophouse was originally started as a fish camp with cabins in 1925. The property offered the cabins for visitors to the lake and a restaurant for the visitors staying there. Once Chef James Reaux took over in 2011 it has become the Chophouse we know today serving steaks and fresh seafood with a southern flair.
Located On Lake Burton at LaPrade's Marina
The Chophouse's location is at the edge of Lake Burton at LaPrade's marina in Clarkesville, GA which is just minutes from Helen, GA. It is an American restaurant serving favorites like prime rib, steaks and fresh fish and seafood.
During the summer you would see it packed with patrons when we would take a drive around the lakes. We always wanted to go but because we had evacuated we also had to bring our food from home in case of a power outage and we did not want to haul it home so we rarely eat out.
We pull into the driveway to see if the restaurant downstairs is open because it seems more casual. There are picnic tables by the lake and often times restaurants will let you have pets outside.
Jack gets out of the truck and walks around to see if he can get in but everything was locked up. I kept pointing for him to go upstairs! Jack was skeptical if we would be able to bring Bo with us upstairs. I decided to go and see.
Georgia is the most pet-friendly state we have ever traveled to and I was hoping they would allow us to bring Bo.
Below the Chophouse is another restaurant that offers private dining and catering called Hawg Wild BBQ. They offer happy hour and live entertainment.
I climb the stairs there is a huge open area with people dining. I am hoping this might happen! As I approached the smiling hostess and inquired about pets. "Of course we allow pets. We even have dog bowls for them!" Perfect! I signal to Jack and he gets Bo out of the truck and they head up the stairs.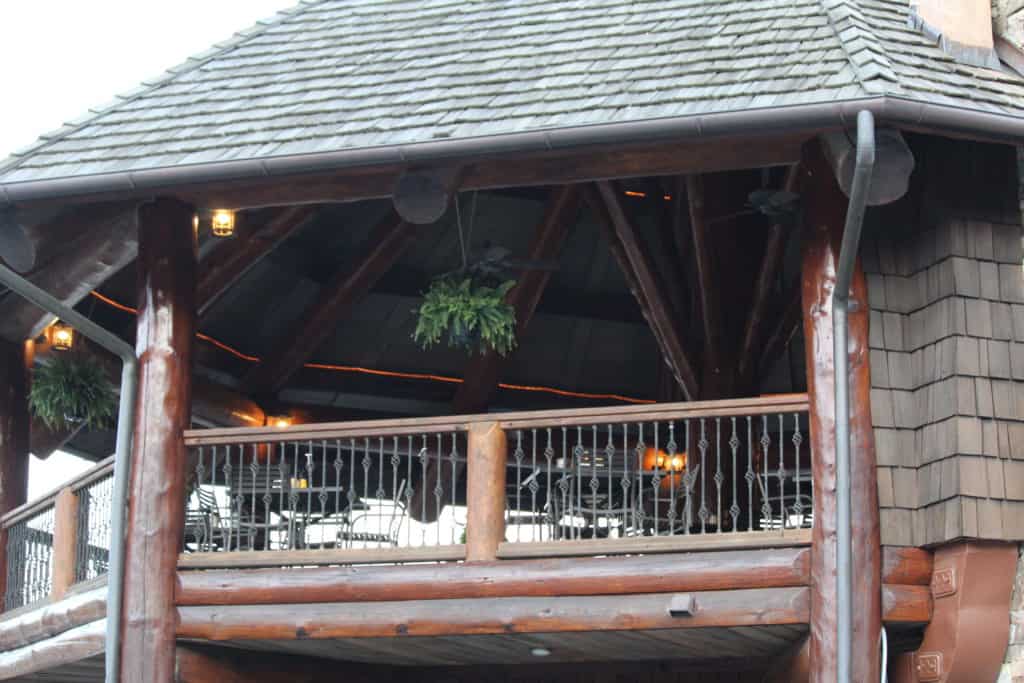 Stunning Views of Lake Burton
The hostess seats us overlooking the lake. You have views of Lake Burton surrounding the restaurant and the decor is that of a high-end log cabin with huge logs, a high ceiling and massive stone fireplace.
We settled in a looked over the menu while Bo drank his water.
There is inside dining which is more formal. I love to outdoors and of course we had the dog so the porch was the perfect spot for us.
The Experience at The Chophouse
We looked over the menu options and decided to share an appetizer, an entree and dessert. We started with the mozzarella pops which were pretty cool.
While we were eating our appetizer the manager came over to check on us. I love it! It shows a commitment to customer service. Having been in the restaurant business and retail customer service industries I appreciated her attention. I noticed she did this with every table making sure everyone had a good experience.
After the pops we ordered the prime rib. It came out rare, as ordered, with mashed potatoes and ratatouille.

Next on the menu was dessert and we ordered the Creme Brulee, recommended by the server served with a side of caramel, chocolate and whipped cream. The presentation was beautiful!
We were absolutely stuffed! Everything was cooked to perfection and the service was delightful at The Chophouse!
Getting to Know the Staff at The Chophouse
The manager stopped by the table to check on us again. I finally confessed that we were looking for pet-friendly spots to write about for our followers. In chatting with her we discovered that her daughter had worked for Sunburst, where we were staying, and she was a Florida native. This is a very close-knit community!
The Chophouse offers a kids menu, live entertainment, Sunday Brunch and other events you can check out on their calendar.
We had a wonderful time at The Chophouse at LaPrade's overlooking Lake Burton! Anytime you are in the area make sure you stop by for a bite with your pet. They will be ready for you!
More scenery from The Chophouse!
The boats pull in and dock at the marina with friends and family looking to have dinner at the Chophouse.
You can find more info about The Chophouse at LaPrade's on Lake Burton on their website! I suggest you always want to call to get the current hours and specials. You will not be disappointed when you do!
Chophouse Contact Info: