I had been looking at Cartagena, Colombia as a destination since we started to travel in 2018. Cartagena has some of the best things to do while in the walled city but I had a lot of questions. Cartagena is a UNESCO World Heritage City, so it was on my bucket list for that reason alone. With multiple UNESCO World Heritage Sites, you will want Cartagena on your bucket list as well.
Take A Photo With A Palanqueras
Take the Chiva Bus
Explore the Old City
Convento De La Popa
Shopping for Colombian made items
The Umbrellas At Calle Angosto – Getsemaní
Book Highly recommended Activities and Attractions Below
Also See: Top Tips for Exploring the Panama Canal on a Cruise
What is Cartagena Known For?
Cartagena was the first Spanish colony in the Americas, and its location on the Caribbean Sea made it a vitally important port city. Since we were on a cruise, we could see it from this vantage point pulling into the port.
From here, the conquistadors shipped the treasures they had pillaged from native cultures back to Spain. This is why 80% of Colombians are Catholic. In order to defend the city and its wealth of stolen goods from pirates, they built a huge stone fortress.
The city would remain under Spanish rule for around 275 years. Cartagena led the charge for breaking free from Spain, with the help of the great liberator, Simon Bolivar. Cartagena declared its independence before the rest of the country on November 11, 1811. If you should find yourself in the city around this time, you can expect a huge party full of parades and festivities.
Is Cartagena Even Safe?
The first thing people ask is, "Is Cartagena even safe?". The answer is yes; Cartagena is very safe. The Colombian Government is stable, and there are many safe areas that you can visit in Colombia. Cartagena is one of them. The Colombian people are also wonderful and friendly!
In fact, Cartagena is officially the safest city in Colombia. When doing my research, crime statistics show that Cartagena (and the other large cities in Colombia) are actually safer than many cities in the United States. Crime rates have plummeted in Colombia. The main tourist locations like Bocagrande, The Old City, and Getsemani are perfectly safe for tourists. If we had flown there, we would have stayed in Bocagrande or The Old City.
When Is The Best Time To Go To Cartagena?
The best option is to travel to Cartagena just after the busy season in March and from June to August, but I have to warn you, it is very hot and humid with January offering the best weather. The rainy months are April-May and from September to November.
We chose to go during our Thanksgiving holiday. Since there is no holiday for them it was not that busy and it was the end of the rainy season. It was overcast and warm but not raining. I would say that January through March is going to be the busiest since people are looking to escape the cold from the north.
Do You Need A Visa To Visit Colombia?
No, at this time US tourists do not need a Visa to gain entry into Colombia. You will be allowed to stay for less than 60 days as a tourist. Tourists entering Colombia may be asked for evidence of return or onward travel, usually in the form of a round-trip ticket. Visitors entering on land will have to cross the border at an official border crossing.
Can I Use US Dollars In Cartagena?
Yes! Everywhere we went accepted US currency. Even the coffee shop we went to had both denominations on the menu so it was easy to know what we would pay.
The 9 Best Things To Do In Cartagena, Colombia
We opted to visit Cartagena on a cruise but that does not mean that taking a week to hang out in the walled city is not a good idea. There are so many things to do in Cartagena and taking a cruise stopped us from experiencing some really cool things, especially in the evening. One thing I am sad about missing was the salsa dancing that you can find in the city in the evenings. I am just learning how to do some of the steps and watching others dance is fun for me. But next time. We will definitely be going back to Cartagena!
We decided to hire a private guide to take us around the city. He made sure to put his name on our nametags that he expected us to wear. I thought this was strange until he said, "You belong to the Chief. I am the Chief, and everyone knows me". Later I will tell you why he did this.
Climb The San Felipe Castle
The San Felipe Castle was built way back in 1657 to protect against pirates looking to steal the silver and gold that was bound for Spain. There will be a line when you get there but it moves quickly. You will be able to climb to the top to see the well-preserved canons.
There are tunnels within it specifically designed to allow even small sounds to travel well so that any intruders would be detected easily. On your tour of the castle, you will be able to walk through and experience some of these tunnels.


Book Now: San Felipe Castle Guided Tour
Take A Photo With A Palanqueras
The minute you get to any popular spot in Cartagena you will see women with fruit baskets on their head dressed in brightly colored outfits. Palanqueras are an important part of Colombia's history. They originally came from San Bassilo de Palenque, which is a small town just south of Cartagena. This little village was actually one of the first places in the Americas to be freed from slavery.
In Colombia, you'll find lots of interesting fruits that you won't find in the US, including lulo, maracuya, and granadilla. You can also buy the fruit from the Palanqueras. They will ask for a tip for the photo as well so be prepared for that request.
Take the Chiva Bus
Stand on any street in central Cartagena for a while, and you'll eventually see a Chiva bus. You will most likely hear it first! These super colorful, open-air buses take tourists around the city on a tour that's part sightseeing, part pub crawl. The Chiva Bus is basically a party bus. There's loud music blasting, people dancing, and rum flowing.
Explore The Old City
This was my favorite part of Cartagena. When I first started looking at Cartagena as a destination, I could only think of the beach, sun and sand. But when I would look at the photos, the beaches in Cartagena are not that inviting. At least coming from Sunny Florida.
The Old City is full of charm and would be the area I would stay in if I was there longer than a day. You have many luxury and boutique hotels to choose from. In the morning you would be able to grab some of that Colombian Coffee and stroll the beautiful and colorful streets of The Old City.
Here you'll be close to the most historical parts of the city and its picturesque streets, particularly within the walled city (La Ciudad Amurallada), a UNESCO World Heritage Site.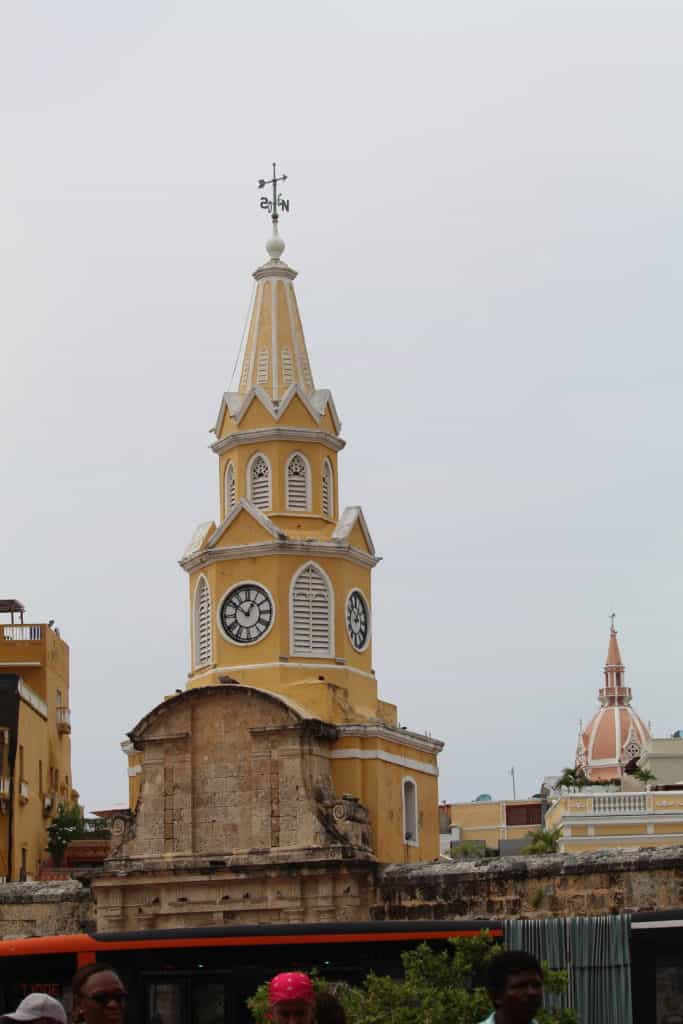 You'll get to see the main sites of the walled city – including churches, plazas, and the home of Gabriel Garcia Marquez – and learn about some of the city's quirks – like what the different colonial door knockers mean.
There is a free walking tour that you can take advantage of as well. You can book a spot online for free. A tip is expected for your guide.
You'll find tons of colorful colonial architecture, flowers, artists, and people selling trinkets on the streets.
Convento De La Popa
Our guide took us up a winding road through some of the poorest neighborhoods in Cartagena. Many of the homes did not have electricity and women were carrying water jugs on their heads to take home. Many tourists do not care for this type of visit but I think it was nice to see real life in Cartagena on the trip up to the convent.
Located on a hill overlooking Cartagena, you will be able to see the entire city from this spot. It was a convent that was built in 1616. We were fortunate to beat the crowds there. You will find food trucks, trinkets and water for sale at the convent. There was also a police presence so you felt the place was well protected.
You will be able to view the church and the artifacts from the convent. There is also a priest that was killed for spreading the gospel you will be able to learn about.
Shopping in Cartagena
While working our way through The Old City, I found the shopping much more pleasurable and far less crowded than other areas we went to. Also, there were no high-pressure salespeople trying to push everything on us. I also enjoyed walking around The Old City with its colorful buildings and coffee shops.
You will want to stop at San Alberto Coffe Shop in the Old City for a cup of that infamous Colombian Coffee.
Las Bovedas
Next, our guide took us to Las Bovedas. If you can't find it on the streets, check out Las Bovedas, the little shops built into the walls of the city with alcoves and columns all around.
It was a crowded shopping area loaded with jewelry, trinkets, t-shirts, and souvenirs mostly made in Colombia. There were also hammocks, larger wood and glass items for home decor.
They house everything touristy, from cheap trinkets to clothing, original artwork, and hammocks.
While shopping you will be prepared to have a lot of people try to entice you to buy their items. A find that a firm, "no" will usually work. My husband would engage every single person in conversation so he would get stopped a lot. This was not the best approach for me as I do not like telling people "no" all the time. You will find your own way while you are there but have some kind of plan in place to handle the people trying to sell you their trinkets.
Book Now: Old City Walking Tour with Private Photographer
The Chief, made sure to tell us that he had to take us to one shop and show us around but assured us we did not have to buy anything. He stated, " I have to do it for the business owner."
Some Shopping Warnings
The Chief also warned us that if someone is trying to sell you silver in the street it is not real silver and not to buy it thinking it was real.
I believe that is why he had labeled us with his name on our name tags. Not only was it to show people we are in a particular store or area so he got credit for bringing us, but also to keep other tour guides from poaching us in a store or one of the tourist areas he would take us to.
The Umbrellas At Calle Angosto – Getsemaní
The residents of Getsemani have embraced an eclectic look just outside the entrance to The Old City. You will find the classic colonial architecture and brightly colored murals and of course these umbrellas in this former working-class neighborhood. Boutique hotels have popped up and people are now able to tour the streets admiring the art and seeking out the unique food of the indigenous people of Colombia.
The Cruise Port
If you are taking a cruise then you will inevitably have to go through the port area to get into Cartagena. Cartagena definitely has one of the best ports I have come across cruising. You will be entertained by monkeys, birds and giant anteaters. There is shopping and food as well.
Book Now: Cruise by the Bay with Dinner and Wine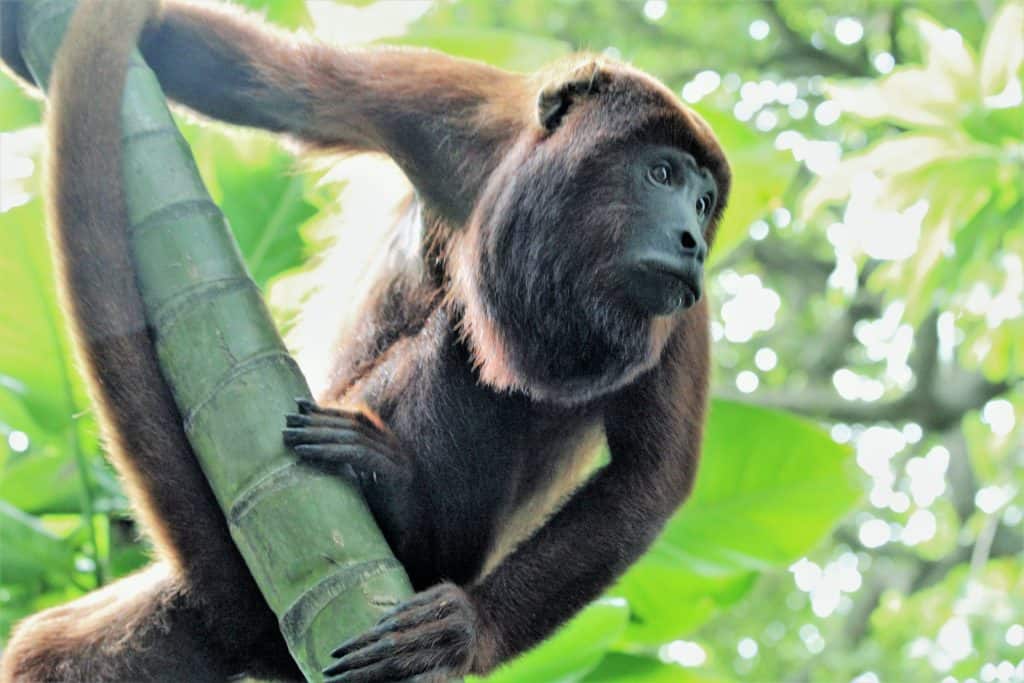 Regardless of how you get to Cartagena, you must get there. With safety no longer an issue Cartagena will provide you with a lot of color and LIFE! Cartagena has a lot to offer from a beautiful history and architecture to an eclectic nightlife!
Pin it for later!