For years we have been visiting and evacuating to Sunburst Adventures, Clarkesville, GA! Sunburst Adventures is located near some great areas in the Northeast Georgia Mountains, like Helen, Lakemont, Lakes Burton, and Rabun, Batesville, and Blairsville. It is an easy trip, about an hour and a half north of Atlanta, and centrally located to many popular vacation areas.
Sunburst Adventures is located in the Blue Ridge Mountain Range. There are thousands of acres available for horseback riding and all kinds of outdoor activities such as ziplining, ATV trail rides, and much more. Sunburst is perfect for families, adults, singles, and groups that are looking for a getaway that is also close to shopping, dining, whitewater rafting, and just about any outdoor sport you could want.
We have watched Mark and Becky, the owners, grow this property from a few cabins with horseback trail rides to offering a multitude of fun, family-friendly things to do while staying here or in the area.
You do get a discount, when you stay here, on the various activities they offer. They also offer several packages for families and couples that are inclusive with their adventure tours.
How We Found Sunburst Adventures
It was 2004, and we needed to evacuate our kids and pets for the Cat 3 storm that was approaching our area. We were so grateful to find a spot that would accommodate all of our animals. After doing an internet search, I found Sunburst Stables and called to see if they had availability and accept our pets. After I told them our situation, 1 German Shepherd, 1 Rottweiler, two cats, 1 Blue and Gold Macaw, two kids, and two adults driving three cars, they allowed us to stay in one of their cabins. Whew! Again, we were just so grateful to find a place to evacuate for our kids and animals.
Our favorite cabin is the first one on the right as you come down the driveway. The reason we love it is we get to see the horses when they are put out to pasture every evening.
All the cabins are deeply embedded in the woods, which makes everything a lot cooler! It is a great place for people to escape the hot summer temps!
The Wildwood
The Wildwood This cabin has a loft and a fireplace. It has a back porch overlooking the pasture with a hot tub. This particular cabin is not super fancy, more like fancy camping, but they are clean and comfortable with a full kitchen, which we love since we cook so much.
If you like rustic, then this is your spot. There is nothing better than getting in the hot tub after a long day of riding or sightseeing, having some wine from one of the local wineries, and having a wine and cheese party while dinner is cooking or you are interacting with the horses.
Make sure you stop at the grocery store to bring apples for the horses. They will come up for a visit to get their treats! All of the cabins offer Satellite TV and the internet. Most offer a hot tub. You can view the various cabins here. They have something for everyone, from a full-sized home and a larger cabin if you like the rustic feel like us.
In the smaller cabins, there is a loft. We always kept the kids downstairs, and the loft was the perfect escape.
Activities
Being horse people, we are always looking for new riding experiences. So getting on their horses to ride through the mountains is always where we end up. Since we first started coming to Sunburst, they have added so many activities there are plenty of things for everyone in your group to try.
Here is a list of family and couple packages that you can customize for your trip.
Couples Adventure Package
Family Fun Weekend Package
Extreme Adventure Package
Summer Fun Adventure Package
Horseback Riding
We ride on just about every vacation we take as a family. Horses are my passion, and we always seem to find a way to ride. I can say out of all the places (Jamaica, Mexico, and other US destinations), the horses are very well taken care of here at Sunburst.
They will take you through the trails that Mark has made and maintained over the years with two guides. They will also take you to the petting zoo area, where they house exotic birds, goats, and piglets. Check out the different riding tours here.
Horseback riding is suitable for any experience level, and riders seven years and older ride on their own horse. Children under seven can ride with their parents.
Sunburst offers a mountain view trip, a lunch ride, and sunset rides. Trotting and cantering are allowed when appropriate and the group is able.
Below is a mix of pictures from different trips we have made.
The Petting Zoo
If you notice in the picture below there is a wooden bridge above the mine shaft. There is a trail of bridges for the goats to use to get around the area. The goats love to run around on the roof.
Zip Lining
I have never chosen to do this, but last year, when we brought friends up here in our last evacuation, and not everybody is fond of horses, so they chose the Zip Line. They had a blast zooming through the trees. With over 7k feet of lines, you get a full experience. They also take you to the highest points in their vehicle, so there is no climbing which makes it fun for all walks of life. Anyone can enjoy this activity. Check out the Zip Lining here!
ATV Activity
As we were cooking out this trip, we heard the motors headed up the hill. There were about 10 ATVs headed up the hill filled with happy participants. They looked pretty safe. After living in rural Florida, I have seen some accidents, and these vehicles were safe with roll bars and looked to be brand new. I would feel comfortable riding with my kids in these. You can check out the ATV offering here.
Boating
I did not know they added this to the menu of options, but I am going on this next time we are up in the summer. The boating excursion includes kayaking, swimming, and fishing too! It is a Florida girl's dream come true! If you are into water sports, this is the package for you. I was excited to see they added it to their list.
Look at their boating package here.
They offer boating packages for those with children under 8 and can partner with an adult. Children over the age of 8 can have their own boat.
The bottom line, Sunburst has a ton of safe, family-friendly activities for all levels of play. This family is full of hospitality and is truly a family-run business now that their sons work with Becky and Mark. They treat us like family year after year with good old-fashioned southern hospitality. You will not regret making Sunburst a part of your North Georgia trip!
Mark, the owner, is also a Farrier and has a room at the petting zoo that shows the tools of the trade.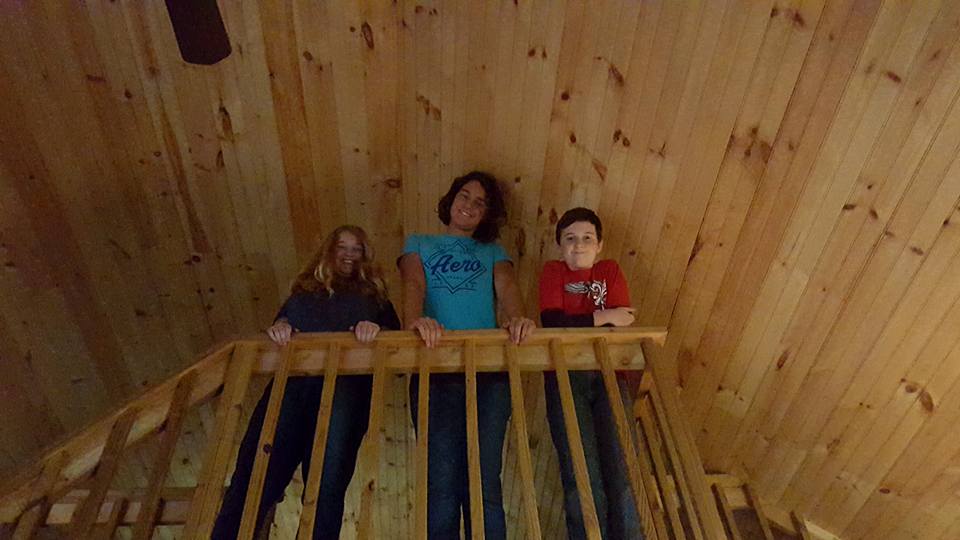 Sunburst Adventures address:
251 Sunburst Lane, Clarkesville, Georgia 30523
Phone: 800-806-1953 or 706-947-7433
All in all, this area of Georgia has plenty to offer any family who comes to visit. The temps are always 10 degrees cooler, and there is plenty of hiking, waterfalls, petting zoos, boating, and festivals to keep everyone entertained.