A Romantic Trip to St. Augustine is something every couple needs to experience. St. Augustine, Florida is known for many things. Romance, culture, and the arts are something that many couples go to St. Augustine to experience. We were recently invited to join the St. John's Cultural Council for a weekend of love, art, and fantastic food!
This is a partnership with St. John's Cultural Council. All opinions are my own.
St. Augustine is a very romantic city. Not only can you experience its rich history but there are many romantic activities for you to enjoy while in America's oldest city.
Stay at the Collector's Inn and learn about the romantic history of the Inn.
Take a horse-drawn carriage ride through the city.
Visit the Lightner Museum and take a private romance tour.
Stroll the cobblestone streets and indulge in wine and chocolate.
Take a wine-tasting class together.
Visit the Fountain of Youth.
Visit and stroll through the Art District of St. Augustine

Book Highly recommended Activities and Attractions Below
St. Augustine was founded on September 8, 1565, by Spanish admiral Pedro Menéndez de Avilés. The admiral was Florida's first governor. He named the settlement "San Agustín", as his ships brought settlers, troops, and supplies from Spain. He had first sighted land in Florida eleven days earlier on August 28, the feast day of St. Augustine.
St. Augustine was founded forty-two years before the English colony at Jamestown, Virginia, and fifty-five years before the Pilgrims landed on Plymouth Rock. This makes it the oldest permanent European settlement on the North American continent.
You can start your Romantic Trip to St. Augustine by taking a stroll in downtown St. Augustine, also known as the historic district. While Saint George Street is the main thoroughfare for foot traffic, there are many other little streets to discover. It almost seemed endless. One of my favorites was Aviles Street. It is the oldest mapped street in the U.S. filled with art galleries, shops and restaurants.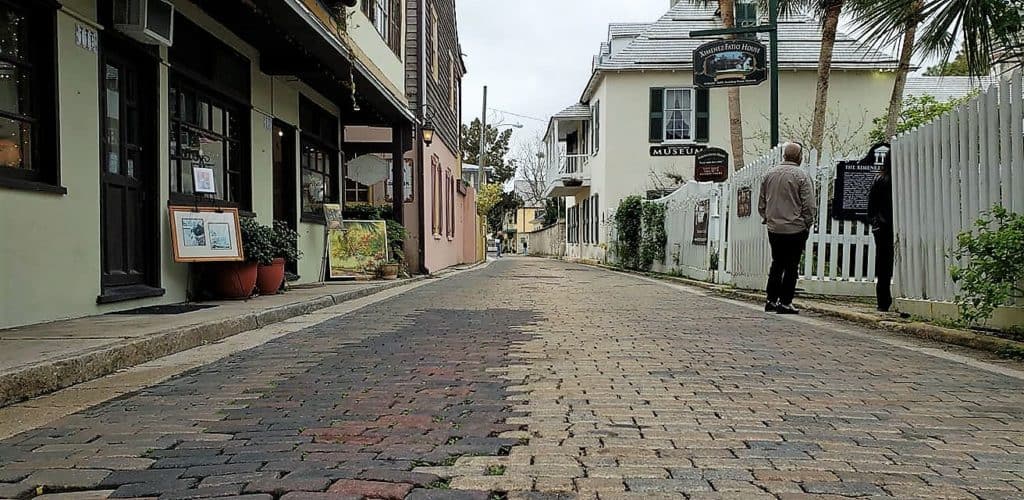 Cordova Street is another favorite and where our accommodations were located! This put us in the perfect spot to stroll from one side of the historic section of the city to the other. Cordova is lined with fun shopping spots and eateries, old cemeteries and even a love tree, a palm growing through an oak tree. Whoever kisses under a love tree it is believed to give good luck to happy couples!
Our Romantic Trip to St. Augustine started by checking into our accommodations, The Collector Luxury Inn. Initially, we were greeted by the valet who assisted us in finding the lobby. As we went down the brick path there was a collection of vintage homes surrounding a lush courtyard. I could tell this was going to be a unique experience.
Located on the edge of St. Augustine's Old City, you are within walking distance to most of the sights in the St. Augustine historic district. In addition, there are bikes for the guests to use while they are staying at The Collector so you can easily get around the historical area of St. Augustine.
The History
Once we were checked in, the valet took us to our room. He told us our room was his favorite and the house of Kenneth Dow. He mentioned that the Murat House, referring to Napoleon Achille Murat, was the nephew of Napoleon Bonaparte. Murat rented the house for a short time in 1824.
See the room tour below!
History of The Murat House
Murat only spent a short amount of time in the home yet his name has remained connected to it. After his short time there, he purchased a plantation south of St. Augustine. He met and married Catherine Daingerfield Wills Gray, a great-niece of George Washington. Murat eventually settled in the Tallahassee area.
Kenneth Dow purchased the 1790 Prince Murat House in the 1930s and by the early 1950s, Dow had acquired all nine homes on this block which is a one-acre property. Dow was a passionate collector of artwork, furniture and other antiques, donated his entire collection to the Museum of Arts and Sciences in 1989.
On the property, there are nine historic buildings that date back to the late 18th century, The Collector's 30 individually appointed rooms have unique historic features, including coquina walls, fireplaces and refurbished hardwood floors. Selected suites have separate living rooms and shared breezy verandas. This gives it a feel of a Bed and Breakfast while having the amenities of a luxury hotel.
While you are staying at The Collector Inn, you will have an opportunity to listen to one of the historians go over how the property has evolved. Melissa was our tour guide. She has been a part of the restoration of the property for many years and knows the property intimately. There are three scheduled tours a week for the property.
Amenities
European Continental Breakfast
The Collector offers all of the usual amenities, with a more than adequate European Continental Breakfast. Think Lox, Cream Cheese, Capers, and my favorite, an Everything Bagel. You will also find artisan cheeses like Brie and Cheddar. For those with a sweet tooth, there are plenty of pastries and fresh Florida fruit.
The Well Bar
If Craft Cocktails are something you seek out The Well is your spot. Located by the pool, for outdoor seating or you can stay inside and watch the concoctions being created. You may meet Head Bartender, John Radtke, and learn all about the unique craft cocktails offered with the freshest ingredients.
You can also take a more formal class from John to learn how to make craft cocktail recipes to take home with you. The bar is stocked with only locally sourced spirits which makes it truly a unique St. Augustine experience!
The Pool
Located in the center courtyard, you can relax in the hot tub or lay by the pool in the lush gardens. The best part is The Well is right next to the pool!
Accommodations
Our suite offered an antique queen bed and armoire with a living room, kitchenette with coffee service and a small dining area. The Collector offers well-appointed rooms with snacks, robes, quality shampoos and soaps and of course a turndown service.
In-Room Amenities
Kitchenette with granite counters
Microwave & mini-fridge
Interactive iPad for hotel services
Flat-screen LCD HDTV
Bedside charging device
Safe & coffee marker
Luxurious bed lines
Rainwater showerheads
Bathrobes
Ceiling fan
A Taste of Love at Chandler Oaks Barn
Next on our itinerary was a farm-to-fork chef dinner event at Chandler Oaks Barn that evening. Our dinner was part of a larger series of Farm to Fork Dinners presented by St. John's Cultural Council in St. Augustine. You can check the Cultural Council's website for updated culinary events to plan your trip.
We were escorted to the farm by Phil Chandler, the owner, which was located just north of St. Augustine on the St. John's River.
Chandler Oaks Barn History
Phil Chandler has a long history of farming in his blood. He had purchased a farm in Interlochen, Florida, which became a successful wedding venue, before purchasing Chandler Oaks Barn. He tells his touching story in the video below.
Everyone gathered in a smaller elegant barn for cocktails. We started with a signature cocktail called the Guilin Ginger Flirt made with vodka, Elderberry Liquor, grapefruit, and lemon.
Next, we were able to tour the farm and the different amenities they offered. They have a donut shop and a general store with every candy you can imagine from your childhood.
Farm to Fork Dinner
We were then called into a massive barn where a long table was set up for the 50 or so guests. The chef that evening was Dennis Chan of the Blue Bamboo. We were excited to get started with our 4 courses prepared by Chef Chan.
The salad was made with Planko Oysters and Beyond Organic Greens with Tomato and Mozzarella. The second course was Ricotta Love Letters with a Red Peper Arrabiata Sauce, Artisan Black Garlic, and Sage Tartulata. The third course was Sous Vide Chicken served with Roasted Red Carrots, Sherry Cream, and Bok Choy. My favorite was definitely the Ricotta Love Letters. The pasta was so thin and delicious. The spice of the black garlic and peppers with the cream gave this dish a lot of depth and character.
Chandler Oaks Farm was delightful and Chef Chan did an amazing job with all of the food. You can experience his food creations at Blue Bamboo in Jacksonville.
Love and Art Come Together At The Lightner Museum
We met with our tour guide, Ray Ebbe at The Collector Inn entrance and he walked us over to the Museum. It is on the same street as the museum so it was about a block to walk to the entrance. Ray and Allison Murphy gave us an extensive background on how the Hotel was built by Henry Flagler and eventually purchased by Lightner during the great depression. You can listen to the history of the Lightner Museum in this video.
The History of the Lightner Museum
The Lightner Museum was originally the Alcazar Hotel built by Henry Flagler in 1888. It held most of the recreational activities for both of The Flagler Hotels in St. Augustine. You can still see many of the amenities such as the largest indoor pool built at the time, massage parlor, tennis courts, gymnasium, and Russian and Turkish Steam Baths.
The indoor pool is now a restaurant where you can dine and listen to music from that period.
When you visit the Lightner, you will be amazed at their collections. From an Egyptian Mummy and a stuffed lion that was once owned by Winston Churchill to many fine works of art, you will experience three floors of interesting and amazing artifacts, antiques and collectible items.
Romance-Inspired Works of Art
In the spirit of romance, it was pointed out to us some of the works of art and their romantic influence. This cherub statue broke his bow. It was suggested that his frustration was over how easy Valentine's Day had become with pre-made Valentine's gifts.
This marble statue of the lady is holding the seashell up to her ear to see if she can hear what her love might be thinking.
We were also lucky enough to be able to access the Fourth Floor of the museum which has the original staff quarters from the Flagler years. There were pin-ups on the walls from the former residents. Today, it is mostly used for storage but some of the rooms have remained intact so you can see how the staff lived there when it was the Alcazar Hotel.
In the spirit of our Romantic Trip to St. Augustine, we were offered Champagne and artisan chocolates from the Chef at Catch 27. Once I tasted his chocolates I knew I needed to try the restaurant, which we eventually did that evening.
The Well Craft Cocktail Class
After the Lightner, we made our back to The Collector for a Craft Cocktail Class with Head Bartender, John Radtke. I was excited about this because I am a huge fan of experiencing cocktails made in a new way. In fact, I was the first one to volunteer to make the first cocktail! We would be able to experience the locally distilled spirits, from St. Augustine.
John selected 6 cocktails for us to create. Each person in the class was able to get behind the bar. The Misunderstood Old Fashioned was the most creative. After mixing the drink he served it in a wooden box that he filled with hickory smoke. The drink comes in a wooden box. The smoked wafted out of the box and left your drink with a hint of hickory flavoring!
When you head to The Well make sure you ask to try one of the dark cherries soaked in bourbon. They were delicious!
Catch 27
We had several recommendations to visit this restaurant. One thing you will find with St. Augustine is the food is amazing. You will find top-notch culinary experiences here! Catch 27 is located in the heart of the old city and within walking distance of our hotel. The 27 stands for the 27th state, Florida!
Another great reason to choose Catch 27 is that we were advised they always hold additional seats for walk-ins since their reservations are booked way in advance. We went at the perfect time. Around 6 PM there were still some seats inside. By the time we left, there was a 45-minute wait.
The Food
The menu is fabulous. I loved that Catch 27 offers local ingredients and fresh LOCAL fish. We went all out and ordered an appetizer first.
Smoked Salmon Dip
The Smoked Salmon Dip caught my eye. It came with a loaf of crusty bread and the fish dip was topped with jalapenos, relish with capers and dill. Honestly, it was big enough for a meal. It was so good we ordered another one to go for our weekly family dinner the next night at home!
Shaved Pear and Blue Cheese Salad
Finding anything with pears is rare and Blue Cheese is always a favorite so we opted for this salad.
The Duck Leg Confit
Preparing Duck is an art and can be a challenge for some chefs so I wanted to try the Duck Leg Confit. It came in a Thai sauce with cashews and lots of veggies. What I loved is the duck was perfectly crispy and the meat was not dry! WIN! Also, the Thai sauce was not too sweet and the perfect tangy accompaniment to the duck.
Mahi with Lemon Butter, Mashed Potatoes and Veggies
The Mahi was fresh and the Chef did a wonderful job of caramelizing our fish. The lemon sauce went well with the fish and the sides. Getting the fish with these sides was the suggestion of our server.
I rely heavily on the server's suggestions. In my experience, I usually can't go wrong with listening to the people who serve the food. In addition, we do not eat pork or shellfish so it can be challenging to find what we like. Our server definitely steered us in the right direction.
The service at Catch 27 was phenomenal. I usually do not mention service in this type of post but I had to give a shout-out to the staff there. They truly work in a team atmosphere and it shows. Our server was knowledgeable, professional, and extremely helpful and all of the servers were checking on us unobtrusively.
Cellar 6
The next morning it is Valentine's Day and we head out for brunch at Cellar 6. They opened just for our group and created an amazing brunch menu for us with craft cocktails. It is located on Aviles Street in the heart of the historic area in St. Augustine. This is one of the most romantic areas of St. Augustine!
On the table, they placed an olive tray with peanuts, fresh fruit with Baked Brie and Deviled Eggs.
I opted for the flatbread with salmon pickled onions, cheese and baby arugula. Jack opted for the Fried Egg BLT Sandwich which had a spicy siracha sauce.
Romance in St. Augustine "Heart of the Art" Tour
After our brunch, we began our private Art Gallery Tour. We would need it to walk off our brunch! We proceeded down Aviles Street to visit 12 galleries in all, listed below.
The Dan Holiday Leather Shop
MG Ferguson
PASTA Gallery
St. Augustine Art Association
Cutter & Cutter
Lost Art Gallery
SeaSpirits
Grand Bohemian
Within a few short blocks of Aviles, Charlotte and St. George Streets, we visited ten galleries. Many of the galleries were exclusive to showing only St. Augustine artists while others had internationally acclaimed artists like Dr. Suess and Salvador Dali. Regardless of the artist's locations, many different types of art were available to view.
One of my favorite Florida artists, Lorraine Millspaugh, was located at Sea Spirits Gallery. It was really cool to be able to meet her and find out her process. She loves to photograph Florida wildlife, specifically birds, and then paint them. The detail was amazing and she pours hundreds of hours into her work with layering the paint to create the feathers. She has studied these birds' social rituals which gives a story behind every painting. If you can catch her at Sea Spirits Gallery, you will be in for a treat!
Carrera Wine Cellar
After our stroll, it was time for wine tasting in the beautiful and romantic city of St. Augustine! We grab our car and head to Carrera Wine Cellar located on the other side of the downtown area.
As we entered the front room there is a cozy warm atmosphere. Popcorn and champagne were waiting for us at the front bar. I would have never thought of this combination! The popcorn does not overpower the light flavors of the Champagne. Champagne is a beautiful match for a salted popcorn and the fine bubbles cut through the salty light texture.
One thing I learned early in my "eating" career is that you can use wine to enhance any dish. At each seat, there was an array of different wines and a plate of foods to try with your wine.
I loved being able to pick their brain about wines and I really expanded my limited knowledge about wine. It was the perfect beginner's class.
Carrera Wine Cellar offers classes and wine tastings to the public on a regular basis. You can check their website for the schedule and be sure to pick up a bottle of wine for your romantic trip to St. Augustine!
Pin it for later!
What is your favorite thing to do or see in St. Augustine? Let me know in the comments!