Recently we visited the top twelve must-visit Art Galleries in St. Augustine with the St. John's Cultural Council. There are many diverse and eclectic art galleries located in the nation's oldest city. We were able to visit some of the best art galleries in St. Augustine all located within walking distance of our hotel.
St. Augustine attracts artists from around the world. During the Gilded Age, railroad developer Henry Flagler invited famous artists to his opulent Ponce de Leon Hotel. You will find not only local artists that reside in the St. Augustine area but internationally acclaimed artists such as Dr. Seuss and Salvador Dali displayed at the galleries in St. Augustine. You will even find the Masters here such as Rembrandt van Rijn, Jean Baptiste Corot, Pierre Renoir.
Book The Most Haunted Medieval Torture Museum+Ghost Hunting+Tiny Art
Let's get started with our list! These are the Art Galleries in St. Augustine that we toured and are listed in no particular order. They were all located within a few blocks of each other so it will be an easy walk to visit all of them in an afternoon. We started on Aviles Street, which has become the area's most eclectic arts district.
Plum Gallery
The Plum Contemporary Gallery is located at 10 Aviles Street, St Augustine, FL. PLUM stands for Perfect Life yoU Make. The Plum Gallery is a contemporary Gallery offering local and regional artists. You will find a diverse array of work from artists like Thomas Long and Mindy Colton in a multitude of mediums.
Located at 11 A Aviles Street, the Georgia Nick Gallery features local artists that show their work there. During the afternoon you may see a carriage horse stop by the gallery for a treat. Dubbed the "The Friendliest Little Gallery in Town" you can stop in and see everything from photography to leather works.
Aviles Gallery
The Aviles Gallery is also located on Aviles Street right next to the GNG! You will find a cluster of galleries in this area. This gallery was neat because all of the artists are local and they work together as a cooperative. Everyone who displays their art also works in the gallery. It also includes Joel Bagnal, the Goldsmith listed below.
Joel Bagnal, Goldsmith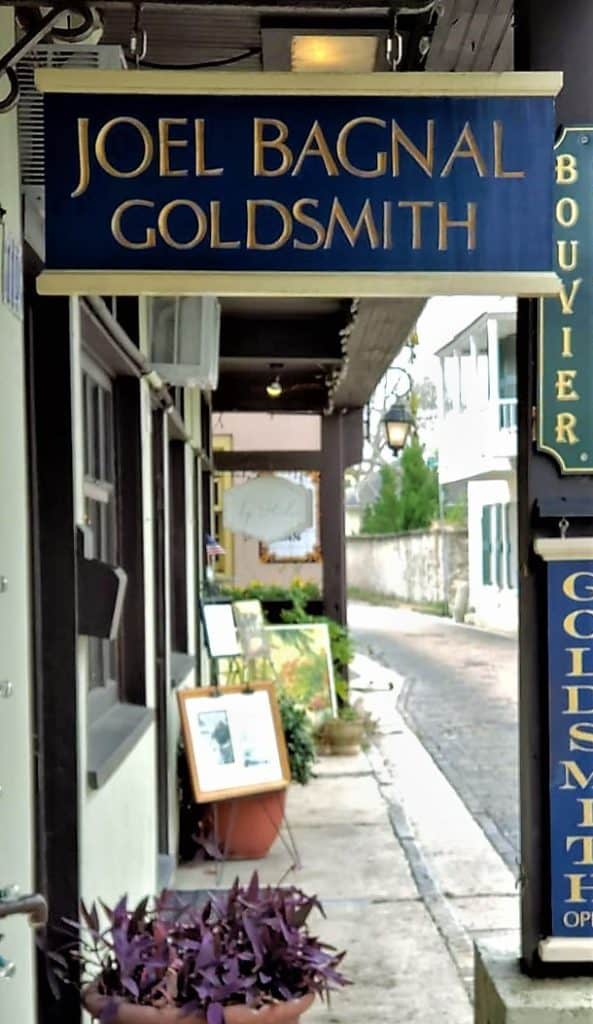 Goldsmith, Joel Bagnal, is a Florida native who moved to the St. Augustine area in 2001. His creations are a part of the Aviles Gallery at 11C Aviles Street. If you are looking for custom jewelry then this is the place to stop. Joel is one of the 64 original members of the Society of North American Goldsmiths. He loves to collaborate and brainstorm with his patrons to come up with amazing works of art in gold.
The Leather Shop
The Dan Holiday Leather Shop is located at 11 Aviles Street. You will find crafted leather works of art. The pieces are crafted by hand by a shoemaker who's been making sandals in the same classic style since 1959. You will find purses, bags and belts all crafted by hand. The face masks you see in the case in the photo above are crafted from leather. If you love leather you will love it here!
M.G. Furguson Fine Art
Another favorite of mine was M.G. Furguson, Fine Art. You can find Martha's work at other galleries but she also has her own spot located at 11 F Aviles Street. I loved her works showcasing the city she loves, St. Augustine.
The Professional Artists of St. Augustine Gallery otherwise known as PAStA is located at 214 Charlotte Street. PAStA is the oldest retail gallery in St. Augustine on our list. Their mission is to showcase local artists and have 16 award-winning artists at this time.
The St. Augustine Art Association was formed in 1924 and is dedicated to promoting artistic excellence through exhibitions, educational programs and outreach. They offer free admission as well as workshops and classes for budding artists.
Cutter and Cutter Fine Art Gallery
Cutter and Cutter Fine Art Gallery is located at 25 King Street in the heart of the historic district. They represent notable artists such as Salvador Dali and Dr. Suess among many others! The owners of this gallery started with a small gift shop and noted that the majority of their sales were art. Now they compete with galleries in major cities like New York, Chicago and Boston representing and selling acclaimed works from contemporary artists as well as past masters.
Lost Art Gallery is located at 210 St George St #1. Victoria Golden is the director and a member of the International Society of Appraisers for over 25 years and has an extensive and impressive background in art appraisal.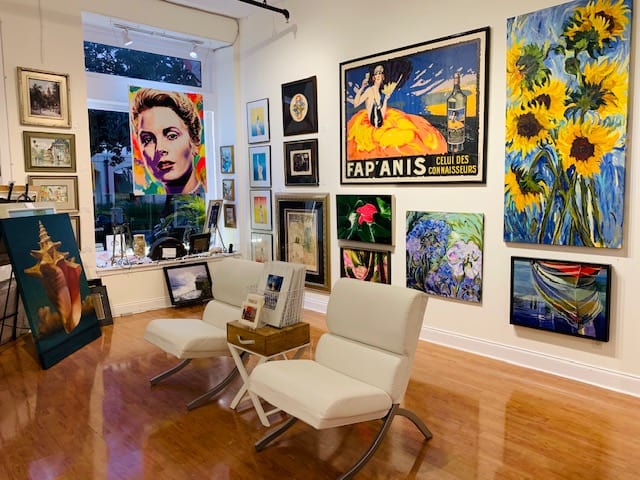 The Lost Art Gallery is a consignment gallery that helps estates relinquish their collections which features everything from classical masters (ex Rembrandt van Rijn, Jean Baptiste Corot, Pierre Renoir) to contemporary artists. The gallery specializes in 18th, 19th and 20th American and European Fine Art.
Sea Spirits Gallery
Sea Spirits Gallery is exactly what the name says. Owner Victoria Golden has a deep love for the sea and ocean conservation. You will find fine art, jewelry, blown glass jellyfish chandeliers and hand-hammered copper marlins.
We were lucky enough to run into Florida artist Lorraine Millspaugh while she was working on a piece. She told us how she photographs the birds and then paints them. Because she studies the birds in their natural habitat, she is able to transfer their social and mating rituals on to canvas. It was fascinating to hear her explain how the birds relate to each other.
Lightner Museum
Although The Lightner Museum is not a gallery per se, it does have amazing works of art to view. The Lightner is housed in the former Alcazar Hotel built in 1888 by Henry Flagler.
Today it is home to one of the finest collections of fine and decorative 19th-century art in the country. It will take you a full afternoon to tour the Lightner Museum. I would also suggest checking into a personal tour. The guides have an amazing knowledge of the artwork and other artifacts in the museum.
See our entire trip to St. Augustine!
Planning a trip to St. Augustine, Florida? Then be sure to Pin it for future reference to your favorite Pinterest Florida or Travel board. Thanks for sharing!