Traveling to new places is very liberating, and if you're one who enjoys letting go and partying while on vacation, then Cuba could be the destination for you. Havana's citizens are fun-loving people and with the right mix of their exquisite Cuba Libre, Mojitos, and lively salsa beats, you can share in experiencing the hypnotizing buzz of a country known for its passion for life while you are visiting.
Cuba is considered very safe. In Cuba, there are laws that are very strict when it comes to tourists and the local people committing any real crimes against them. A friend of mine who frequents Cuba told me that the punishment for crimes against tourists is 5 years of hard labor.
I have always wanted to visit Havana, Cuba. I was totally excited when this opportunity came along. We were able to spend the day in Havana and see the sights on our Classic Car Tour we found right outside the port.
In my previous career, I attended many professional association events that the financial institution I worked for would sponsor. One of the groups we sponsored had an annual cruise for continuing education for the members.
For as long I can remember they would ask us to sponsor their annual cruise but because there would be no one attending from the bank so it was not able to be approved. Last year, when I was speaking to one of the board members discussing the groups plans he informed me that next year their cruise was going to Cuba.
I apparently looked pretty excited….. you see my Grandfather was a Marine during WWII. He would tell me stories of how awesome Cuba was before Castro and how much he loved to travel there. Traveling to Cuba was high on my bucket list.
Also, growing up in South Florida, Cuba is about 80 miles from Key West and was this mysterious communist island that we would pass by when we would take cruises to other places. The group asked if I would be interested in attending.


Book Havana Classic Car Tour Here
Planning
***UPDATE*** Cruises are no longer going to Cuba. US Citizens can still travel to Cuba with regulations.
Although Cuba is now open for US tourists to go, you will need to do some research before you book. Both my husband and I had not traveled out of the US since the changes from 9/11 have been fully implemented and when we did it was on the cruise lines in the Caribbean.
With collecting the required documentation and the state department's own processing times of 4-6 weeks, the whole process can take a couple of months. There are also several forms you need to fill out for the cruise line before you get there so be aware of those requirements as well. Norwegian sent email updates for a reminder so we did not lose track.
The group chose the Norwegian Sun for their trip since they had a Monday through Friday itinerary. I would look at the amenities on other ships if you are bringing kids. This one is great if you are not bringing children.
There are several specialty restaurants aboard this ship that we opted for with one of our free giveaways.
The cruise ship has planned itineraries for you while in Havana and the rules are that you must book an approved excursion to disembark into Havana. When I asked the person helping me set everything up he stated that no one checks so opted not to book any of the official excursions. I wanted to see Havana on my own terms. When I tell people we did it this way they think I am nuts but we have to remember, Canadians and Europeans have been coming here for years and feel it is very safe.
And We're Off on the Norwegian Sun!
We board the ship in Port Canaveral, FL. Parking costs more the closer to the port you are. When driving to the ship we saw several lots that would transport you to the ship that had reduced parking rates.
This is our first time on Norwegian so we got the lay of the land and we wanted to get our dinner reservations in order. We opted to upgrade to specialty dining while onboard which was included as one of our free upgrades. You were given three nights of dining and this cruise also included unlimited drinks as well.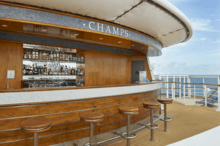 Our first stop is Key West. As we enter the port there are two Dolphins playing in front of the ship! Unfortunately, I left my camera in the room so I missed the shot. But you get the idea….. It was almost as if Norwegian had hired the Dolphins to perform for us as we entered the port. It was great to see them jumping together, welcoming us to Key West!
We had been to Key West several times both as cruisers and when we stay in Marathon on family vacations, so my husband made the brilliant suggestion that we stay on the ship and hang out by the pool since everyone would be onshore and just rest. We had two waiters checking on us and there were maybe two or three other people by the pool. Peace, quiet and tranquility!
Havana!
We wake up and the ship is docking! I am just so excited. This is what I have been waiting for! We approach customs and they stamp our passports and take your picture. I want to get off the ship as soon as possible!

Book Highly Recommended Havana Activities and Attractions Below
Once through the metal detectors, you can exchange USD for Cuban money that is only meant for tourists. Cubans have another currency that is for citizens only. At the time $1 equaled .87 in Cuban money. You can not exchange Cuban money in the US nor can you use US credit cards in Cuba. From what I understand, it is the US banks who are not jumping on board to do business in Cuba.
We approach the street. My first plan is to get a feel for the area. As we are leaving the port a man asks us if we want to tour Havana in a classic car. I knew the excursion price on the cruise ship was more than we wanted to spend and I was right. It was a huge saving to set this up on land. You pay after the tour so I felt pretty safe.
There is a line of classic cars trying to get to the next tour so they are beeping their horns trying to get the car in front of them to move along. They rush you into a car and you are off! Here are a few pics from this……
Classic Car Tour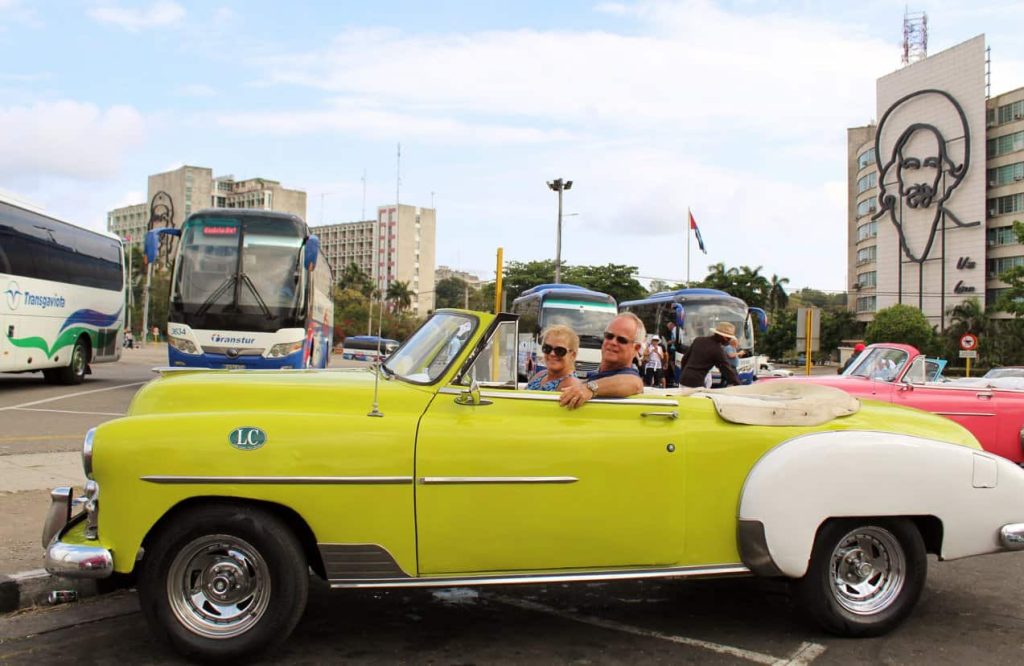 Next, our tour guide took us to a large marble monument to Jose Marti across from two government buildings that feature the faces of Che Guevera and Camilo Cienfuegos, so it's a great place for photo ops. There's also a museum beneath Jose Marti's monument but they did not offer to take us and we were on a schedule. Visiting the Plaza and the monument is free!
Although Cuba is a communist country, I was really surprised that there were so many churches and religious statues still here.
The Christ Of Havana
The Christ of Havana is a large sculpture representing Jesus of Nazareth on a hilltop overlooking the bay in Havana, Cuba. It is the work of the Cuban sculptor Jilma Madera, who won the commission for it in 1953.
Morro Castle
The bay on our way to the Morro Castle. When you are entering the Port of Havana you are greeted by the Morro Castle at the entrance.
The Morro Castle, named after the three biblical Magi, is a fortress guarding the entrance to Havana bay in Havana, Cuba. In this case, the Spanish "morro" means a rock that is very visible from the sea and therefore serves as a navigational landmark.
Perched on the opposite side of the harbor from Old Havana, it can be viewed from miles around as it dominates the port entrance. The castle was built initially in 1589 in response to invasions on Havana's harbor. El Morro protected the mouth of the harbor with a chain being strung out across the water to the fort at La Punta.
The fort is huge. You can probably spend all day there walking around the grounds.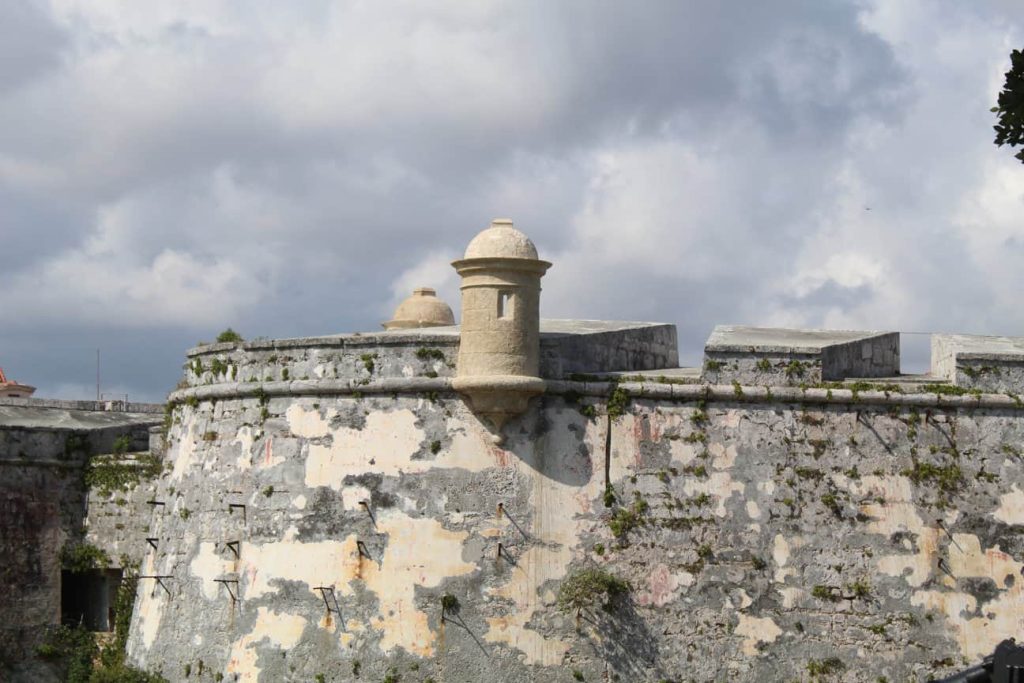 Getting Cuban Cigars At The Castle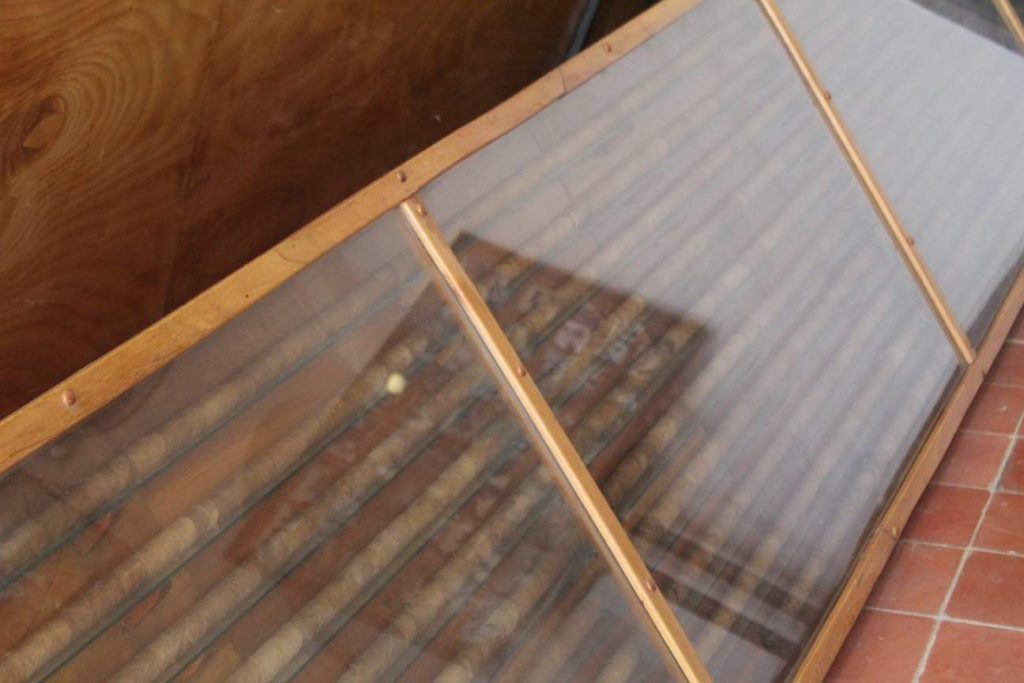 Eventually, I asked our guides where we can get some Cuban cigars. They took us to the fort and told us to pay to enter. Where were we going to get us to the best Cuban cigars? The fort? I was a little suspicious. I even asked a couple of times, Why are we going to the fort?" We decided to trust the process. They led us to a little shop within the fort. Not only were we able to purchase our cigars we got to meet a Cuban celebrity.
Our guides were so excited to see that "Cueto" was at the cigar shop. He had rolled the longest cigar on record for Castro's birthday. It was on display at the fort and we were able to see it.
Named for Christopher Columbus, the cemetery is noted for its many elaborately sculpted memorials. It is estimated the cemetery has more than 500 major mausoleums.
The guides told us that it is the largest cemetery in Latin America. When I looked it up though there are some that would disagree as there is a larger cemetery in Buenos Aires. I found that the Cuban people are told some things that are not exactly accurate.
The Capitol Building In Havana
El Capitolio, or the National Capitol Building, is a public edifice and one of the most visited sites in Havana, capital of Cuba. The building was commissioned by Cuban president Gerardo Machado and built from 1926 to 1929 under the direction of Eugenio Rayneri Piedra. It was being renovated while we were there. I think the renovations are now complete. One of Cuba's more well-preserved buildings, the Capitolio is extremely impressive! I think the general public can go in but you have to pay to see it.
Chinatown or El Bario Chino
According to our guides, Castro built Chinatown in Havana because he wanted to Chinese to feel at home when in Cuba. Being in a classic car was perfect because of the convertible. Today there are less than 150 Chinese in Havana. They have assimilated into Cuban culture at this point but you can still see the influences here.
US Embassy
Our two guides also took us to see the North Korean Embassy but asked us not to take pictures or gawk as it was a secret. Next door was the UK Embassy. They also showed us the US Embassy where the Cuban Government had strategically placed a multitude of flag poles in front to block the view of any US employees for any events that were held at the venue next door.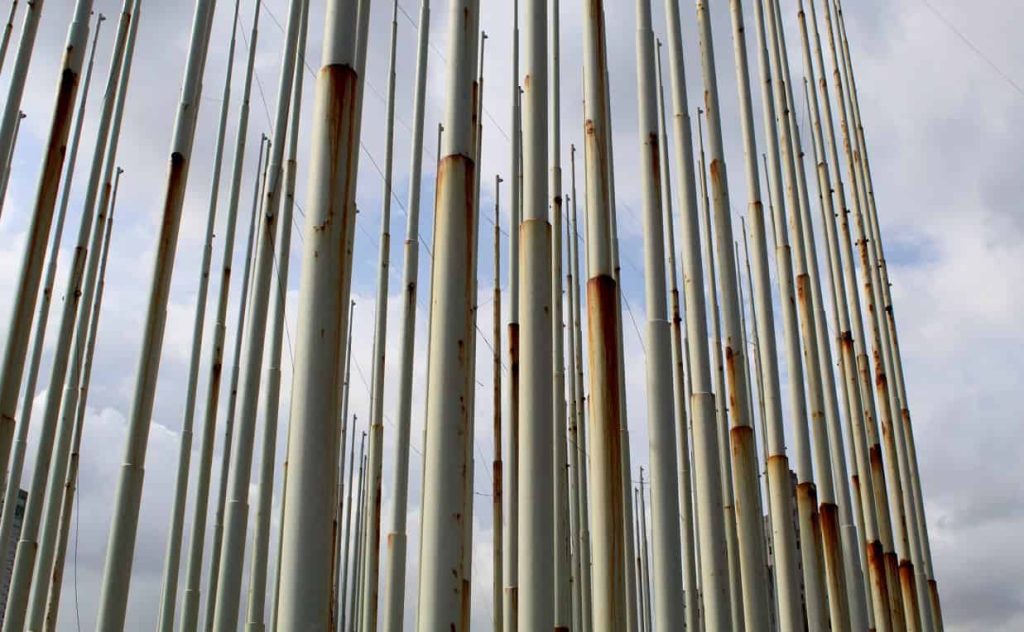 The Castro Official Residence
According to our guides, this was Castro's home, where he has displayed a US plane that was shot down. This apparently, shows his strength against the mighty US. The propaganda as much as says so on the signs around the wreckage.
Over a decade ago, Forbes estimated Fidel Castro's personal net worth at $900 million. Castro's luxurious living arrangements were well known, but for security reasons, his personal life and residence were kept top secret. Even Cuban citizens were not in the know about where he actually resided.
The Classic Car Tour is definitely the way to go. The car tour gets you around to all of the important sites in Cuba. They also offer bus tours as well but I loved the open-air feel of being in a convertible.
Click here to see what we did next on our walking tour!
If you have been to Cuba tell me about your experience there in the comments.