From the casual to the high-end to the old-time favorites in between, these are the best restaurants in Vero Beach for 2021!
We are big foodies, and we are fortunate that our hometown of Vero Beach, Florida, has some great chefs that have chosen to make Vero Beach their home. There are great restaurants beachside as well as on the mainland. Don't think you have to stay beachside to be served a great meal.
All of the restaurants I am recommending are places that we have visited several times. We will never recommend any place that we have not actually tried ourselves, and we love to support locally owned and operated businesses.
Vero Beach is located on the east coast of central Florida, making it convenient to larger cities like Orlando and West Palm Beach but still offers a lot of charm, a small-town atmosphere, and a fantastic weekend getaway. Vero is divided by the Indian River Lagoon, so there is a beachside area and a mainland area. There are interesting and fresh restaurant choices whether you are on the mainland or the beachside!
Book Highly Recommended Vero Beach Restaurants Here
Beachside
Chef Scott Varricchio started Citrus Grill and is an American Bistro that offers dishes inspired by Italian and Mediterranean classics. If you are looking for seasonal and unique flavors, this is your spot. What I love about Citrus is they use locally sourced items to create your experience, when possible.
Be sure to make reservations. It can be difficult to get weekend reservations during the winter.
Citrus Grill
1050 Easter Lily Lane
Vero Beach Florida 32963
772.234.4114

Chef Leanne Kelleher offers fresh, organic food with French and Mediterranean origins and a Florida twist! The Tides is very popular with locals as well as visitors. They also offer a highly rated wine list and craft beers.
Reservations are strongly recommended
The Tides
3103 Cardinal Dr
Vero Beach, FL 32963
772.234.3966
If you are looking for classic American fare, the Ocean Grill is your spot. The restaurant has a unique atmosphere with lots of artifacts from Waldo Sexton, Vero Beach's founding father. They are known for a few things foodwise as well:
Bleu Cheese Dip and Crackers
House Dill Dressing
A true Roquefort Dressing
Fresh Seafood
You can also enjoy staples such as their Prime Rib and other favorites like Coquille St. Jacques. Their recipes are timeless and a favorite for my family and friends. This is a classic American seafood restaurant!
Ocean Grill
1050 Beachland Blvd
Vero Beach, Florida 32963
772.231.5409
Di Mare
If you are looking for classic French and Italian food then Di Mare is your spot. I recently experienced this quiet little spot on Vero's South Beach, which is away from the hustle and bustle of our central beach area.
I went to Di Mare when I decided to do a staycation at Sea Horse Beach Cottages. I wanted a nice quiet getaway, and Di Mare is the perfect out of the way spot. South Beach has some great spots, but Di Mare is definitely my favorite in this area!
Di Mare
1517 Ocean Dr
Vero Beach, FL 32963
772.234.2809
If you are looking for a classic American pub with great steaks and Prime Rib, Bobby's is a Vero Beach favorite. You can smell the steaks as you drive down Ocean Drive. One of my favorite things to do is go there for Sunday Brunch. They offer Eggs Benedict with a side of their famous Steak Tidbits. And the meal comes with complimentary Mimosas!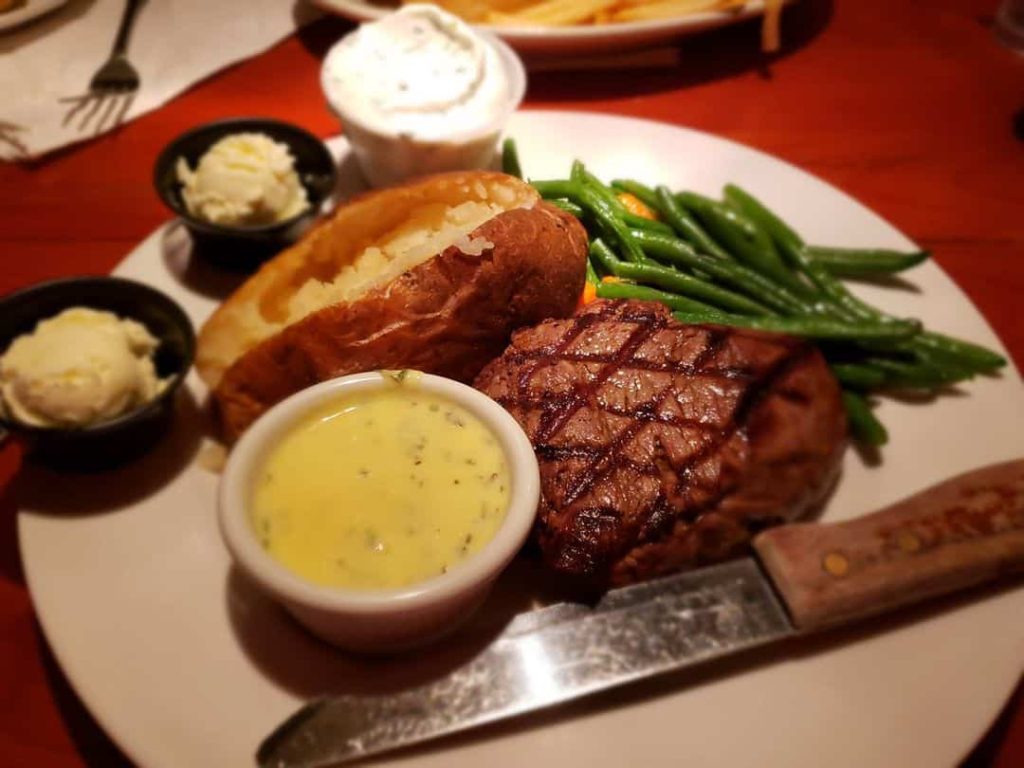 Some of my favorite things to order at Bobby's for dinner are:
Hand-rolled Cheese Sticks
Wedge Salad with their classic Blue Cheese Dressing
Prime Rib – grilled or classic
Creamed Spinach
Bobby's Restaurant
3450 Ocean Dr.
Vero Beach, FL 32963
772.231.6996
Mainland
River Twist is fairly new but oh so good! We love anything that is out of the ordinary and River Twist delivers with a ton of flavor! They are open for lunch and dinner so it is nice to be able to get lunch that is better than the rest.
River Twist
717 17th Street
Vero Beach, Florida 32960
772.770.0908
Fire and Wine
If you are looking for southern-inspired fine dining, Fire and Wine is packed with flavor! The daily special is called a TV Dinner and comes on a tray with sections. It is usually served with sides like greens and cornbread. There is always amazing fish, and we rarely order off the menu. The specials are always that good!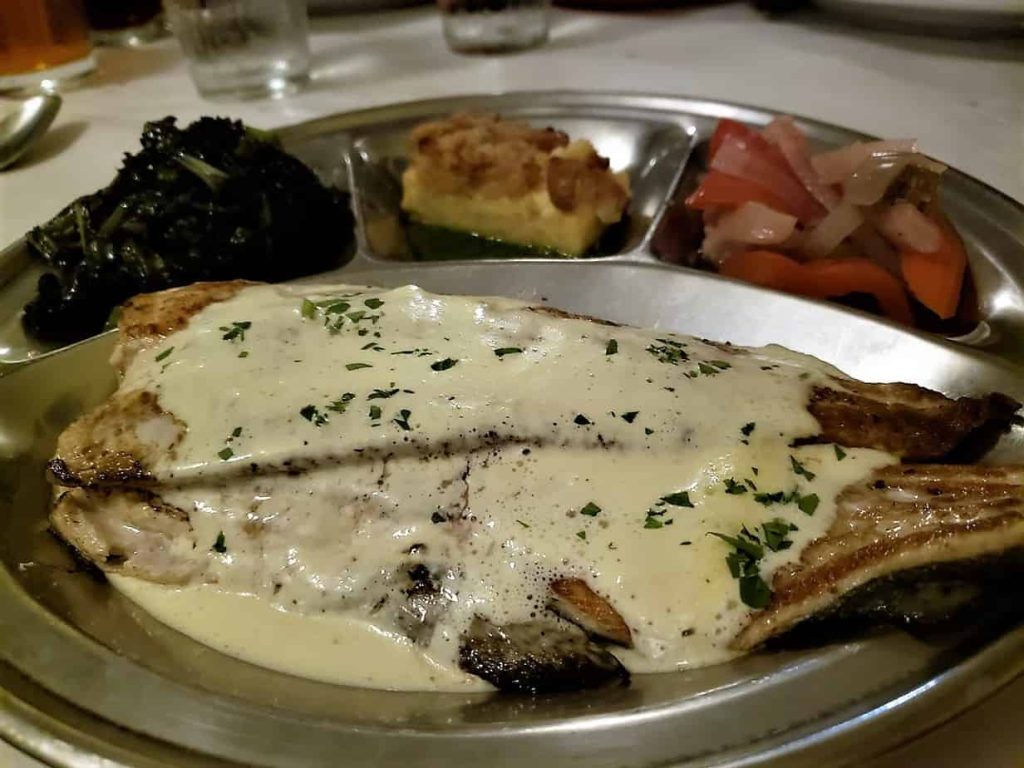 If you want the tuna in the photo, you will have to ask. The last few times we have been there, it was not on the special board. But they will happily make it for you if they have the ingredients.
Chef Chuck is also an awesome pastry chef, so the desert is a must here. You will always find homemade goodies, like ice cream, bread pudding and Crème Brule.
Fire and Wine
2950 9th Street Southwest
Vero Beach, Florida 32968
772.794.7587
Green Marlin
Green Marlin is a casual restaurant that offers homemade soups, sauces, and fresh daily fish specials. Owned by Chef Lou Kolbauer, there is a wide variety of dishes here, but the one common factor is fresh ingredients, and everything is made from scratch. They offer amazing steaks, burgers, wings, a raw bar, and a salad bar with their homemade soup of the day.
Green Marlin offers an amazing Sunday brunch as well. You will find Prime Rib, Eggs Benedict, and Seafood all at a reasonable price.
Green Marlin
1475 US 1
Vero Beach, Florida 32960
772.999.5248
Chive
If you are looking for fast-casual and like to craft your own meals with creative ingredients, then you will love Chive! Choose your protein (fish, chicken, steak, pork,) choose your base (salad, bowl, burrito, taco), choose your toppings. They offer 20 sauces alone!
Even though Chive is not full service for lunch or dinner, they offer a full-service bar with great happy hour apps and drink specials. And guess what? Chive is owned by Lou Kolbauer, the same owner as Green Marlin. Both spots offer awesome food but two totally different experiences.
There is also an outdoor patio and offer live music on select nights.
Chive
390 21st Street #104 (Miracle Mile)
Vero Beach Florida
772.999.5452
Phatz Wings
Looking for the best wing spot in Vero Beach? Phatz is a great place for chicken and waffles, cheesy Garbage Fries and their signature dish, chicken wings with their Finger Lickin' sauce.
Phatz Restaurant
1555 US-1 #104
Vero Beach, FL 32960
772.925.0336
We went here for the first time because I heard an Irish band was playing there one evening and I thought this would be fun to experience.
We were pleasantly surprised by the atmosphere. The Kilted Mermaid always had a reputation as a spot for the younger crowd, and it is more of a wine bar, but there were families there enjoying the band and their famous Charcuterie Boards. We had also brought our grandkids to watch the band, so it was awesome that it had such a pleasant atmosphere.
They offer small plates, fondue, flatbreads, and plenty of vegan options. The best part is they have an extensive wine and craft beer list to choose from.
Kilted Mermaid
1937 Old Dixie Highway
Vero Beach, FL 32960
772.569.5533
Pizzoodles
I would be crazy not to mention our favorite pizza place. Pizzoodles offers some of the best pizza in Vero but also offers a menu of made from scratch Italian fare. You will find fresh salads, garlic knots, and classic pasta dishes with tons of flavor. If you are looking for a great casual Italian restaurant, Pizzoodles will not disappoint!
Pizzoodles
56 Royal Palm Pointe
Vero Beach, FL 32960
772.567.4160