Since 2020 has been a bust for travel, I decided I needed a couple of days out of the house. I had been sitting here for the past 9 months, patiently waiting for Covid to end, and I was over it. For two days, I looked up and down the east coast of Florida for a rustic oceanfront spot to stay, and I could not find what I wanted without it being a resort. I wanted to be on a beach that was pristine, private, and quiet. Then I remembered Sea Horse Cottages right here in Vero Beach.
Sea Horse Cottages is located on Vero's, South Beach, and is a private oceanfront property. It offers four vintage cottages constructed in the 1950s, giving it that Old Florida nostalgic feel. Sea Horse Cottages come in one or two-bedrooms. The cottages have a private outdoor shower, beach chairs, beach towels, a kitchen, and a deck for eating, sitting, and sunbathing, and of course, direct beach access.
It was exactly what I was looking for!
Why I Love Sea Horse Cottages
I have not even given Sea Horse Cottages a thought in over 30 years. After all, this is considered prime oceanfront property. Any reasonable assumption would be that it would have been picked up by a developer and made into oceanfront condos like so many other parts of Vero Beach and Florida, for that matter.
Growing up here, the guys we were friends with always headed to Sea Horse to surf, and that was my main point of reference for the property. But after almost caving and renting a hotel room with a kitchen at the Vero Beach Hotel and Spa, it hit me, and I had the thought to look them up.
Not only were they still there, but the folks who originally purchased the property in the 1970s also still owned it. I know them from being local business owners in town, but I had no idea they owned the cottages too. I love keeping it local, so this was a bonus for me.
Sea Horse Cottages are rustic but clean and well maintained. They offered privacy, and most importantly, it is tranquil there. It was only the fisherman and me on the beach with a few walkers. There were no screaming kids, loud music, or other annoyances I was looking to avoid.
Check out our property tour!
South Beach
Nestled beyond the vegetation, you will find a spectacular beach at Sea Horse Cottages. It is just south of one of the largest public parks in Vero Beach, called South Beach. South Beach is known for its wide, white-sand beaches.
It can get crowded at South Beach Park, but Sea Horse is far enough away, at the end of Ocean Drive, that you will never even know it exists. You will see the colorful umbrellas from a distance, and maybe some walkers will pass by, but a residential neighborhood surrounds you for the most part.
Sea Horse Cottages has put in a boardwalk and deck for you to enjoy the beach when you are not interested in making your way to the beach. It is a nice reprieve from the wind on cooler days where the natural vegetation will protect you.
This area is also known for the surfing and fishing opportunities it offers. As you make your way through the dunes and eventually approach the beach, you will find plenty of people fishing for Pompano this time of year if it is still warm enough.
The only downside is, this also can mean sharks are nearby. It is too cold this time of year, at least for the locals, to fully get in the water. But if you do, you typically do not want to swim near people fishing even though this particular shark below is relatively harmless.
The Rooms
Sea Horse Cottages offers 4 residences. All of them have a deck, kitchen, and outside shower. 2 of the cottages have 2 bedrooms, and the other 2 are 1 bedroom giving you a total of 4 cottages to choose from.
When I arrived, the cottages are immaculate and well maintained, even though they are older. With this much foliage and being on the beach, you would expect bugs and spiders to be an issue, but I was pleasantly surprised that I did not see more evidence of this.
They are air-conditioned and provide either a paddle fan or wall mounted oscillating fan, but with our perfect Florida winter weather, I kept the windows open the whole time. The linens and beds were also super comfortable with an extra thick memory foam topper, just like I have at home.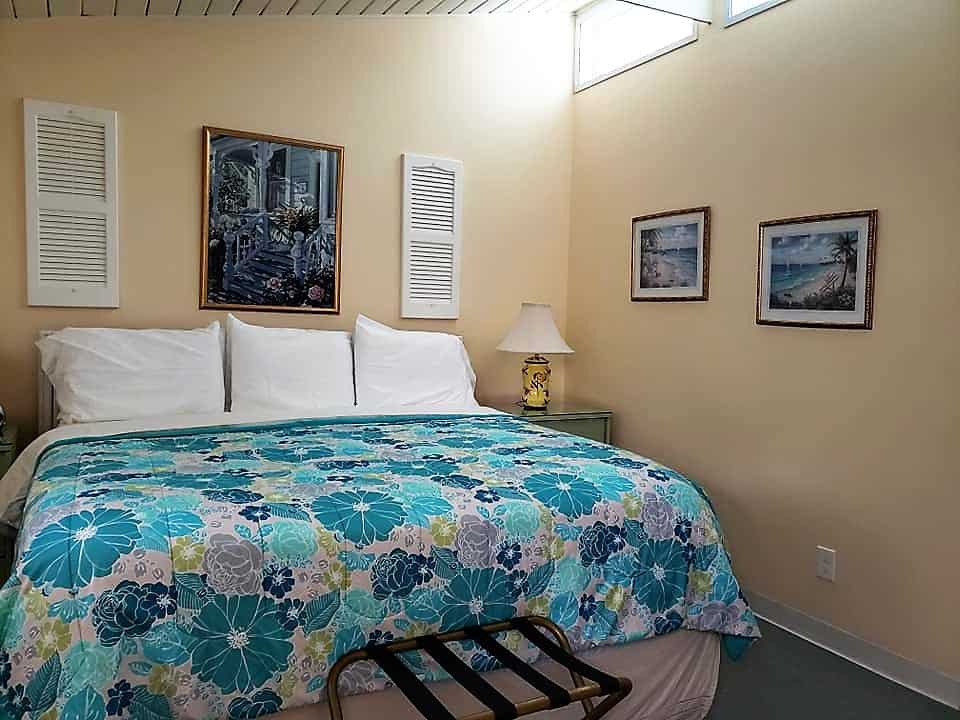 You are provided towels for the shower and beach towels to use along with your beach chairs. I never used the indoor shower. There is nothing better than coming home after the beach and taking a shower out on the deck.
Most of the fixtures are original except for the appliances and furniture, keeping with the feel of the 1950s Old Florida theme. Each room has a vaulted wood ceiling with lots of light coming into the cottage.
Things to Do
Since this is a residential neighborhood, there is nothing immediately in the area other than the natural beauty and outdoor activities the area offers. However, there are several great restaurants within walking distance and a block or two from the property. I can tell you that I have eaten at every single one and all of them are excellent.
Di Mare – French and Italian
Havana Nights – Small Plates, Salads, Seafood, Piano Bar
Dario Trattoria – Italian
South Beach Pizzeria – Italian, sub, pizza, calzones, counter service
Johnny D's Market & Bistro – Italian and Mediterranean
I also noticed that there was a bike outside of my cottage. I am going to assume it is for guest use since it is such a nice quiet neighborhood to pedal around in.
You can check out other cool stuff to do in Vero Beach here. Central Beach is less than a 5-minute drive away, where you will find shopping, music, Riverside Theater, and Vero Beach Museum of Art.
Wrap Up
If you are looking for a pool and restaurant resort, this is not the place for you. If you are looking for a secret, oceanfront spot that is quiet and offers an authentic Old Florida feel, then this is your place. You can not get any better than Sea Horse Cottages. They are truly a hidden gem that is a rare find in Florida these days.
Oceanfront
Private, secluded
Small, low key
Rustic, authentic, Old Florida.
Fishing, Kayaking, Surfing, Skim Boarding, SUP, Swimming, Biking, Walking
I did not see their information on any of the normal booking sites for Sea Horse. You can call directly to see about availability.
Check out the Sea Horse Cottages website and call directly to make a reservation. (772) 231-6402.