There is nothing like an airboat ride in Florida swamp if you are here in the winter! I love adventure travel and I really love airboats. This is a very low key activity, but if you are looking for something that is a little off the beaten path, this is great for all ages to enjoy. If you love nature and being in the great outdoors, you should definitely add an airboat ride in Florida needs to be on your bucket list while traveling here!
How We Got to Ride an Airboat
We had friends down from Pennsylvania with their four children. Since they were staying with us I needed to come up with fun ideas to keep them busy in our small town of Vero Beach, Florida.
One thing I came up with and has been on my own personal bucket list was an airboat ride in the Everglades. They were not able to go for that far of a drive so I put a group together and we went out locally right here for our airboat ride in Vero Beach, Florida.
Nearly every area in Florida that has wetlands offers options for an airboat ride so even if you are not in this specific area you should not have a problem finding somewhere to go.
We Headed to the Swamp
We traveled out to the western side of the county. If you live here you know that means out in the middle of nowhere. The area is still filled with groves and the St Johns Water Management system. So there are canals and wetland areas that people visit for fishing, air-boating and other fun outdoor activities. On the weekends you will see people towing their airboats heading west toward the swamp areas. It was a nice cool day and partly cloudy. We had perfect weather.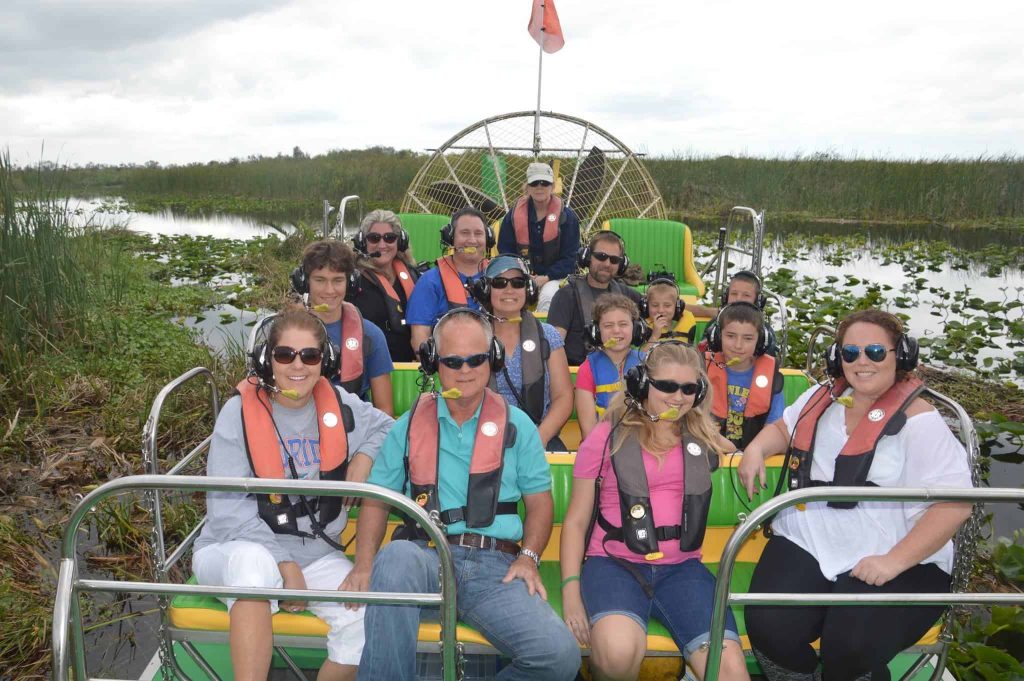 We all headed out to the meeting place called Garcia Ranch about 20 miles west of Vero Beach. Growing up in Vero Beach, my husband had been out there before it had been flooded. Garcia Ranch was its original name but now it is a part of the Blue Cypress Recreational Area where the airboats are launched for tours as well as hunting.
The now thriving wetlands were once a prosperous cattle farm. My husband even recalled a race track for horses out at the ranch when he had visited the ranch as a child. We pull up and there were several airboat tour operators there waiting for their reservations or bringing people back to the dock.
Wildlife is Everywhere
Wildlife abounds in this natural Florida habitat. You will definitely see Gators, Turtles, Fish, Hawks, Commorant, Ibis, Egrets and Heron. The most exciting find? Bald Eagles and Osprey. You will see huge nests atop trees housing these beautiful birds. Blue Cypress is a conservation area so it is a beautiful area to view Florida's most prized possessions.
Gators lay in the sun on the banks of the many islands in this flooded area. You can spot them sunning themselves and then slipping into the water to look for food. They often will bundle up together on colder days to stay warm.
Airboats provide people visiting Florida a unique way to experience our natural wildlife! This allows you to get deep into the marsh, canals and rivers of central Florida that would otherwise be inaccessible. It exposes you to areas that are not easily accessible which in turn allows you to see species that are not necessarily in heavily populated areas. You will also be able to see these species living in their most natural environment.
Your tour will be about an hour long and the Marsh Beast can take up to 15 people. The reason I chose Marsh Beast? The captains were USCG certified and had a combined 60 years of experience in the industry and a strong knowledge of the area and the eco-system they were visiting. This was also an educational tour for the kids. The kids would squeal with delight every time they were able to spot a new animal or bird find. In the end, we all got to hold a baby gator!
The captain was extremely knowledgeable about our ecosystem, unique plants and the animals he took us to find.
The kids really enjoyed the headsets. Make sure you warn them ahead of time the everyone in the boat can hear their conversation. This way your children are not disturbing the other passengers.
Tip: The kids got to hold a live gator! However, gators and other wildlife like lizards, snakes and turtles can carry salmonella. It is important to bring a bottle of hand sanitizer to clean up right away!
All in all, it was an exciting day for my friends and their kids visiting. We had great weather and best of all there were plenty of wildlife for us to see while we were out there. Florida has some very unique landscapes and a beautiful eco-system for all to enjoy! The Captain made it fun with some zippy rides on the water and a lot of education for everyone. Renting an airboat in Florida is fun for everyone!
After our airboat ride we headed to Fellsmere for a Florida style lunch at Marsh Landing. They serve breakfast, lunch and dinner in this historic building which was renovated and opened in 2002. You can immerse yourself in a rustic Southern restaurant offering classics like Fried Chicken, Gator Tail and Frog Legs. Don't worry! You can also get a burger there! This is a special place to visit as they work to preserve native Florida cuisine as well as our local culture.
If you have been on an airboat ride in Florida tell me about it in the comments!
Learn more about Vero Beach, Florida and everything it has to offer!