On our trip to Miami, we engaged an Uber driver and asked our her where we should head to next. It was a toss-up between Little Havana or Wynwood. "Wynwood Walls is one of the coolest neighborhoods in Miami!"
Wynwood Walls is a neighborhood in Miami that was rejuvenated and made into the famous art district, Wynwood Walls. There is a park with free admission that allows you to view creative artworks from famous and not so famous street artists as well as contemporary works that are housed in a couple of galleries on the property.
We headed towards the interstate where she whisked us away to this intriguing neighborhood. She explained that Wynwood was once a run-down neighborhood with depressed real estate values and assured us that the city had turned this around and was completely safe now.
As we hopped out of the car and approached the park, it was clear this was a trendy neighborhood as I witnessed people dressed to the hilt as they walked the neighborhood streets going about their day. The streets were packed with cars and the sidewalks with people.
Wynwood Walls Displays
Once you arrive, Wynwood Walls is an outdoor art museum started in 2009. Wynwood was opened in the midst of abandoned warehouses and failed manufacturing plants.
Open to the public and free of charge you walk through a park like setting to view the latest street art. The art changes monthly and is updated with new artists which keep things fresh and a place to put on your regular stop when you are in Miami.
Since it was built real estate values have skyrocketed in Miami's hip new neighborhood.
Walking the Streets Of Wynwood
There are several paid tours you can take but I would suggest just taking an Uber and head over to take a walk through the park. You will be amazed by the large-scale works by some of the world's best street artists.
The streets are completely safe. I never felt like we were in an area that was dangerous.
Much of the art has hidden messages in plain sight and as you learn to look at this genre you will start to pick up on them. Many are political messages hidden in urban art.
A security guard was more than willing to tell us about the artists and what some of their art represented. Since the art changes monthly, this is a place you will want to return to over and over. It makes a nice family day and there are plenty of places to chill out and relax. We saw families and small children all over.
Photo Opportunities
Bring your camera! You will love to experiment with the different works available to view and you can potentially leave with hundreds of photos. Wynwood Walls is a photographer's dream.
There are several entrances to the park like this one.
The original farmland of the early 1900s in Miami has certainly come a long way. It then turned into saloons and then eventually transitioned into manufacturing food plants. This was even Miami's garment district in the 1980s and the third largest garment district in the nation! Cut off by the development of I-95, and with diverse immigrants moving in, the area deteriorated over time.
The Walls
Tony Goldman's vision for a monthly urban art show has brought the neighborhood to its current trendy state. Goldman was also the reason for the revitalization of SoHo and South Beach.
Wynwood Walls, Miami
There are several security guards on site to protect the art. When I took the picture above, they came over quickly to make sure my friend's foot was not actually on the wall.
The park has a lot of places to rest in shady areas so you can sit and just soak in the colors and unique works of art.
Politics
Here you will find this mural with the hidden message RESIST and inside the letters, you will see the artist is resisting the Trump presidency.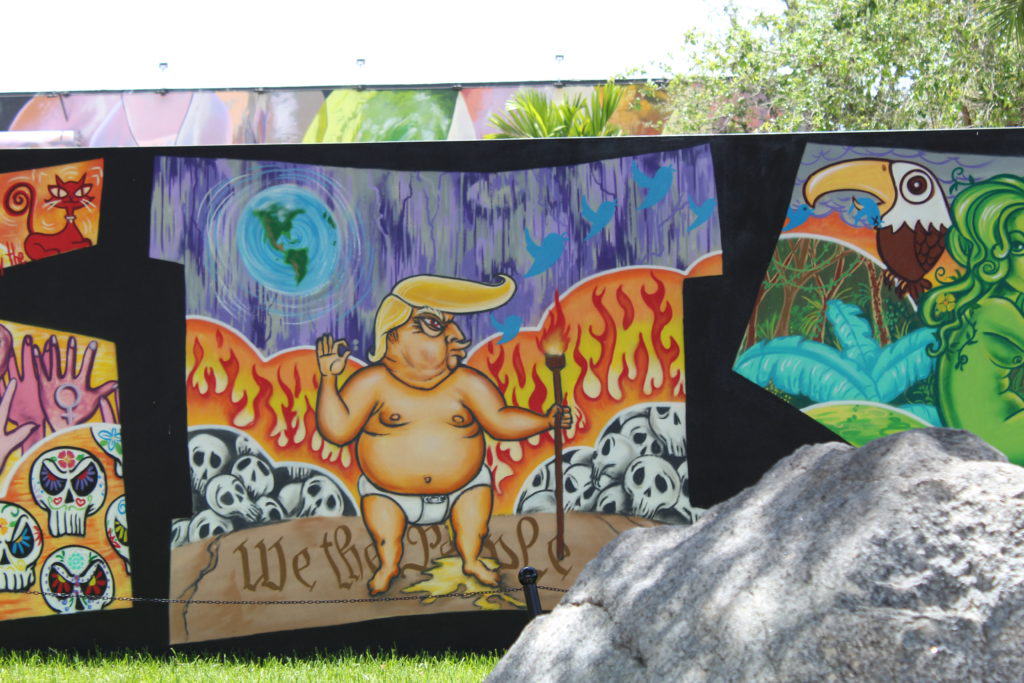 Trump depicted like a fat baby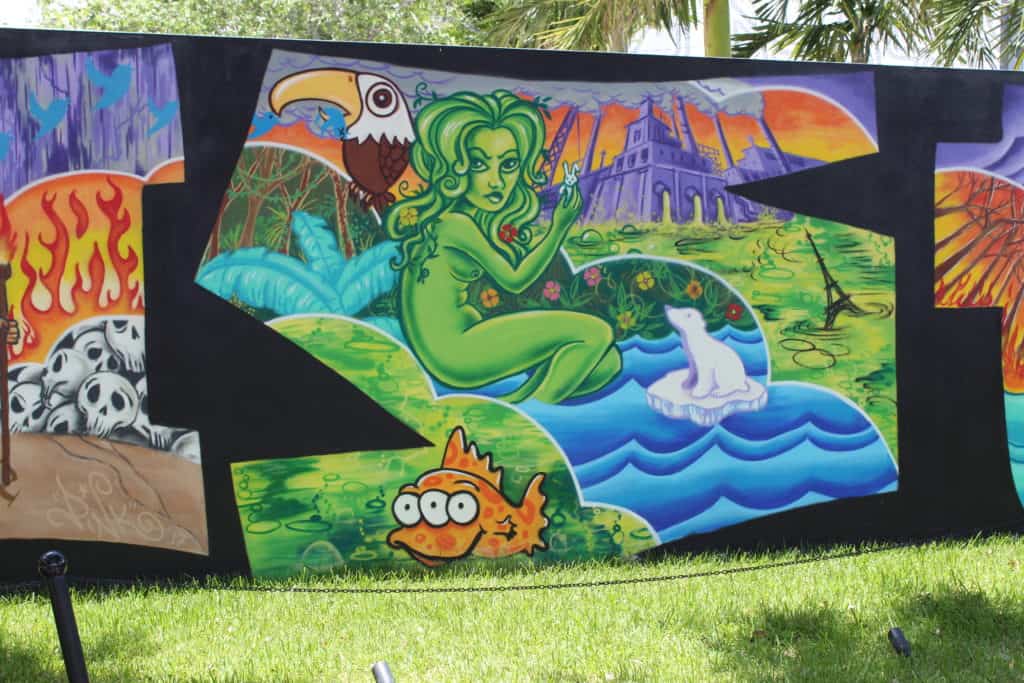 Melania Trump, Wynwood Walls, Miami, FL
Political statements are often made through the art at Wynwood Walls.
Indoor Galleries
Wynwood Park also offers galleries where you can view contemporary works of art.
Wynwood Neighborhood
Wynwood attracts a younger crowd with its hip shops, restaurants and clubs. There is a heavy police presence to ensure everyone's safety. The Miami Police Bike Division were running exercises on the street.
Every sidewalk, wall and fence had unique art.
Miami Police, Miami
Kosher Bakery Zak Bakery
We stopped into Zak Bakery right outside of Wynwood to get some refreshments. I am not a coffee drinker unless it is Cuban. I was able to get some energy with this delicious espresso.
The buildings in the area are all in theme with Wynwood and Miami, painted with murals and bright beautiful colors.
Everywhere you look, you will find interesting art, even on the sidewalks.
There is plenty of security in the neighborhood. Wynwood is a neighborhood that is thriving with fun restaurants, shopping, and bars.
The neighborhood was a great stop, and I will definitely return to see the updated murals and check out more restaurants, bars, breweries, and shops.
When the gallery's opening coincided with Art Basel in 2009, it transformed this depressed neighborhood. Sadly, Goldman passed in 2012, but his dream lives on through his children, who currently manage the assets and continue to invest in the Wynwood Neighborhood.

Let us know in the comments about what experiences you have had at Wynwood!