If you're considering a trip to Tybee Island, add these Tybee Island restaurants to your list of things to do! The area offers such incredible food, that no trip would be complete without checking out some of the best places to eat on Tybee Island.
I'm continuing my series on Tybee Island. I recently had the chance to take a long-awaited trip to Tybee Island and check it off my bucket list. Now I'm sharing all the ins and outs of this special place with you. Many thanks to Visit Tybee for the recommendations!
When you travel to a new place, sure there are places to see and things to do, but no trip is complete without good food to round everything out.
Related Post: Top Things To Do In Tybee Island – Your Go-To Guide
One thing we noticed while we were in Tybee Island was the plethora of not just good – but amazing – food the area offers. In fact, there are so many food options that I thought it might be a little overwhelming for some people who are considering a visit for the first time.
With that in mind, I decided to dedicate an entire post to amazing food options in Tybee Island to help give you a place to start as you plan your trip. All of the places we went to were pet friendly if they had outside seating. I would suggest calling ahead to make sure you can bring your pet.
NOTE: There are so many options for places to eat in Tybee Island that there was NO way we could try every single restaurant (and believe me, we tried to squeeze in as many possible!).
So this list today will include places we tried and places that we heard amazing things about to give you a starting point. However, we are not able to include every single restaurant in this post due to space limitations.
There are certain to be incredible restaurants on Tybee Island that are 100% worth trying but aren't included on this list.
Top Tybee Island Restaurants We Tried
Recommendations from friends always carry more weight than random strangers' opinions, right? I have always considered my readers to be more like friends, and I treat any post I write that way.
Due to the length of our stay, we couldn't try as many restaurants as we would have liked, but we gave it our best shot! Here are the Tybee Island restaurants we tried and what I thought of them.
The Deck is an oceanfront Tybee Island restaurant is located in the Beachside Colony Resort and has a patio that overlooks Tybee Island's wide, beautiful beach. Here's a quick rundown of our impressions.
What we liked about the restaurant: we enjoyed being able to eat right on the ocean.
What we ordered: drinks, Avocado Toast, and the Fresh Catch of the Day (Barramundi) – all were delicious
Menu: large variety to choose from
Atmosphere: laid back, relaxed atmosphere
Pet-friendly?: Yes – we were able to let Bo join us as we enjoyed our food and drinks, so it was definitely Bo-Approved!
Fannies on the Beach Tybee Restaurant
Located in a large pink building across from the beach, we tried Fannies for lunch during our stay. It's hard to miss, given the color of the building and the words "Eat at Fannies" painted in large letters on it!
What we liked: the location – it was easy to find and get to. Just keep your eyes out for the large pink building!
What we ordered: drinks and nachos – delicious!
Menu: large variety – everything from pizza to sandwiches, salads, and seafood (which we didn't try but looked amazing)
Atmosphere: friendly staff and fun atmosphere
Pet-Friendly?: yes – the sidewalk seating is first-come, first-served, and is pet-friendly (Bo-approved!).
If you have to pick just ONE restaurant on this list to visit, please make it The Original Crab Shack. Not only does it serve outstanding food, but it's really an attraction all on its own.
There's too much about this destination to include in this post, which is why I wrote a post entirely about The Original Crab Shack!
What we liked: it was more than a restaurant – it was a family-friendly destination!
What we ordered: drinks, roasted chicken and nachos – delicious!
Menu: incredible seafood raved about around the entire area
Atmosphere: fun and relaxed during the day; twinkling lights added at night
Pet-Friendly?: yes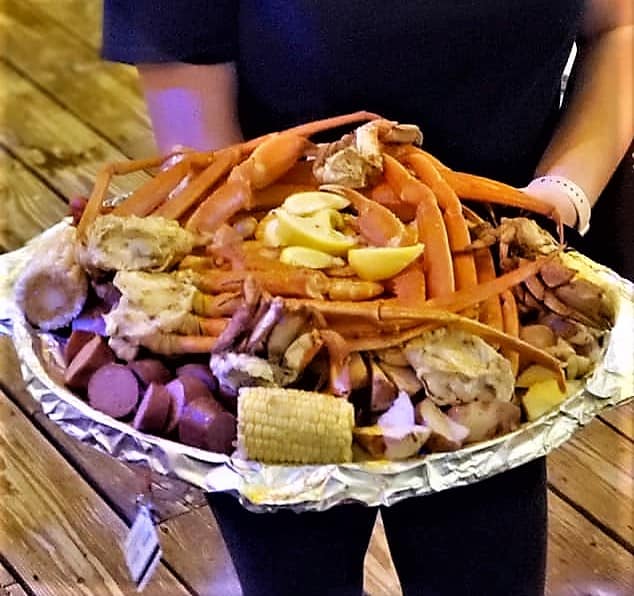 AJ's Grill
We hit this Tybee Island restaurant after taking our dolphin tour and enjoyed some amazing views and incredible hush puppies. Note: parking is limited, so I recommend walking or biking (if you can, based on your location).
What we liked: it was more than a restaurant – it was a family-friendly destination!
What we ordered: drinks, fresh flounder with hush puppies, and Jack had the cheeseburger – delicious!
Menu: incredible seafood raved about around the entire area
Atmosphere: fun and relaxed during the day with a view of the bay.
Pet-Friendly?: yes
Without a doubt, CoCo's was one of my favorite Tybee Island restaurants on our trip. The location, atmosphere, and delicious food come together in a way that made for a delightful experience. The sunsets here are amazing!
Fun fact about CoCo's: you can go fishing in the marsh and bring your fresh catch to CoCo's, and they will prepare it for you for that evening!
What we liked: the location – providing western views of the marsh, you can experience unbelievable sunsets right on the water.
What we ordered: CocoRita (my favorite drink on the trip!), Tuna bites, Bourbon Salmon, Steak Lazaretto, Cinnamon Sugar Fried Strawberries
Menu: large variety (but specializes in fresh seafood)
Atmosphere: fun and relaxed with gorgeous views and an amazing sunset
Pet-Friendly?: yes
Best Places to Eat on Tybee Island – Honorable Mentions
As I mentioned before, there was just no way that we could try any more Tybee Island restaurants during our short trip (but we put in a good, solid effort!). Here are a few honorable mentions that we heard great things about and have high ratings if you want to check them out:
Sundae Cafe & Deli – this former ice cream parlor now serves casual eats and some delectable desserts that are a must for our next visit.
North Beach Bar & Grill – a fun-looking beach restaurant with a huge deck that's shaded with palm trees and just steps from the beach. It serves up seafood with a Caribbean twist.
Huc-A-Poos Bites & Booze – get your beer and specialty pizza fix while enjoying live music.
As you can see, Tybee Island may be rich in history, culture, and things to do, but it also has a lively culinary scene that needs to be experienced! If you're planning a trip there, be sure to check out as many of these Tybee Island restaurants as you can – you won't be disappointed!
Have you visited recently? Please share in the comments your favorite place to eat on Tybee Island!
More About Tybee Island:
Ultimate Guide to Tybee Island (Part 1)
Ultimate Guide to Tybee Island (Part 2)
Top Things To Do In Tybee Island
Why You Need to Visit The Original Crab Shack