Are you wondering what the top excursions, beaches, and activities there are to do in Ocho Rios, Jamaica? Are you stopping for the day on a cruise and you are looking to make the most of your trip? Maybe you booked a week at one of the resorts in Ocho Rios and you would like to see the sites. There is plenty to see and do in Ocho Rios during your vacation.
Ocho Rios is a port town located on the north shore of Jamaica. It was a former fishing village that has now been turned into a resort town with a cruise port. From great beaches to majestic waterfalls and blue holes in the rainforest! You will not be bored in Ocho Rios, Jamaica! There is a variety of excursions to do in this area that we will show you.
Book Highly recommended Activities and Attractions Below
Here are the Top 8 Excursions, Beaches and Activities To Do In Ocho Rios, Jamaica!
Is Ochos Rios Safe?
In general, yes, Ocho Rios is a safe area during the day and in popular tourist spots. In comparison to the rest of Jamaica, Ocho Rios is still fairly safe and most crime is locally driven. You should always have your guard up though and you should never venture away from areas that are well lit and in the main tourist areas.
There are scammers there though. We even had an issue with a photographer at a well known international establishment. When I wrote the corporate office here in the US, I found out the photographer was a 3rd party vendor. It, of course, was called a "misunderstanding" when the photos I thought I was buying came with a photo disc, that was in fact, a CD with Bob Marley's music. There were no photos on the disc.
The vendor made it right but just because you frequent a well-known brand does not mean you can let your guard down.
Some Tips About Safety
I find when I have visited Jamaica, that the locals tell you half of the story, once you agree to what they want to sell you, then you will get the other half of the story and it is not quite what you wanted or bargained for! It's all good. We are talking a few dollars. But it is annoying and can put a slight damper on your trip. Just remember that when you are negotiating or purchasing services. Triple check everything! Most importantly, do not allow them to take your card somewhere to swipe it. I had a customer when I was a bank manager, who came home to a maxed-out credit card and he mentioned the bartender took the card to a back room to swipe it.
Tourists have been scammed into fake tours or buying marijuana from locals and led off into back alleys and robbed. You can set up your tours and excursions online with legitimate tour companies and vendors that have been vetted.
Another major thing. It is still illegal to have marijuana in Jamaica over a certain amount, so please refrain. We found this fun guy on our way to the Blue Hole. The ironic part is our driver was a retired police officer. Go figure! But it is not worth the risk if you do not know the specifics of the laws or if you are getting what you are told you are getting.
That is what you came here for, right? I will start with two that we have visited and loved and then go over the other ones there are to visit. Be sure to check Viator for a list of approved vendors to book your excursions. We saved a lot of money using Viator and they offered excursions our cruise was not. If we had only looked at what the cruise line offered we would have completely missed our favorite part of Ocho Rios!
The Blue Hole
#1 on my list is the Blue Hole in St. Ann Parish! A deep cavern within the tropical mountains of Jamaica, it is located away from the tourist areas. About a 20-30 minute drive depending on traffic. Once you arrive, you will find a tropical mountainous environment with a winding driveway to get you there. On the way, this is where you will see the real Jamaica and the local culture.
Once you arrive there is a long driveway that will take you to several stops that you can hike to the Blue Hole. Or if you are like us, our driver drove us to the office and main entrance. Make sure you find out which way your tour will go in case you are not interested in the longer hike. Once we arrived at the office we paid our entrance fees and started the easy hike to the hole area.
You will be assigned a guide who will take you through the experience and help you to climb the falls. The Blue Hole is also known as the Cool Blue Hole, Secret Falls, or Island Gully. It is a natural limestone sinkhole near Ocho Rios. The Blue Hole gets its name from the deep azure hue of the water. Travelers visit to swim, cliff dive, and make their way through the lush rain forest to the Secret Falls.
I was not down for the highest cliff dive but my group was. YOLO (you only live once) right? I agreed to be the photo and videographer except for when I decided I would jump in various situations. Then our guide was happy to take photos when I was ready to jump!
Top 8 Excursions, Beaches and Activities To Do In Ocho Rios, Jamaica
Dunn's River Falls and Park
Dunn's River Falls is one of Jamaica's national treasures. It is truly spectacular in every way. You have pools, falls and an entire deck system that has been set up with entry and exit points along the falls. There are guides here as well that will help you to navigate the falls and rocks.
You will enter the park and make your way downhill to the bottom of the falls. Once you are there you will make your way back up the falls with your group. You will create a human chain that will allow everyone to help each other achieve the common goal of climbing the rocks.
Dunn's River also offers a zipline tour where you can zip through the tropical jungle.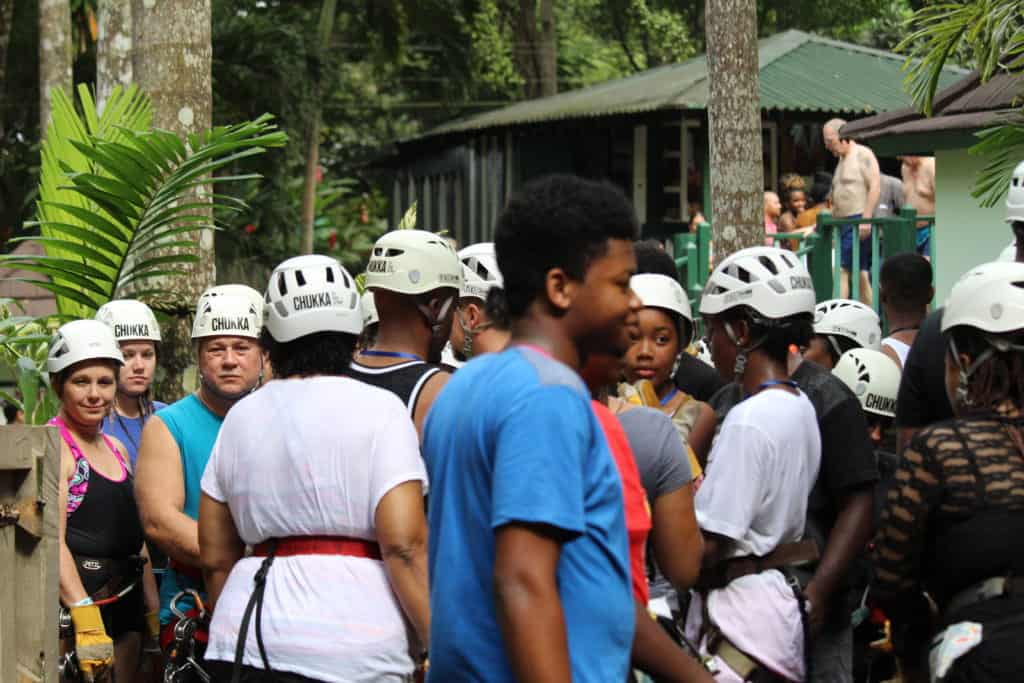 There is also a park that you can see the beautiful flora that Jamaica has to offer. The park offers food, bathrooms, showers and lockers that you can rent. There is also a straw market where you can buy plenty of Jamaican branded gifts for friends and family back home. We found this guy entertaining the crowd near some of the shops.
The entrance to the beach is included with the falls' entrance fee. So run back down and take a dip after you've conquered climbing the falls. The beach at Dunn's River Falls is decent but you will run into a lot of tourists on cruise days.
Some Tips While Doing Excursions in Ocho Rios
There are a couple of tips when visiting the Blue Hole and Dunns River Falls. There are crowds. Blue Hole is very uncrowded compared to Dunns River, which is why we preferred it. Depending on which day you go, there might be some lines, especially if it is a cruise ship day. However, even crowded they moved quickly. Bring water shoes to climb the rocks. I saw a lot of people in flip flops and although they allow this, it is definitely not ideal. I asked our driver and he said people have fallen on the rocks and because you are in a human chain, the whole chain goes with the person falling! Please wear the proper shoes!
Dolphin Cove Ocho Rios
Dolphin Cove is located close to the cruise port and on the way to Dunn's River Falls, so it is an easy spot to get to. If you want to swim with the dolphins in Jamaica, this is the place to go. Swimming with dolphins is considered one of the top 10 bucket list items for people visiting Ocho Rios. We did not do this tour, however, I did hear from others they felt the dolphins were being treated humanely and they really enjoyed themselves.
There is something for everyone in the family. The entrance fee includes full use of the following activities in the park.
Swimming and viewing sharks and stingrays
Pet the camels
Watch the Jamaica Shark Show
Relax on the beach
Interact with exotic birds, snakes and Iguanas in the park
There are several different levels of interaction with the Dolphins depending on your swimming experience. While you are there, you will be able to interact with the sharks as well and is included in your entrance fee.
Bring extra money to purchase photos because you will not be permitted to bring your camera to the dolphin area. Cameras are allowed at Dolphin Cove Jamaica, but not in the dolphin area or while participating in a Dolphin Program. You will want to bring a towel and water shoes. You will be asked not to put on sunscreen before you swim with the Dolphins. We always recommend a reef-safe sunscreen once you are ready to apply. Leave the jewelry at home for safety reasons.
Mystic Mountain Rainforest Park
If you like an eco-adventure tour then you will love the Mystic Mountain Rainforest tour! This is a fun-filled adventure of zip lining, bobsledding and the sky explorer which takes you some 700 feet above sea level to give you a great view of the town of Ocho Rios. The park has 100 acres and offers a restaurant, pool, shopping area and a gallery with Jamaican history.
If you are cruising you can experience the park in about three hours but it will typically take 5 hours to do everything. You will have time to explore more of the island and Ocho Rios or you can spend the day at the park enjoying the pool.
The Top Beaches in Ocho Rios
There are so many cool tours and attractions in Ocho Rios, many forget to take some time and relax on the beach. When we went to the shopping areas in Ocho Rios and saw you could rent a VIP spot on the beach for $10 in front of Margaritaville. There was a huge raft out in the water for the guests to hang out on.
Bay Beach / Turtle Beach
This beach is very close to the cruise port so you will be there in no time if you are cruising. The water is clear and the sand is white! It is also very shallow so if you have little kids with you it is safe for weaker swimmers.
James Bond Beach
The James Bond beach is about a 20-minute drive outside of Ocho Rios in a town called Oracabessa. It is famous because of the former home of the "James Bond" novelist, Ian Fleming. It is said that this was his secret hideaway where he wrote many of his famous "007" thrillers. Located on a cove it has extremely calm water with next to no waves.
There's a bar on the property where you can get an awesome cocktail and decent food. If you're looking for padded beach chairs and the comforts of a hotel, this beach is not for you. But if you looking for a rustic, authentic Jamaican experience then you will be hanging with the locals and hearing some local tales.
The Shopping in Ocho Rios
There is shopping in Ocho Rios but it is limited by the cruise port. I personally was not impressed with one shop we went into. I was being pressured to look at the jewelry. Now I purposely do not wear jewelry when I travel because it attracts this kind of behavior. I have learned to not bring expensive purses, jewelry or sunglasses when I travel anymore. Anyway, the sales clerk actually got mad at me because I did not want to look at their jewelry case. Her boss was standing off to the side watching. I have a feeling she would get in trouble if she did not get me over to the case. It was off-putting, to say the least. But I have found this kind of behavior in most places we have traveled to. A firm "no", will usually get people to leave you alone.
Taj Mahal
This is a self-contained strip mall where you can find duty free items, t-shirts and all the usual tourist items with the Jamaica label on it. I was told it is owned by one family who also runs most of the shops there.
So why would you want to shop in Ocho Rios and specifically the Taj Mahal? They are completely duty-free according to their website. We were looking for clips for our deck chairs on the ship and we found them at a reasonable price there. The Taj Mahal has a large collection of basic items as well as the large selection in jewelry and watches here Jamaica. They do have reasonably priced souvenirs and liquor like Jamaican Rum.
Island Village
I liked this area a little more. There were food vendors on the street and it had more of an open-air feel. The shops were nicer in this area. You also had Margaritaville and a beach where you could rent a spot for the day on Turtle Beach.
Some of the items they have for sale there were:
Jewelry
Clothing
Liquor
Tobacco including Jamaican and Cuban Cigars
Restaurants
Ice Cream
Coffee
Souveniers
Beach Accessories
Margaritaville has a pool with a bar in it as well. You can cool off in the pool and there is a slide for the kids too.
Some tips while shopping in Ocho Rios!
Most shops will want to charge you an additional fee for using a credit card for smaller items so bring cash if that is an issue for you. They asked us to pay an additional $2 on an $8 purchase.
Negotiate! Some things are reasonable enough that there is no need but in other cultures negotiating is expected. The worst case is they say no and you pay the asking price.
We would love to hear from you in the comments if you have tried any of Ocho Rios Excursions, Beaches or Activities we have suggested!
Top 8 Excursions, Beaches and Activities To Do In Ocho Rios, Jamaica