Many seniors are looking for more from their retirement. They often experience feelings of loss when they leave their careers. They no longer have the social interaction and challenges that come from employment. Going back to college for free solves many of those issues.
If you are a senior looking to expand your horizons or simply finish what you started in your younger years, then going back to college may be a great fit for you. We will explore many of the new options that are available to seniors that would like to explore going back to school options in retirement. There are many free and reduced cost resources if you are not looking to pursue your degree.
Why Are More Seniors Returning to School?
Many seniors are returning to school. Not only to learn and stay active but to also find a sense of purpose in their retirement. Often, seniors struggle with the loss of their social life from leaving their careers. Going back to campus can fulfill that missing piece of retirement for many seniors.
Some campuses also allow seniors to reside in campus housing. This can give seniors a sense of community, whether or not they find other people their age doing the same thing.
How Do I Get Free Tuition?
There are several options when looking into a lower-cost program or a free tuition program. Many colleges offer free tuition to senior students who only want to audit classes.
If you are looking to pursue a degree then many schools will still offer classes at a significantly reduced rate. In fact, some states have made it mandatory for seniors to be able to have access to free college courses. There are income requirements to receive aid.
According to FinAid.org, the states which offer statewide tuition waivers at public colleges include Alaska, Arkansas, Connecticut, Florida, Georgia, Illinois, Kentucky, Maine, Maryland, Massachusetts, Michigan, Minnesota, New Hampshire, New Jersey, North Carolina, Ohio, Rhode Island, South Dakota, Texas, Vermont, Virginia and Washington DC.
Even if your state is not listed here, many colleges will offer seniors a significant discount to fill those seats. You just need to call and ask what they are offering.
If you are over the age of 55 there are volunteer opportunities that may allow you to receive education awards. They can be up to $1,000 for 350 hours of volunteer service through the Edward M. Kennedy Serve America Act. You may use these awards for your own education or they can be transferred to a child or grandchild.
Osher Lifelong Learning Institute
The Bernard Osher Foundation started the Lifelong Learning Institutes. The Osher website states that they offer, "A diverse repertoire of intellectually stimulating, non-credit courses and educational activities, specifically designed for people who are 50 years of age or older."
Osher works directly with colleges and universities to help underserved seniors obtain higher education. There are currently 122 schools working with them.
You can reach out to your local college to see if they have any of their programs available. There is typically a nominal membership fee and classes run $50 each.
Coursera
Coursera is an online learning program that offers free or nominal cost courses for seniors and other students as well. The cool thing about Coursera is that they work with top universities like Duke and Stanford. Coursera also works with large corporations like Google and IBM.
This makes their course offerings interesting and versatile. You can take courses that range from poetry to technology classes. You can learn the latest skills and maybe even earn a certificate that will help you to launch a second career in retirement.
The Online Course Report
The Online Course Report offers 5400 free courses from top universities. You can put in the type of degree you want and it will show you what is available in the area of study.
What I love about this blog is that it also offers educational information on how to navigate the online courses that are offered on the web. It speaks to its quality and offers sound advice.
It is a great resource for learning how to prepare for standardized tests. Let's say you are interested in pursuing a law degree. The online course report offers help on how to pass the LSAT. Most seniors are not interested in a law career. Some folks might be and if you are like me and you retired early, you might consider that path.
How Do I Pay For Classes That Are Not Free
If you do want to obtain a degree there are ways to get assistance with paying for school. I would never recommend going into debt.
You can consider working for a large company like Starbucks that offers tuition reimbursement. Often, banks, retail stores like Walmart and Target offer these programs to assist employees in furthering their education.
If you have a 529 plan for your kid's education, you can also use it for your education if they did not use it all.
Wrap Up
Whether you are pursuing a degree or just want to audit classes, heading back to college is a great way to expand your horizons.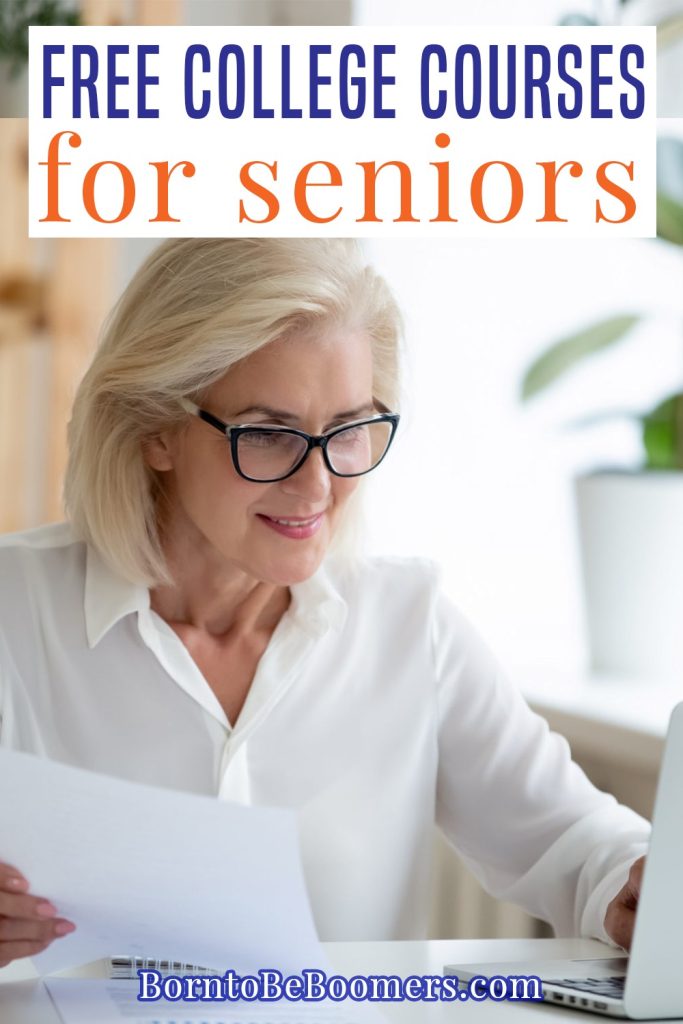 Because it offers social opportunities that seniors may be craving, college can be a great way for seniors to create a stable routine. Going back to school also helps seniors strengthen their cognitive abilities. Professors and students also welcome a more mature perspective to the classroom. Having seniors in the classroom is a win for everyone.