Due to Covid, please get in touch with the wineries before visiting. Many require reservations or appointments and are offering limited access.
Long Island was not always the beautiful wine country it is today. Fifty years ago, they used the land to grow potatoes until folks thought that the cool climate would be the perfect place for vineyards. As of 2015, there are 56 wine producers in the state of New York. Many folks travel to the area to sample award-winning wines and take in the relaxing atmosphere.
See our updated winery picks for 2023!
The friends we were visiting in Massapequa chose their two favorite wineries for us to visit. The first one on our list is Baiting Hollow Farm Vineyard. It was only about an hour's drive from Massapequa to Baiting Hollow, and you are in another world. You are transformed from New York City's bustling suburbs to a beautiful country landscape with vegetable stands offering their summer crops and homemade pies.
Baiting Hollow Family Vineyard
BHFV has an old country farmhouse with a barn for their rescue horses. This rustic farm has a rich family history and is run by the original owner, Sam Rubin's children. Sam grew up in the city and eventually followed his heart to be a farmer. He eventually found this land and started experimenting with grapevines and other farmers in the area, and Long Island Wine Country was born. The climate, soil, and conditions were similar to other successful wine-producing regions, and Sam purchased the adjacent land, establishing itself as a winery.
The old 1861 farmhouse was renovated and turned into a tasting room for visitors. There is an outdoor area with live music and tables. Our friends took us here, knowing it would be the Sabbath, so we prepared our picnic the day before. They allow you to bring your own food and eat in the picnic area while listening to music, which was nice. This winery is not as fancy as some others, but it has character, and the wines are awesome.
BHFV also rescues horses. They accept donations for assistance with these beautiful animals.
Rafael Winery
Rafael Winery has a much different feel of a modern winery. The grounds are meticulously kept with gorgeous flower beds. Hydrangea abounds in the pristine setting, making a perfect wedding spot. The inside has a modern rustic feel, with old vines wrapping around the interior architecture.
Rafael Winery offers tapas and a tasting menu. The atmosphere and the generous pour make this one of our top wineries to visit. European grapes such as Cabernet Franc are harvested entirely by hand at this family-owned winery.
Thursday – Monday 12-6
39390 NY-25, Peconic, NY 11958
Phone: (631) 765-1100
A gift shop and seating areas are overlooking the landscape. Below is a photo tour of our time there.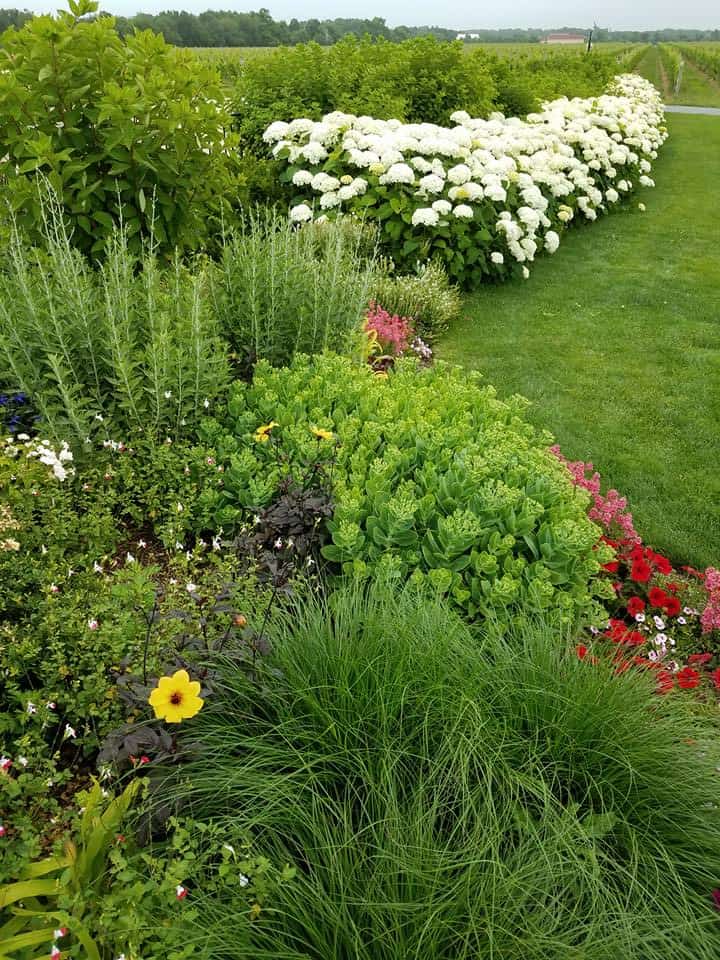 Macari Vineyards
Located in the North Fork region of Long Island, Macari Vineyards has a long history of farming on Long Island. Its modern, elegant tasting room and spectacular vineyard views with their outdoor seating make this a top pick on Long Island. The staff is welcoming, and the views are amazing!
150 BERGEN AVE, MATTITUCK, NY 11952H OURS • MONDAY – FRIDAY: 9AM-5 PM, SAT & SUN: 11AM-5PM
(631) 298-0100
24385 MAIN RD, CUTCHOGUE, NY 11935 CLOSED FOR WINTER, RE-OPENING SPRING 2020
(631) 734-7070
Kontokosta Winery
If you are looking for a waterfront winery experience the Kontokosta Winery is your spot! Perched atop the sweeping bluffs overlooking the Long Island Sound, Kontokosta Winery offers hand crafted wines in the waterfront climate where they were created. It is a romantic experience! They offer tours, tastings and small plates.
They offer handcrafted, limited production wines. Kontokosta wine club extends a number of exclusive benefits to members, including select wines delivered to you every three months, discounts on tastings and purchases at the tasting room, and priority access to hosting private events at the winery.
The Kontokosta family owns and manages the vineyard and farm operations on a day-to-day basis. They are active and involved owners and their daily involvement allows them to guarantee consistent fruit quality and ripeness from vintage to vintage.
Open Saturday – Thursday 11 AM – 5 PM
825 North Rd, Greenport, NY 11944-2261
631-477-6977
Martha Clara Vineyards
The Rivero-González family has 15 years experience in the Mexican wine industry and recently purchased Martha Clara Vineyards in the North Fork Region of Long Island.
The Rivero-González family, one of the most renowned Mexican wine producers in Parras, Coahuila, and agreed to purchase Martha Clara Vineyards in Riverhead, N.Y. They offer vintage wines and new releases for sale. You will find a nice arrangement of wines for sale. Whites: Chardonnay, Gewürztraminer, Riesling, Pinot Gris, Sauvignon Blanc and Viognier.
Martha Clara Vineyards is a 200-acre property located in one of the best places to grow vines. Thanks to its coastal location, ocean breezes keep temperatures moderate at any time of the year.

OPEN YEAR ROUND
Mon-Fri 11am-5pm
Sat 11am-6pm, Sun 11am-5pm
Reservations required for groups of 12 or more.
Sparkling Pointe Vineyards & Winery
Continuing down the North Fork Trail, you will find Sparking Pointe! If you are looking for sparkling wines (Champagne) you will want to stop here on your winery travels.
Sparkling Pointe's has a state of the art winemaking facility. It was completed in the summer of 2010. The winery only produces Méthode Champenoise Sparkling Wines.
The winery features a bladder press for gentle whole cluster pressing of the grapes. A reserve room holds 1,700 gallons of base wines aged in French oak and stored in stainless steel drums. This allows visitors views of all steps of production with vistas overlooking the tank room and cellars.
Many of their wines have earned 90+ point scores from Wine Advocate, Wine Enthusiast, and Wine Spectator. Sparkling Pointe wines are consistently acknowledged as some of the best in the New York wine region. You can experience their wines at the Grand Tasting House. They offer guided, educational tastings that are conducted daily.
Open 7 days by Reservation Only
Curbside Wine Pick Up: 12pm – 4pm Daily
39750 County Road 48, Southold, NY 11971-5012
631-765-0200
Roanoke Winery
Roanoke has a reputation for being a hidden gem. Locals and visitors alike rave about the red wines offered at Roanoke. Long Island Wineries can face challenges when producing red wines. Roanoke does great job for the area. They offer farm to table events as well as tastings.
Roanoke Vineyards is Long Island's only membership-based vineyard. They offer a wine club where you will have access to their estate wines. The club members have access to their events, kayaks, pick the grapes, and actually make the wine they call "The Hill."
There is also a member's tasting room where members and their guests are welcomed to spend snowy winter evenings by the fire, or venture out on the lawn in the summer months with a bottle of rosé. They accept new members on a quarterly basis, on an application basis which can be found at their Love Lane wine bar. Or you can call for more information.
Call for hours and accessibility.
3543 Sound Ave, Riverhead, NY 11901-1201
631-727-4161
Bedell Cellars
Bedell cellars offers both handcrafted reds and whites. You can taste their award winning wines under their mahogany pavilion with sweeping views of their vineyards and lush gardens for a truly relaxing experience. They also offer a loft area, with vaulted ceilings and a fireplace. You can view the barrel aging cellar through the viewing windows.
In addition to being able to taste their amazing wines, you will also be able to see the owner's art collection while visiting. The artists are also featured on their Artist Series Labels.
Open Daily 11 AM – 5 PM
36225 Main Rd, Cutchogue, NY 11935-1346
631-734-7537
Channing Daughters Winery
Channing Daughter is a popular choice with wine country visitors. This winery grows and makes wines from over two dozen grape varieties. The white grapes include Chardonnay, Pinot Grigio, Tocai Friulano, Sauvignon Blanc, Muscat Ottonel, Malvasia, Gewurztraminer, Ribolla Gialla and Pinot Bianco, and the red varieties include Merlot, Blaufränkisch, Dornfelder, Syrah, Cabernet Franc, Cabernet Sauvignon, Teroldego, Refosco and Lagrein. They are the only winery on the East End growing and producing wines from many of these grapes so you will be able to taste a wide variety of different wines.
At Channing Daughters, all of the grapes are hand picked. Then they only use the gentle whole cluster-pressing of white fruit. Red Grapes are stomped by foot and they use methods that are both traditional and artisanal with gravity bottling. Wine is grown by hand at Channing Daughters and they are known for their artisanal unique blends.

Call for access and hours
1927 Scuttlehole Road, Bridgehampton, NY 11932
631-537-7224
Wrap Up
In the end, Long Island is certainly diverse in its attractions. You will not run out of things to do here, from relaxing in the country to the summer hot spots along the coast. Make sure you stop by a roadside stand and pick up a homemade pie! I definitely gained weight on this trip hanging out with our Italian friends.
We made our way back to Massapequa just in time for the sun to set and us to welcome in the new week with dry-aged porterhouse steaks with a side of mushrooms and wine to end our perfect day in the vines. New York is also famous for its steak houses. Dry Aged Beef is a real treat and not easily found in Florida. Dry aging allows for a more concentrated beef flavor, and the meat is so tender!
Our friends planned the most amazing trip for us and the memories will last us a lifetime.
Let us know what wineries you have visited in the area in the comments below. We would love to hear from you!
Next we head off to Fire Island for a day trip!
Pin it for later!