Vero Beach Restaurants offer some of the best breakfast and brunch spots on the east coast of Florida. You will not be disappointed whether you want to dine oceanside or in our quaint downtown area. There are great breakfast restaurants for families, special occasions, romantic getaways, or business meetings.
Vero Beach, Florida, is located on the Treasure Coast and is the county seat of Indian River County. Vero Beach is known for its small-town feel and is often dubbed the Hamptons of Florida!
We will divide our top breakfast and brunch restaurant picks for you, starting with Oceanside, and then move over to our Mainland picks! Once we review all of the fantastic breakfast spots, we will take you to the Sunday Brunch Buffets!
The breakfast restaurant spots list moves from east to west, so be sure to keep scrolling! I personally have eaten at every single restaurant on this list, so it is hard to choose a favorite. I have several on this list, and I can honestly say that there is something I love about every place. Whatever your flavor, you will find it here.
If you are staying beachside, it will certainly be worth your time to head to our historic downtown area for breakfast or brunch. Once you have had your coffee and one of the fantastic breakfasts you can get downtown, you can take a stroll and see some of our art galleries and historical museums. I highly recommend taking the time to visit this area of Vero Beach!
I will also highlight those locally-owned restaurants, exclusive to Vero, small businesses that we love to support, over larger regional restaurants with multiple locations. We always recommend that you support locals first! They truly care about giving you the best quality and service.
Beachside
When hanging out in Vero Beach, many travelers choose to stay beachside so that they can access the sand and surf. We have a charming shopping area called Central Beach. You can take a stroll down Ocean Drive for shopping and great food options.
Cobalt at Vero Beach Hotel and Spa
Cobalt, located at the Vero Beach Hotel and Spa, brings you the luxury of direct oceanfront dining. The beauty of the oceanfront inspires the modern, rich décor and the dishes. Cobalt is known for using locally and ethically sourced ingredients in its dishes.
Cobalt is a popular spot for special occasions and holidays, like Mother's Day and Easter, where they offer live music and either a decadent seafood stacked brunch buffet or a set holiday menu. We love to sit on their outdoor patio overlooking the beach. I have also always had good service at the Vero Beach Hotel. Be sure to make reservations early!
Full Service
Cobalt Kimpton Vero Beach Hotel and Spa
772-469-1060
3500 Ocean Dr, Vero Beach, FL 32963
The Wave Kitchen and Bar at Costa d'Este
The Wave also features fresh, locally sourced seafood. They produce and select Cuban specialties developed by Costa's owners, Emilio and Gloria Estefan, from their Estefan Kitchen Cookbook. It is always a treat to eat there, whether it be breakfast, lunch, or dinner.
Breakfast is served from 7-11 AM and has a modern South Beach decor and a nice view of the pool area with a great ambiance. They offer healthy spa options as well as kid favorites, like pancakes. My personal favorite is the Salmon Benedict or the Smashed Avocado Toast.
After breakfast, you can take a stroll to their world-class beach and take in the amazing views!
Full Service
The Wave Kitchen and Bar – Costa d'Este Beach Resort
772 410 0100
3244 Ocean Dr. Vero Beach, FL 32963
Lemon Tree Restaurant – Locally Owned
Locals and visitors love Lemon Tree. The Lemon Tree has been a staple in Vero for as long as I can remember. Conveniently located on Ocean Drive in the Central Beach shopping area, you will find a large menu with many favorites at a reasonable price.
Full Service
Lemon Tree
772 231 0858
3125 Ocean Dr, Vero Beach, FL 32963
Monday – Friday: Breakfast: 7am-12pm. Lunch: 12pm-2:30pm
Mulligan's Beach House
Right smack on the beach, Mulligan's is a great choice if you are looking to watch the sunrise while sipping on your Mimosas. Mulligan's offers and is known for its oceanfront dining and amazing views.
Settle yourself under one of their tiki huts, put your toes in the sand and watch the wildlife show in the ocean while you eat your pancakes! Mulligan's has an open-air feel and is popular with families and travelers. They are also known for their killer Bloody Marys!
Our friends with Planning Away shared this photo with us from their visit to Mulligan's. It is located on Central Beach in the Holiday Inn Hotel.
Full Service
Mulligan's Beach House
772 492 6744
1025 Beachland Boulevard, Vero Beach, FL 32963
Open Daily 6:30 AM – 10 PM
Cravings – Locally Owned
Cravings started as primarily ice cream and cookie shop, and they have evolved into so much more! You can order breakfast sandwiches and bowls, muffins, pastries, croissants, smoothies, oatmeal, and gluten-free options! Their tasty breakfast offerings are just too many to list, but they pretty much have it all.
It is the perfect place for people to watch folks strolling down Ocean Drive with bistro-style outdoor seating. It is located in Central Beach, right in the heart of the shopping district, so there is plenty of activity for people watching.
Counter Service
Cravings
772 231 0208
3149 Ocean Drive, Vero Beach, Florida 32963
Casey's Place – Locally Owned
If you are looking for a hidden gem that is a local favorite, Casey's Place is your spot! Located one block west of Ocean Drive, you are still in the heart of Central Beach, and it just a short distance from the hotels. Casey's is a casual walk-up with plenty of tables outside to enjoy your meal. This is good food fast!
Not only are they famous for their breakfast sandwiches but also their char-grilled burgers. Whether you go for breakfast or lunch, you will not be disappointed.
Counter Service
Casey's Place
772-231-4790
917 Azalea Lane, Vero Beach, Florida 32963
Monday -Saturday 9am – 8pm
Disney's Vero Beach Hotel and Resort
Breakfast is served at the Disney Resort, a short drive up A1A from Vero's Central Beach. Not only do they offer regular breakfast fare, but if you have kids, the resort did offer, pre-pandemic, a Goofy's Beachside Character Breakfast at Seagrape. Post-pandemic, I am sure this will make a come-back.
Treat your family to this experience on Saturday mornings! This is a casual-themed restaurant. The kids can have breakfast with character! Parents will appreciate the nice menu, while kids will have a blast participating in fun activities planned just for them.
Goofy's Beachside Character Breakfast at Seagrape is currently unavailable, but it should be back when normalcy resumes. Please call ahead for availability.
Full Service
Disney's Vero Beach Resort
772 234 2000
9250 Island Grove Terrace, Vero Beach, Florida 32963
Having Lunch or Dinner in Vero? Check out our top restaurant picks in Vero Beach!
Best Vero Beach Restaurants To Check Out For 2021!
Mainland
You can cross either of the two bridges in Vero Beach and only be a few minutes away from either our downtown area or Miracle Mile. Both of these areas offer great restaurants to visit.
21st Street or Miracle Mile is a one-mile strip of shopping centers where you will find many restaurants and shopping options. There are also great spots for dinner and lunch too, so keep your eyes peeled!
Our downtown area is just a couple miles west of Miracle Mile, but you will find many restaurants there as well that range from counter service bakeries to fine dining options for that romantic dinner out. Downtown Vero Beach has plenty to see and do. You will be able to visit our historic train station and the Vero Beach Citrus Museum!
La Tabla – Locally Owned
La Tabla is where you will find a little bit of Cali in Vero Beach! They are located on Royal Palm Point and offer Treasure Coast farm-to-table menu items with organic options. I love places that offer local ingredients from the Treasure Coast.
I also like that they have a juice bar. They open at 9 AM, so don't get there too early, but they are certainly worth the wait!
All of the food is made from scratch and cooked or blended to order. If you are looking for healthy power-packed meals, tasty salads, and other healthy options, La Tabla is a great spot to stop by after your morning workout and pick up a protein shake!
Counter Service
La Tabla
772 205 2772
29 Royal Palm Point #1, Vero Beach, FL 32960
Monday – Saturday 9 AM – 2:30 PM
Grit Scratch Kitchen – Locally Owned
Grit Scratch Kitchen is located inside the Riverside Medical Center in the heart of Vero Beach's Hospital District. They serve breakfast all day.
Their most popular dishes are our Creme Brule French Toast, Maryland Crabcake Eggs Benedict, The Big Chick Sandwich, and their Corn Beef Reuben. They are a Scratch Kitchen, and almost everything they serve is made from scratch, in-house, from their soups to their sauces.
The husband and wife team, Mike and Andrea, started the restaurant as their first venture to share their love of food and their community with the people of Vero. Their heartwarming story alone will make you want to stop in for a visit and say hello!
Full Service
Grit Scratch Kitchen
(772) 492-6407
777 37th St Suite A 100, Vero Beach, FL 32960
Monday – Friday 8 AM – 2:30 PM
First Watch
First Watch is a Florida favorite! I would describe First Watch as a modern twist on the old-fashioned diner with a bar. You will find a counter and table seating in our First Watch, along with really great food and craft cocktails!
My personal favorite there is the Turkey Sausage and Gravy over Biscuits. You will not miss the pork sausage in this dish, I promise. They offer traditional dishes like pancakes and Belgian Waffles. They also offer modern options like Acai Berry Bowl and Avocado Toast with Crab. There is something for everyone at First Watch!
Full Service
First Watch
772 807 3447
500 21st Street, Vero Beach, FL 32960
Open Daily: 7am – 2:30pm
Closed on Thanksgiving & Christmas
Too Jays
Too Jays is a gourmet deli and bakery located in Treasure Coast Plaza on Miracle Mile. They are known for their fantastic Bagels and Lox, Matzah Ball Soup, and huge sandwiches and wraps for lunch.
Their breakfast menu has everything from Bagels, Eggs, Omelets, Eggs Benedict, Skillets, Breakfast Sandwiches and Wraps, Chicken and Waffles, Belgian Waffles, French Toast, and more! Their desserts are the best in town, so take a slice of something home for later.
Instead of ordering hashbrowns, you can get a side of Latkes with your eggs! Don't tell anyone, but I buy my Latkes here for Hanukkah and reheat them at home for guests! Shhhhh!
Full Service
Too Jays Gourmet Deli
(772) 349-2199
555 21st Street, Vero Beach, Florida 32960
Daily: 8am – 9pm
Palato Cafe – Locally Owned
When I first learned about Palato Cafe, people described it in many different ways. "The Cuban place" was the term I most often heard. But it is not just Cuban!
There are many different cultures represented at Palato. From Middle Eastern to the Caribbean, you will find many unique offerings! And all of it is healthy and delicious! They also offer a coffee bar, juice shots, and acai bowls.
Counter Service
Palato Cafe
915 17Th Street, Suite 101, Vero Beach FL 32960
772-643-4975
Mon-Fri: 8:00am-3:00pm; Sat: 8:30am-2:00pm
Beach Bum Bagel Café – Locally Owned
If you are looking for the best bagels in town, Beach Bum Bagel Café is your spot. But they are much more than just Bagels! Located in our downtown area, they offer the best bagels, fresh fruit, cheesy home fries, and breakfast sandwiches. They also offer Taylor Pork Roll!
Just look for the VW bus parked out front. Outdoor seating is also available.
Beach Bum Bagel Cafe
(772) 492-6773
2263 14th Ave, Vero Beach, FL 32960
6 AM – 2 PM Monday-Friday and 7 AM – 1 PM on Saturday
Baci Trattoria – Locally Owned
Baci in Vero Beach is one of my favorite breakfast spots and a great Italian restaurant.
They have more eggs benedict options than I have ever seen at any restaurant. I am a huge hollandaise snob, and theirs is always made from scratch and on point. Many of their dishes offer lots of fresh fruit, veggies, salmon, and other seafood. The portions are huge, and they are true breakfast artisans!
This is their Boston Cream Pie made with Belgium Chocolate Ganache and Vanilla custard on Challah Bread. You won't go wrong at Baci! Totally decadent and delicious!
For lunch (or brunch), you will find many classic Italian favorites and funkier new dishes, including vegetarian options on their menu. Their Arancini di Calabritto (Risotto balls) are to die for, so make sure you try those as well. I love exploring the menu at Bacci. It is certainly worth the trip to downtown Vero.
Full Service
Baci Trattoria
772.794.4747
1918 14th Avenue, Vero Beach, Fl 32960
Open Daily 7 am – 3pm
Coffee House 1420 – Locally Owned
This spot is one of my favorites in Vero Beach. You will love Coffee House 1420 if you are interested in tasting coffees from around the world and probably the best pastries I have ever had!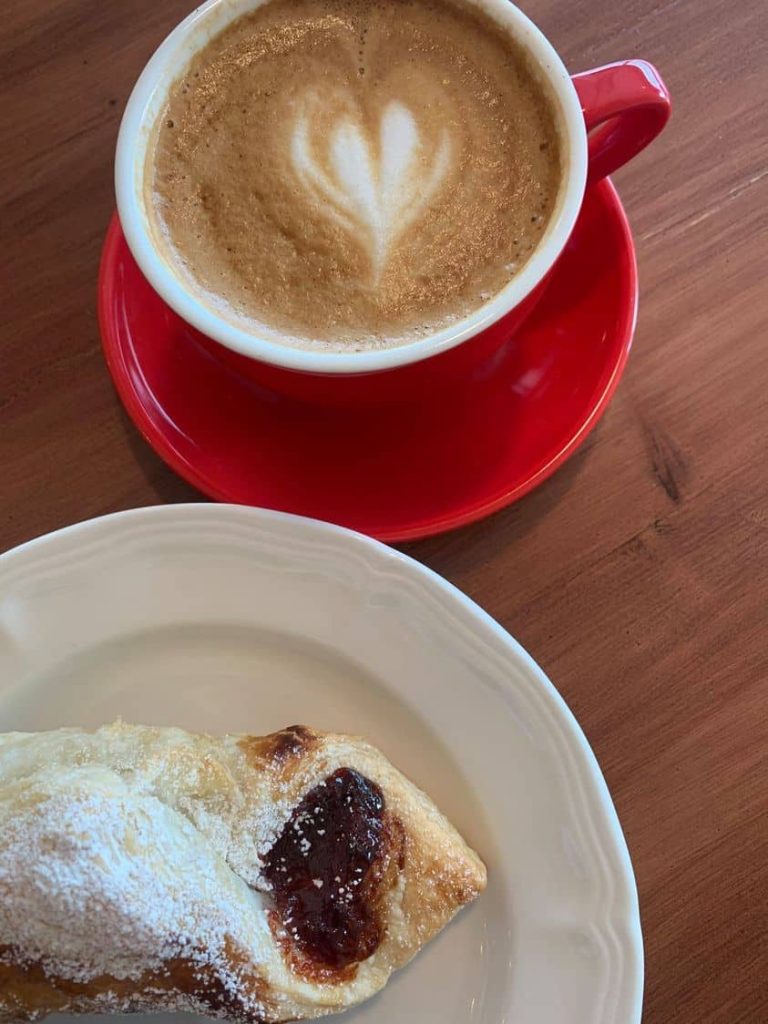 I first met Chef Michael Glatz when I worked in the banking industry, and he would bring my staff treats. I was amazed at the flavors! We started purchasing all of our holiday baked goods from the bakery where he was at the time. When he opened Coffee House 1420, I knew I would be a fan.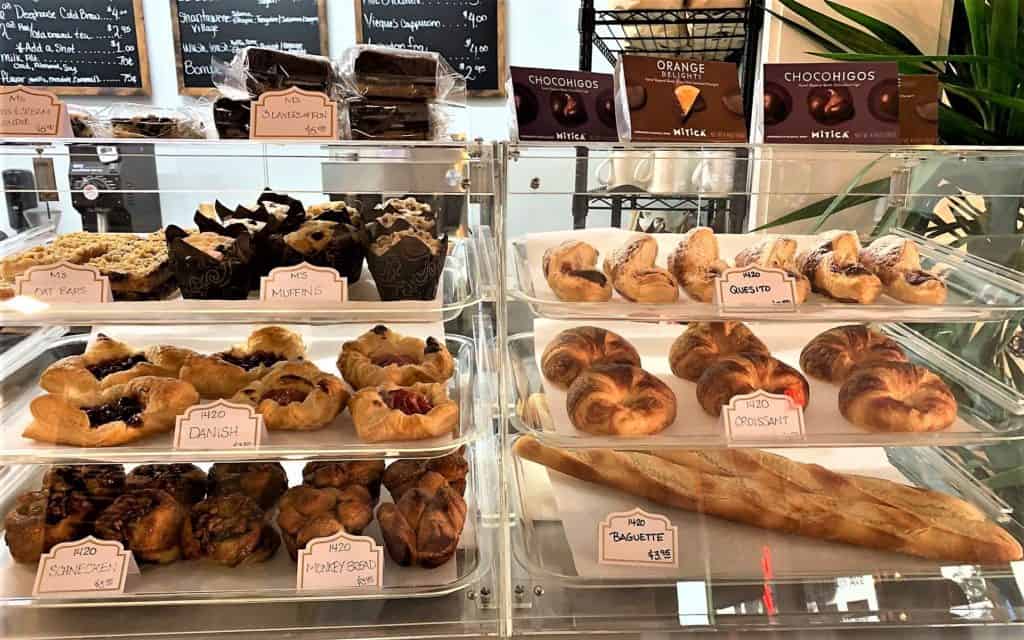 Besides the fantastic coffee options and specialty drinks, you will find loose-leaf teas and fresh, locally sourced citrus drinks.
What I love about the menu are the unique breakfast and lunch offerings! The menu is truly different than any other I have seen in Vero. Asparagus and Cheese Quiche, Pastries with fresh fruits, Cubano Sandwiches, and Hot Breakfast Sandwiches. And it is really about the fresh ingredients in his dishes, like Pate, Farro, Salmon, Sweet Grass Brie, fresh house-made hummus, and house-made pickles!
Chef Michael also offers Vegan, Keto, and Gluten-free options for those with dietary restrictions, so there is something for everyone.
Counter Service
Coffee House 1420
772-925-1572
2001 14th Avenue, Vero Beach FL 32960
Mon – Sat 7AM – 5PM
Mrs. Mac's Fillin' Station – Locally Owned
Mrs. Mac's is a favorite local hang-out that will take you back to the 50s classic car era. With checkered flag table cloths and plates, you will feel like you walked into another era.
You will find the walls lined with antique automobile memorabilia and collectibles that are also for sale. The staff is in character, like gas station attendants, and ready to serve you and fill up your tank (stomach)!
One of the hard-to-find items that Mrs. Mac's has on their menu is Scrapple and Taylor's Pork Roll. This is a local delicacy from Amish country, and you will most likely only know what it is if you are from New Jersey or Pennsylvania. I had to mention it since so many people who come to Florida are looking for it.
They also offer great southern items as well. I am always a fan of how they prepare their grits, and the sausage gravy is a fan favorite!
Full Service
Mrs. Mac's Fillin' Station
772-564-8400
951 Old Dixie Hwy, Vero Beach, FL 32960
Tuesday – Saturday 7:00AM – 2:00PM
CJ Cannon's – Locally Owned
If you are looking for a Southern-style menu with all of your favorites, CJ Cannon's restaurant is a long-time Vero tradition and a local favorite! Located at the Vero Beach Airport, CJ Cannon's offers a runway view where you can watch amazing views of the planes taking off, making this a landmark restaurant.
There are retro aircraft memorabilia, celebrity autographs, pictures, and history throughout the restaurant walls that show CJ Cannon's history here in Vero Beach. And you can't beat the comfort food at reasonable prices!
Full Service
CJ Cannon's
772-567-7727
3414 Cherokee Drive, Vero Beach, FL 32960
Monday – Saturday 7 AM – 9 PM Sunday 7 AM -2 PM
Sunday Brunch
I had to include a couple of restaurants that offer an amazing Sunday Brunch with excellent food but do not normally serve breakfast. If you are here on a Sunday, you must try my two favorite brunch buffets.
The Green Marlin Restaurant – Locally Owned
The Marlin is one of my favorite restaurants in Vero Beach, and Chef Lou's beautiful Sunday Brunch makes it even better. Green Marlin offers all-day drink specials, so it is always Happy Hour at the Marlin!
Prime Rib, Carved Ham, Shrimp & Grits, Fish & Chips, Omelet Station, Eggs Benedict, Sausage, Biscuits & Gravy, Fresh Fruit, Assorted Bread, Desserts, and Soups!
Chef Lou makes all of his soups, dressings, and sauces from scratch, which is why I love love love this spot for any meal!
The Green Marlin Restaurant
772-999-5248
1475 – US – 1 Vero Beach, Florida 32960
Brunch 10 AM – 2 PM
Riverside Cafe – Locally Owned
Riverside Cafe is located right on the Indian River Lagoon by the northern bridge, beachside. They also offer an amazing Sunday Brunch. After brunch, you can head over to the Vero Beach Museum and walk off all of this amazing food!
Hand Sliced Prime Rib Carving Station, Raw Bar – peel & eat Shrimp, Local Little Neck Clams on the Half Shell, Farm-Raised Gulf Oysters, Eggs Benedict, Made to Order Omelet Station, Pork Sausage Biscuits & Gravy, Cheesy Grits, Pancakes & Hash Browns, Applewood Smoked Bacon, Corned Beef Hash, Fried Fish, 5 cheese Mac & Cheese, Chicken Wings, Lobster Bisque, Fresh Fruit & Salad Bar and Homemade Desserts. Whew!
Riverside Cafe
772.234.5550
3341 Bridge Plaza Dr, Vero Beach, FL 32963
Brunch 10 AM – 2 PM
Pin it for later!