With COVID, family vacations are being redefined. No longer is it easy to hop on a plane and go to your dream destination and more people are looking into the best road trip ideas for their vacation. More than half (54%) of American drivers surveyed say that they prefer a road trip to a plane ride when getting away this summer.
The new normal means taking road trips to state parks or scenic drives to your favorite destinations. Here are our top bucket list picks for the best road trip ideas for all 50 states in the US and more importantly the best US road trips that are near you. We put each state in alphabetical order so you can find that state's road trip ideas with ease and plan the best road trips vacation.
My hope is you can use this article as a resource for many years to come as you travel our beloved United States. Enjoy and let us know the best road trip near you in the US! **As long as COVID is around please check to make sure certain sites are open and accepting visitors.
Alabama
Alabama's best road trips offer mountains or beaches and something in between! There is plenty to do in Alabama, especially if you are in the civil war and civil rights history buff. Be sure to look into Montgomery, where you will find plenty of history here.
National Memorial for Peace and Justice.
Dexter Parsonage Museum – Dr. Martin Luther King's home.
Civil Rights Memorial Center.
Dexter Avenue King Memorial Baptist Church.
First White House of the Confederacy.
Alabama's Coastal Connection Scenic Byway
Who doesn't love the beach? One of the best sites along the 17 miles of AL Highway 182 is Gulf State Park. The 3.5 miles of sugary sands separate Gulf Shores and Orange Beach.
When you go to Alabama's Gulf State Park you will have 2 miles of sandy white beaches and 25 miles of biking trails. The parks offer fishing pole rentals so you do not have to bring your gear unless you want to. You can fish right from the Gulf State Fishing and Education Pier which is the largest pier on the Gulf of Mexico.
Huntsville Mountaintop Road and U.S. Space & Rocket Center
Florida is not the only state with a rockin' space program. You will want to check out the US Space and Rocket Center in Huntsville and see their museum. Saturn V Hall, Moon Crater, Military Park, Rocket Park, Shuttle Park, Rocket Shop, and Mining Sluice. Visit the Saturn V Hall, Moon Crater, Military Park, Rocket Park, Shuttle Park, Rocket Shop, and Mining Sluice. Huntsville is a city in the Appalachian Region of Northern Alabama so you can see mountains too. Head over the Huntsville Mountaintop Road.
Alaska
Anchorage is the perfect spot to venture from when looking for great Alaskan road trips. Alaska is definitely offering the best national and state parks in the US. If you love wildlife Alaska is a must-see state.
Hatcher Pass
Hatcher Pass Scenic Drive is about 3 hours from Anchorage, round trip. It is located in the Talkeetna Mountains between the towns of Willow and Palmer. Hatcher Pass is a favorite for locals who love recreation or a scenic drive. Hike in alpine tundra dotted with wildflowers and ptarmigan, ski fresh, deep powder, or visit Independence Mine Historical State Park.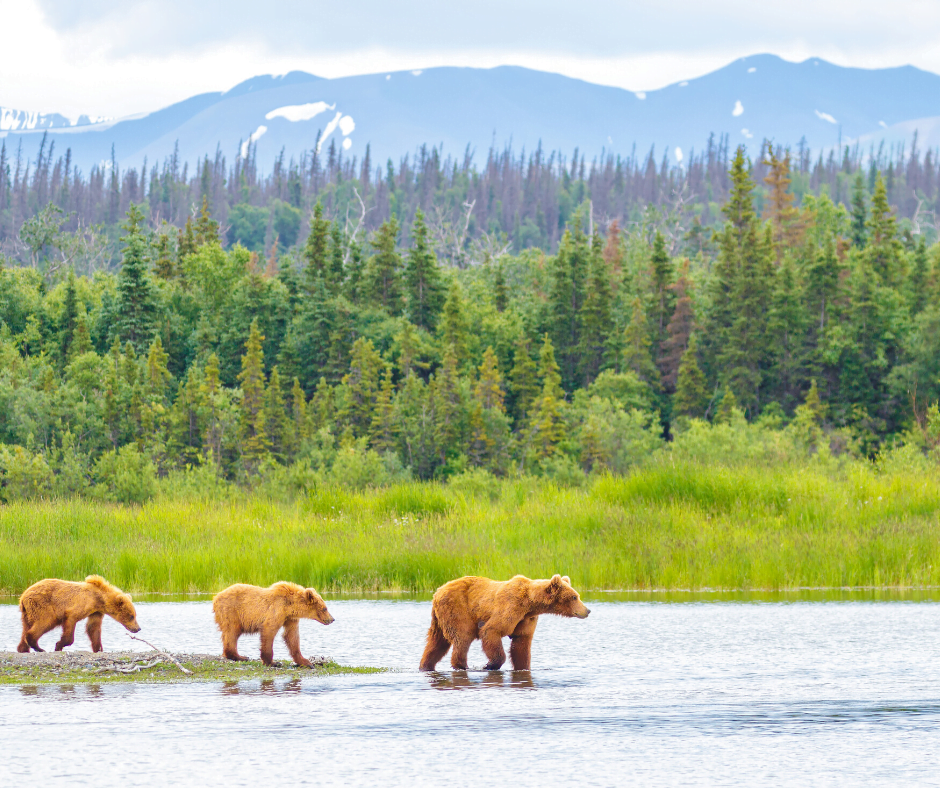 Denali Park and Preserve
Denali National Park is the third largest park in the United States and is 6 million acres. It's 92 miles and about 5 hours from the park entrance to Kantishna, the end of the park road.
After the first 15 miles, your vehicle will not be allowed and you will have to take a tour or use the park hop on hop off shuttle bus.
The summer bus tours begin as early as May 20th. There is a 7-hour half-day tour that will take you for the first 53 miles of the road or a full-day 13-hour bus tour covering the entire 92 miles that begins June 8th.
Arizona
Starting out from Phoenix, there are a couple of great stops on the way to your destinations like Flagstaff and Sedona. Route 66 is also in Arizona for those that love anything retro.
Grand Canyon National Park
The Grand Canyon National Park encompasses 277 miles of the Colorado River and adjacent uplands. The park is home to much of the immense Grand Canyon; a mile deep, and up to 18 miles wide. You will see layered bands of colorful rock that reveal millions of years of geologic history. It is often considered one of the Seven Wonders of the World.
Antelope Canyon
The best months to visit Antelope Canyon are between the end of March and early October. You must have a Navajo guide to be able to enter the park at Antelope Canyon.
During this time, from spring to fall, you will see light beams that enter the Upper Antelope Canyon which creates a unique phenomenon. If you visit Antelope Canyon during winter, you will miss the colors of the light beams.
Arkansas
Arkansas is highly underrated for tourism but it is a beautiful state for road trips. I know this because I used to live there and road trips were one of our favorite things to do. Whether you head north or south from Little Rock there is so much to see. There is a reason why it is called the Natural State!
Hot Springs Park
Hot Springs National Park is the smallest and oldest of the parks in the National Park System. It dates back to 1832 when Congress established, 40 years ahead of Yellowstone, so Hot Springs is the first federally protected area in the nation's history.
Hot Springs Reservation, which was renamed Hot Springs National Park in 1921, was created to protect the 47 naturally flowing thermal springs on the southwestern slope of Hot Springs Mountain. Visiting the park is free.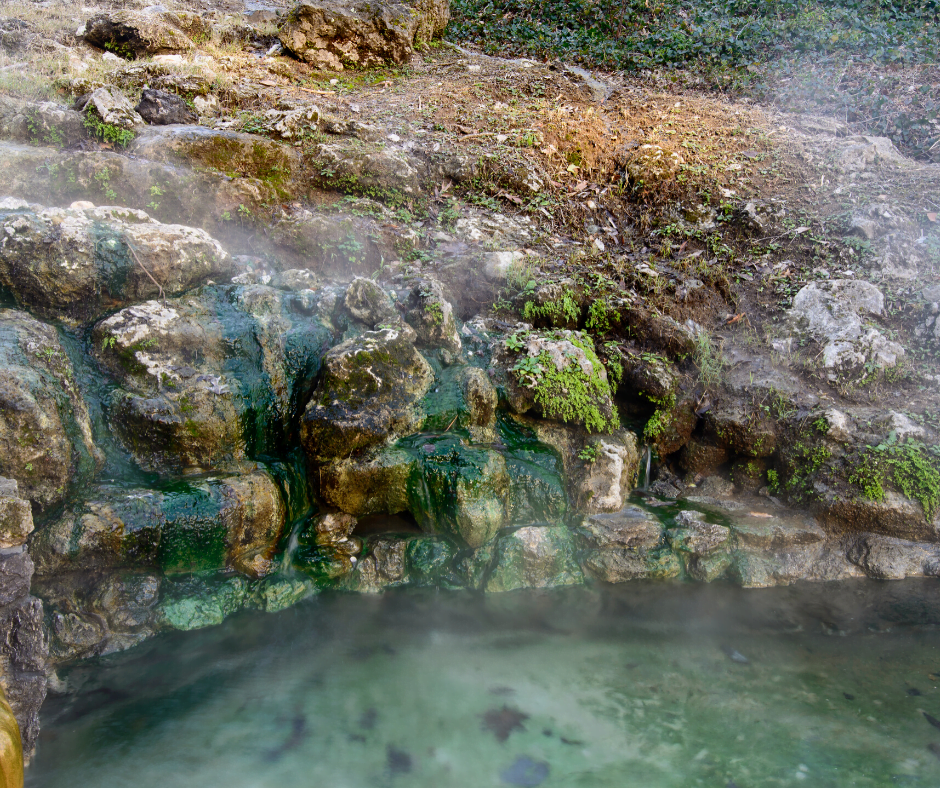 Ozark Mountains
If kayaking, fishing and hiking are in your wheelhouse then the Ozarks in Arkansas are for you. There is a variety of lakes, rivers and streams in the Ozarks. The drive is absolutely beautiful from Little Rock.
California
California, the third-largest state, covers a lot of lands that will give you a variety of topography to choose from when planning your road trip. It runs a little under 800 miles from top to bottom.
Pacific Coast Highway
The Pacific Coast Highway is considered one of the most scenic highways in the US. The highway stretches from California's northern border to San Diego. Your drive will take you about 12 hours with no stops. But who does not want to explore at least a couple of places?
There is one great reason to start your road trip in the North and head South! You will be driving on the lane that is closest to the ocean!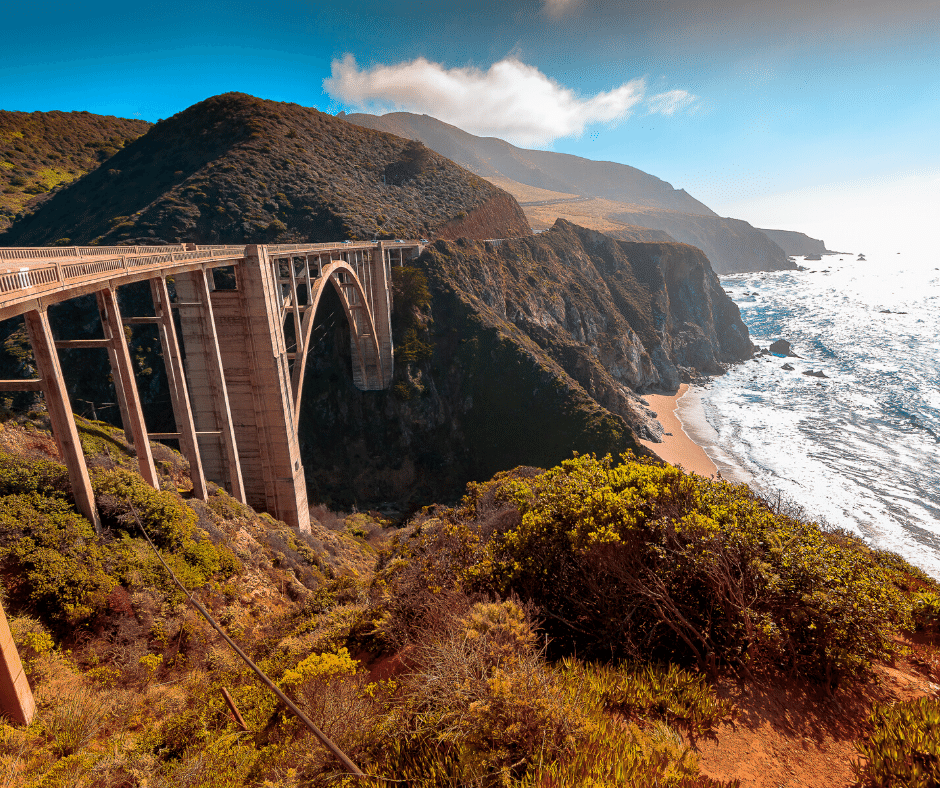 Redwood Forest
Everyone knows that Redwood Park is the home to the tallest trees on Earth. The parks also protect vast prairies, oak woodlands, wild river-ways, and nearly 40-miles of rugged coastline so there is definitely more to see than the trees.
Golden Gate Park
If you want to fly into a major city in California then we suggest starting in San Francisco! You will want to see the Golden Gate Park and Bridge in San Francisco. There are more than 1000 acres to explore and ten lakes. They just celebrated their 150 year anniversary.
The offer segway, scooter and bicycle tours. There is a museum, a carousel for the kids and my all-time favorite, the Japanese Tea Garden.
Stops In Between San Francisco and Los Angeles
Monterey, California – Home to the excellent Monterey Bay Aquarium and the internationally famous Monterey Jazz Festival.
San Simeon, California – The Hearst Castle is one of the truly unique attractions to see on a Pacific Coast Highway road trip.
San Luis Obispo, California – Offering a beautiful 18th-century Spanish mission to tour, and the Madonna Inn, a popular hang out for celebrities in the 1950s is a unique place to spend a night.
Los Angeles
Most folks complain there is not much to see on the Pacific Coast Highway in Los Angeles due to obstructed views but that does not mean that you can not see some cool stuff in Los Angeles, like, Malibu, Hollywood, Dodger Stadium and other cool sites.
San Diego
San Diego is known for is cool eateries and even cooler surfer culture. You can visit their many beaches as well as The USS Midway Museum, San Diego Zoo, and La Jolla Park. There is lots of wildlife from the seals and sea lions sunning themselves on the beach and rocks in San Diego.
Colorado
Colorado offers amazing views right in the heart of the Rocky Mountains. This is a great state to see 14,000-foot peaks, Hot Springs and historic towns.
Rocky Mountain National Park
Starting from Denver, Taking a tour through the Rocky Mountain National Park will take you through many gateway towns that are fantastic points of interest, like Lyons, Grand Lake, Kremmling, Hot Sulfur Springs and Winter Park.
Great Sand Dunes
Another unique road trip in Colorado is to the tallest dunes in North America, The Great Sand Dunes National Park. At Great Sand Dunes, you can hike, sand-board, sled, splash in Medano Creek, or wander anywhere in the wilderness of dunes and mountains.
Connecticut
From a beautiful seashore in Eastern Connecticut to the iconic towns of Northwest Connecticut there is much to do here.
Coastal Connecticut
Hop on Route 1 and tour the coastal sea towns of Connecticut. You will find 120 miles of shoreline to explore from Greenwich to Stonington. On this trip, you will find lighthouses, vineyards and historical homes.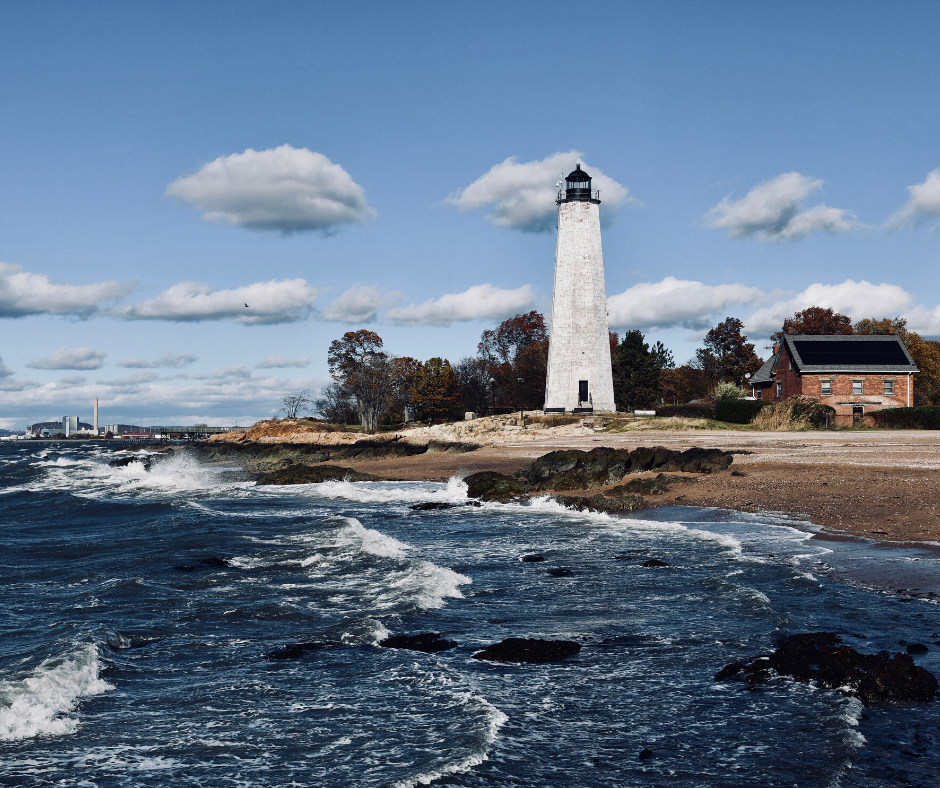 Drive The Connecticut River
The Connecticut River spans 4 states and cuts Connecticut in half from north to south. You will see sights like Covered Bridges, the Gillette Castle State Park and the Mark Twain House. The castle resembles a medieval fortress.
Delaware
Delaware is one of our smallest states and because of that, you can usually do a road trip on one tank of gas! It is a great opportunity to explore the beaches of Delaware from the top to the bottom. Here are the must-stop beaches on your road trip to Delaware.
Cape Henlopen State Park
There is plenty to do at Cape Henlopen State Park like hiking and swimming and it is one of Delaware's most popular beaches. There you will find the WWII observation tower and military bunker. You will get amazing views if you climb the tower. If a clam bake is on your bucket list then you can dig for clams near the fishing pier. The Nature Center offers free bike rentals for visitors!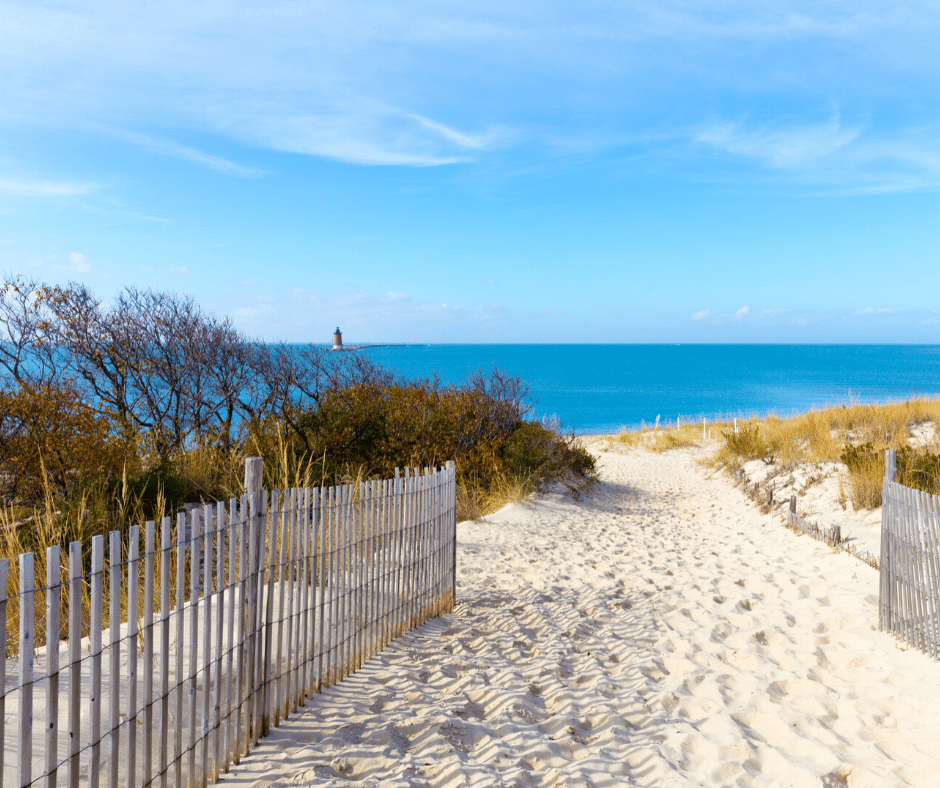 Seashore State Park Campground, Rehobeth Beach
Delaware's Seashore State Park is one of the state's most popular destinations and a great choice for your road trip. The park offers stunning views of the Atlantic Ocean to the east, and Rehoboth and Indian River Bays to the west. Be sure to stop by the park when they are having their famous Sandcastle contest in July.
Florida
Florida, like California, offers a diverse number of regions that make it great for road tripping! The East Coast of Florida is vastly different from the West Coast and Northern Florida is completely different from South Florida. Then you have Central Florida right in the middle and the Panhandle in the Northwest corner.
In addition, each region in Florida has different names to help identify who they are. As an example, I live on the Treasure Coast, due to its unique history with pirate ships crashing on to our reefs. There is the Gold Coast – Fort Lauderdale and the Historic Coast – St. Augustine, etc.
On the East Coast of Florida, you can use A1A and travel up the coast to see the unique towns and beautiful beaches from Miami to Jacksonville. There will be areas where it will cross over to the mainland.
South Florida Road Trip
There are three primary areas to see on a South Florida road trip so we will start in Miami which is central to all of them. Leaving Miami you can go south to the Southernmost Point in the United States in Key West or head north to the Coastal Cities of Miami, Fort Lauderdale and Palm Beach. If you are heading west from Miami you can get to the West Coast on the Tamiami Trail.
We also can not leave out the Everglades, west of Miami, which offers really cool eco-tourism options for those that are looking to get close to the swamps of Florida. You can include the Everglades if you are going south to the Keys or west to the Gulf.
North of Miami
North of Miami you can take a scenic drive up A1A and see all of the beach towns like Miami's South Beach and Miami Beach. You could spend a whole vacation here but be sure to keep going and visit Fort Lauderdale and Delray Beach too.
Another great town to see is Palm Beach where you can see some of the most famous mansions like Mar a Lago and the Kennedy Compound.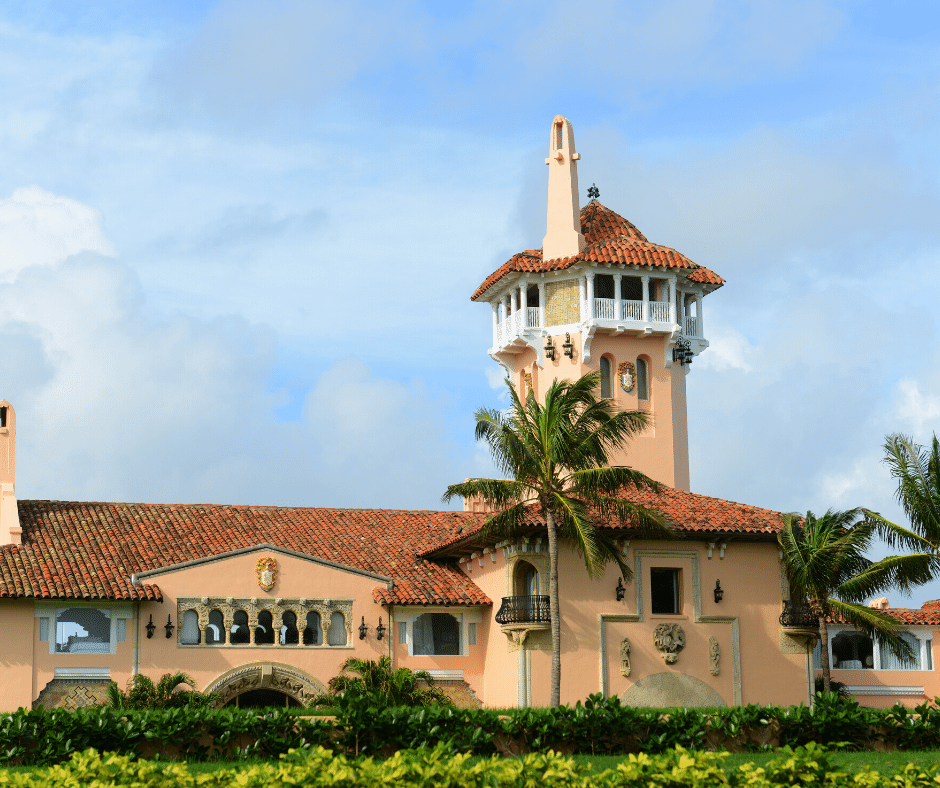 South and West of Miami
South and west of Miami, you are heading right into the Everglades and the famous Florida Keys.
You can start your road trip with a tour in the Everglades National Park where you will see Airboat tours and promises of seeing our unique ecosystem and wildlife in Florida.
The Keys offer world-class fishing and snorkeling while you are there. You can also stop at Robbie's to feed the Tarpon in Islamorada. It is a Florida tradition.
We love the Keys and have been many times. There is nothing better than driving on their two-lane road, US 1, as you enter Key Largo and ending up in Key West for those beautiful sunsets at the Southernmost Point of the US. On your way, you will pass through towns like Islamorada, Marathon and Duck Key.
The Gulf Coast
From Miami, you will head out on US Route 41, also knows as the Tamiami Trail. This road also parallels I-75 for much of the way. The Tamiami Trail runs west straight to Naples and will continue up the West Coast of Florida to Tennessee.
You will be to access the northern section of the Everglades National Park and be able to stop in and see the Big Cypress National Preserve on the way to Naples.
You may not want to go that far but will take you up the Gulf Coast to see great little towns like Naples and Sanibel Island, famous for its seashells. Sarasota is another great stop if you are interested in the history of the infamous Ringling Brother's Circus.
You can end your trip in Tampa where you can the historic neighborhood of Ybor City or head over to see some more beaches in Clearwater.
North Florida
St. Augustine is America's oldest city and offers bed and breakfast accommodations and is a must-stop for any foodie. There is a ton of history and cool museums to visit in St. Augustine.
One of my favorite road trips to take in North Florida is to the Historic Coast and visit St. Augustine. St. Augustine is an easy trip from Georgia and Orlando. Points to hit from either direction are the famous Daytona Beach where you will find the Daytona Speedway and beaches that you can drive on. To the north of St. Augustine you will find Jacksonville Beach and Amelia Island.
Georgia
Georgia is a favorite here at Born to be Boomers! You have the coastal areas in the Southeast corner of Georgia and the top third of the state is mountains.
The Islands of Coastal Georgia
The islands off the Georgia coast are called barrier islands because they form a barrier, or wall, blocking ocean waves and wind from directly hitting the mainland.
Georgia has fourteen primary barrier islands – from north to south they are Tybee Island, Little Tybee Island, Wassaw Island, Ossabaw Island, St. Catherine's Island, Blackbeard Island, Sapelo Island, Wolf Island, Little St. Simons Island, Sea Island, St. Simons Island, Jekyll Island, and Cumberland Island, the largest of Georgia's barrier Islands.
Not all of these island are accessible by car but there are still many that you can visit.
Starting in Savannah you will first be able to see Tybee Island. This is Savannah's beach but is about 25 minutes from Savannah due to all of the wetlands. From there you can island-hop to Jekyll Island, St. Simon's Island and then Cumberland Island.
Cumberland Island is only accessible by Ferry. There is camping and one hotel on Cumberland Island. You will need a bike and good walking shoes.
North Georgia Mountains Road Trip
If you have not been to the North Georgia Mountains then you are in for a treat. The Northeast Georgia Mountains is an area that starts in the northeast corner of Georgia, United States, and spreads in a westerly direction. The mountains in this region are in the Blue Ridge mountain chain that ends in Georgia.
Starting from Atlanta, you can get there from several interstate options that will end up being a loop to get you back to Atlanta. You can take I-85 or I-75 to North Georgia and come back down to Atlanta.
Whichever way you head up the town of Helen needs to be on your list. Other great areas to visit are Blairsville, Dahlonega and Brasstown Bald. You could also do the Winery Trail and Apple picking on Apple Alley (GA Hwy 52). You can see our last road trip to Georgia.
Hawaii
North Shore of Kauai
Kauai's dramatic North Shore is full of rugged mountains, lush taro fields, heavenly beaches and spectacular sea cliffs. There is a 17-mile stretch of coastline with multiple north shore beaches that are lined with cliffs up to 3,000-foot tall.
You will see lush green valleys, cascading waterfalls, and sea caves. This shorter trip on our list is for a more relaxed day of driving. If you start in the morning you will have lots of time for hiking, nature watching, eating, and learning the history of this singularly beautiful coast.
Molokai: East Molokai via Kamehameha V Highway
One of the loveliest sea-level coastal drives in the Islands takes road trippers from Molokai's main town Kaunakakai past several centuries-old loko ia (Hawaiian fishponds), and at times right beside tranquil or tempestuous shoreline on its way to breathtaking end-of-the-road Halawa Valley and Beach.
Hawaii's fifth-largest island, Molokai is only 38 miles long and 10 miles across at its widest point and is home to the highest sea cliffs in the world and the longest continuous fringing reef. Molokai remains true to its island roots, with a high percentage of its population being of Native Hawaiian ancestry who continue to preserve their rural lifestyle thanks to their love of the land.
Follow Highway 470 to Kalaupapa National Historical Park, Kalaupapa Peninsula lookout and Pala'au State Park on Molokai's north shore. It is also known as Kalae Highway.
Idaho
Idaho is known for its outdoor lifestyle, fly fishing, lakes, rivers and beautiful views making it a great road tripping state. Idaho is one of our more beautiful states so there is plenty to see on a road trip. More than two-thirds of the state is protected land. The best way to take in Idaho's high mountains, crystal-blue rivers, and rolling golden fields is by driving its scenic byways. There are actually 30! We will show you are two top picks.
Sun Valley
Leaving Boise for Sun Valley is about a 6-hour drive on Highway 21, also known as the Ponderosa Pine Scenic Byway. Road-trippers pass old mining towns and inviting hot springs in central Idaho. Drive on the windy forest access roads that funnel into remote sections of wilderness on Sun Valley.
Mesa Falls Scenic Byway
From Ashton, Idaho on Idaho 47, the Mesa Falls Scenic Byway heads northeast into the lush landscape of the Targhee National Forest. It's a loop that runs for nearly thirty impressive miles all the way to the Island Park area on Route
The Mesa Falls Scenic Byway includes the popular Warm River Campground and two of the most spectacular waterfalls in the West — lower and upper Mesa Falls. At the upper falls, you can stop at the historic Big Falls Interpretive Center to learn about the geology and history of the area.
Illinois
Illinois boasts some pretty cool state parks and scenic road trips in very quaint small towns.
Illinois Route 66
Looking for the past? Route 66 stretches over 300 miles. The famous Route 66 symbolically begins at Chicago's Buckingham Fountain and continues for 300 miles southwest through Illinois (or about 435 miles if you take all the original side roads). It crosses the Mississippi outside St. Louis and heads west to Santa Monica, California.
Of you are looking for iconic statues, vintage neon signs, motels and restaurants this is the road trip for you! Joliet Area Historical Museum's Route 66 Welcome Center is where your trip will begin.
Great River Road – Illinois National Scenic Byway.
Follow along the Mississippi River on the Great River Road for 550 miles of wineries, bed and breakfasts and beautiful small towns. Catch a ride on a Mississippi River Boat or rent a kayak to see the views.
Be sure to tour the home of Ulysses S Grant in Galena , Illinois where your road trip can start.
Indiana
Indiana is located on the shores of Lake Michigan and is just a quick trip away from Chicago. Indiana has some unique road trips that are a must for your road trip bucket list.
Indiana Dunes National Park
Just 30 minutes outside of Chicago, just beyond the border in Indiana, you will find the Indiana Dunes National Park with expansive views of Lake Michigan's shoreline. The Dunes are almost 200 feet in some spots offering amazing views to those who climb them. In addition, you will find a water park, cool wineries and brewery trails along the shores of Lake Michigan.
Heritage Trail – Indiana Amish Country
The Heritage Trail is a 90-mile loop that has been called the most scenic drive in America by Life Magazine. This area of Indiana is known for its rolling hills and beautiful scenery from the roadways. If you love Amish home-cooked meals and crafts this is the perfect road trip for you!
Iowa
Iowa is not just cornfields and flat lands. There is much to do in this great mid-western state.
Iowa Great Lakes
The main attractions of the Okoboji area are the glacier-carved lakes. This beautiful chain of lakes extends from the Minnesota border southwest several miles and covers approximately 15,000 acres in Northwest Iowa.
The Iowa Great Lakes include Iowa's largest natural lake, Spirit Lake and five interconnect lakes: West Okoboji, East Okoboji, Upper Gar, Lower Gar, and Minnewashta. Spring-fed West Lake Okoboji is a beautiful shade of blue and 134 feet deep.
It is the centerpiece of the five chain lakes, and the surrounding communities provide the backdrop for Okoboji's year-round playground. Pikes Point State Park is located within the city limits.
Great River Road Scenic Byway
You can follow along the Mississippi River for over 300 miles in Iowa too! Visit iconic Mississippi river towns and Limestone Bluffs in Iowa. There are 18 Interpretative Centers along the river for learning more about this historic river that helped to build the US.
Kansas
Follow the Yellow Brick Road all the way to Kansas! There is plenty to do in this not so flat state. I thought it was flat! After researching where the cool places are I have found out it is not just miles of flat land.
Land and Sky Scenic Byway
Traveling along the Land and Sky Scenic Byway gives you the opportunity to experience the Wallace Branch of the Great Western Cattle Trail. The Great Western Cattle Trail is currently under National Park Service consideration as a National Historic Trail.
Mount Sunflower
You can scale the highest point in Kansas at Mount Sunflower and explore the deep canyons and rugged landscape of the Arikaree Breaks. At 4,039 feet, it is 3,300 feet above the state's topographic low point, which lies on the opposite side of the state.
The byway focuses on agriculture and features thousands of acres of rotating crops, livestock and wildlife along the route.
Kentucky
Kentucky has it all. Mountains, bourbon and horses are a few of my favorite things.
Kentucky Bourbon Trail
There are 4 ways to do a Kentucky Bourbon Trail. There is a Northern, Western, Southern and Bluegrass Bourbon Tour. My favorite is to go on the Kentucky Bourbon Trail Craft Tour® in Northern Kentucky. Visitors can explore their booming craft distillery scene. I love trying new foods and drinks so a Craft Tour is right up my alley. I love anything that is a little more creative than the other guy.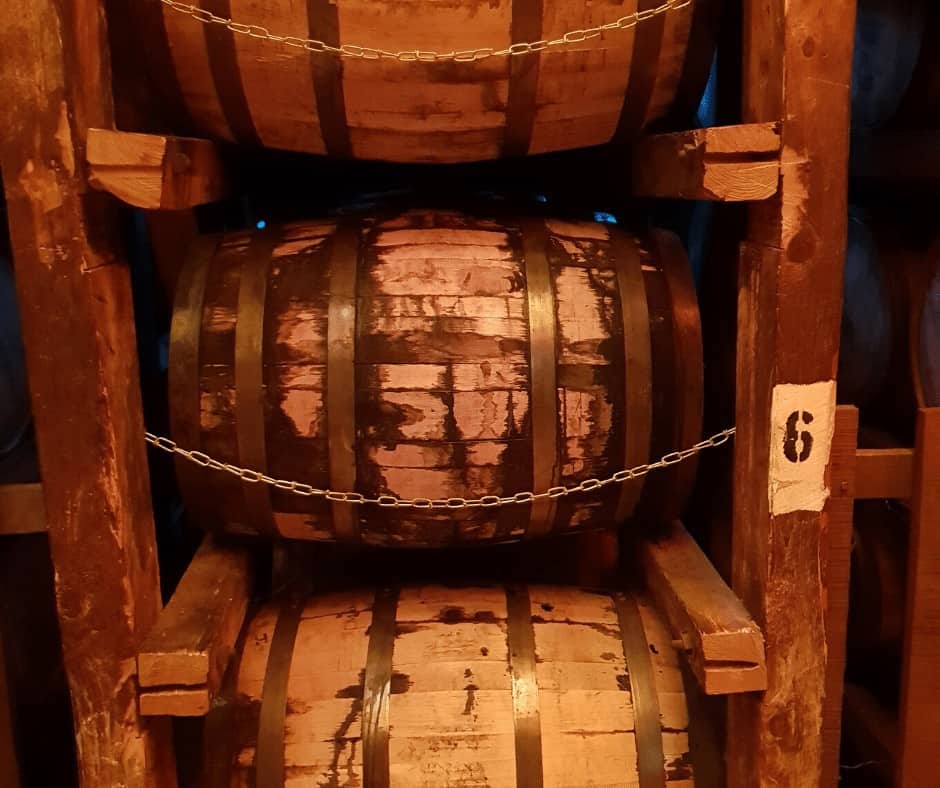 In Kentucky, whichever Bourbon Trail you choose you can purchase a passport for your travels. Once you have completed all 4 Bourbon Trails in your passport then you will receive an Official Bourbon Trail Tasting Glass!
Kentucky Horse Farms
Lexington Kentucky is known as the Horse Capital of the World. It is also Kentucky's second-largest city. You will start at Thoroughbred Park in Lexington and work your way to the country and drive by some of the most famous Thoroughbred Barns in the US.
After driving by the beautiful farms of Kentucky, you'll arrive at Keeneland Racecourse, a Thoroughbred racing facility that is also a National Historic Landmark. Keeneland is a smaller track but takes pride in maintaining its longstanding racing traditions. They hosted the Breeder's Cup for the first time in 2015 where American Pharoah was the first horse to take the Grand Slam of horse racing, winning all for high stakes races.
Louisiana
Louisiana is a southeastern state that's a true "melting pot" of many cultures and people. The French, African and French-Canadian make up some of Louisiana's ethnicities. It's famous for its unique Creole and Cajun culture, food, jazz music, and Mardi Gras festival. There is plenty of nature there too so you can also find fishing, wildlife, state parks, and historical sites.
Cajun Country Road Trip
US-90, the main route through Cajun Country, follows the route of the Old Spanish Trail, the historic cross-country highway that, in the early days of the automobile, linked San Diego, California and St. Augustine, Florida. You can go deep into the bayou to see the gators and old cypress trees growing in the swamp.
You will definitely want to stop and tour the Tabasco Factory on Avery Island, just south of New Iberia. Learn about the area's unique geology. Avery Island is a salt dome.
Make sure to visit Jungle Gardens, a 170-acre botanical gardens featuring all kinds of birds, flowers, trees, and, of course, alligators.
Louisiana Plantations and River Road
Hop on Louisiana's famous River Road to see all of the grand estates and former plantations along the Mississippi River. Learn the history behind these majestic homes and see historic museums and tours of America's past.
Mark Twain once said, while he was touring down the Mississippi, that the waterway looked like a street with all of the homes and estates on either side.
Here are some notable plantations in the New Orleans area:
Oak Alley Plantation
Bocage Plantation
Houmas House
Laura Plantation
St. Joseph Plantation
Destrehan Plantation
Whitney Plantation
San Francisco Plantation
Ormond Plantation
Nottoway Plantation
Maine
From skiing the mountains in the west to the coastal shores on the east, Maine has a lot to offer someone who is heading out on a road trip.
Coastal Maine
You can start your adventure on Route 1 which will take you up the coast of Maine. And with 5000 miles of coastline, there is plenty to see and do. The museums, lighthouses and food are amazing. Can anyone say Lobstah Lobstah Lobstah?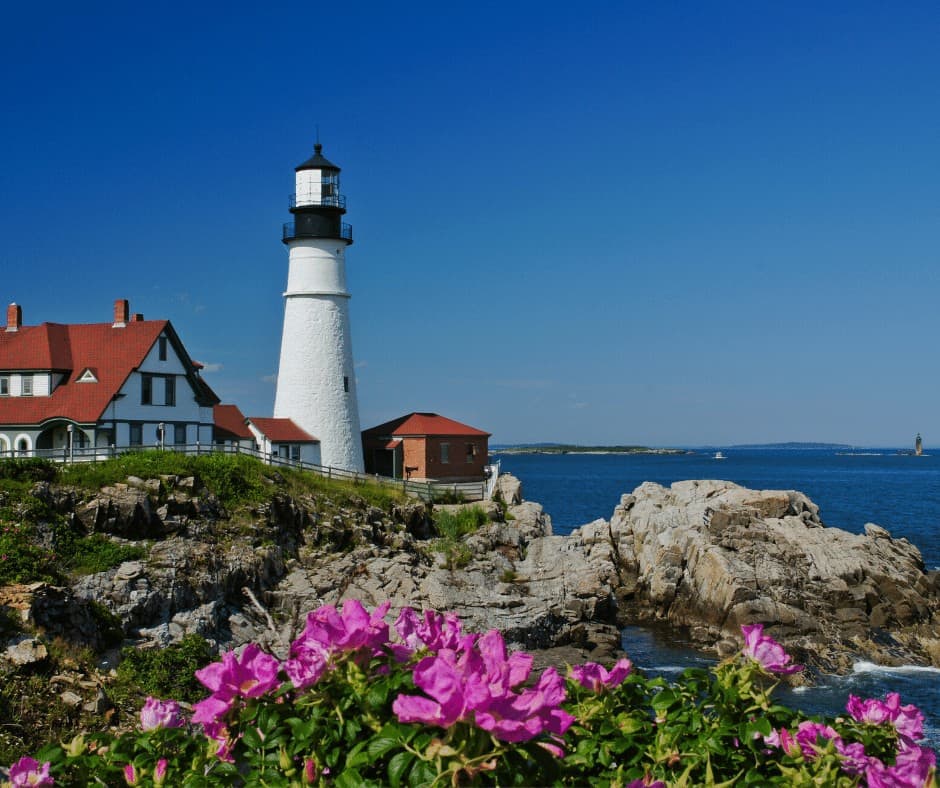 You will be able to visit historic, iconic towns like Rockland, Rockport Portland, Camden and Kennebunkport on your Maine Road Trip.
Acadia National Park
Located on the seaboard of Eastern Maine, Acadia National Park provides an awesome road trip with a loop road that will take you around the park.
Acadia Park is a photographer's dream with some of the most rugged coastline you will ever see. Easily accessible by car there is the main park loop that you can follow and stop to get the scenic Acadia Mountain photos you came for.
Maryland
Maryland offers some of the best historical sights in the nation being one of the original states.
Harriet Tubman Underground Railroad and African-American Heritage Travel
If you really want to make this a great African American Heritage Travel Tour then we suggest that you start this road trip from Washington, DC at the Smithsonian's National Museum of African American History and Culture.
Once you have left DC you will travel to Maryland to visit the spots where both free and enslaved African Americans helped to shape our nation and Maryland. You will be able to visit the Underground Railroad and learn about Dorchester, Maryland's history and see how Harriet Tubman's life unfolded.
Chesapeake Bay Loop
When you drive around the Chesapeake Bay, Maryland's most famous estuary, you will find classic bay towns to explore. You will encounter a diverse ecosystem including marshes, wetlands, sandy beaches, rivers and creeks, as well as open water.
Be sure to stop in Annapolis Maryland, America's Sailing Capital, and the capital of Maryland. It is also the home of the US Naval Academy. The other towns to explore on the Chesapeake Loop are:
Baltimore, Maryland
Cambridge, Maryland
Chesapeake City, Maryland
Easton, Maryland
Havre de Grace, Maryland
Rock Hall, Maryland
St. Michaels, Maryland
Massachusetts
Massachusetts has much to offer when it comes to great road trips. Just like the other New England Coastal States, you have the best of both worlds.
Coastal Lighthouses Road Trip
The Massachusetts Coast is dotted with lighthouses all along its eastern seaboard. There are 47 active towers. Some of them even come with some cool ghost stories! Some of Massachusett's best towns to visit are Martha's Vinyard and Nantucket, which are located on the coast.
You will be able to climb the lighthouses of Massachusetts and see the panoramic views of the Atlantic Ocean and the historical towns that have cared for them over the years. Massachusetts has some of the oldest lighthouses in the US.
Revolutionary War Road Trip
If you are in Boston this is a great time to follow the Revolutionary War in Massachusetts.
You will start your trip in Boston and visit the Freedom Trail which is a 2.5 walking trail. This is a 90-minute walking tour that takes you to some of the best historical sights in Boston. Once you are on the road leaving Boston, you can visit the famous towns of Concord and Lexington. You will find historical sights like the home of Henry David Thoreau and the Sleepy Hollow Cemetery.
Michigan
With Michigan being surrounded by lakes makes it the perfect road trip state. On either side of Michigan, you will find the pristine waters of the Great Lakes where you are able to follow along the shoreline.
Lake Michigan Shore Wine Trail
Starting at New Buffalo at the southern state line, you can follow the shores of Lake Michigan to hit the Michigan Wine Trail. You can hit several towns on your way. The Saugatuck Harbor Natural Area is a 173-acre tract of magnificent dunes along the Lake Michigan shore. One other notable town to stop in is Holland, Michigan where you can also visit the Tulip Time Festival in April. The tulips can bloom until May.
Sunrise Coast
Before heading to Lake Huron, I would suggest starting in the Bavarian town of Frankenmuth, MI where there are nearly 3 million visitors a year. Dubbed Michigan's Little Bavaria you will enjoy the German architecture, water parks, horse-drawn carriages and covered bridges. It is also Christmas there all year long!
Once you leave Frankenmuth, head over north to Eastern Michigan. Now called the Sunrise Coast, it has the historic Heritage Route along US-23 and features Lake Huron, with its shipwrecks, beautiful lighthouses, and miles of beaches.
Michigan's Sleeping Bear Dunes National Lakeshore encompasses a 35 mile stretch of Lake Michigan's eastern coastline. The Sleeping Bear Heritage Trail winds through forests and the Port Oneida area with its 19th-century farmsteads.
Minnesota
Minnesota borders Lake Superior and Canada. It is loaded with lakes which is why it is called the Land Of 10,000 Lakes! The Mississippi flows from its source, Lake Itasca.
North Shore Scenic Drive – Lake Superior
You will start your road trip in Duluth, one of Minnesota's largest cities and the world's largest freshwater inland port. The North Shore Scenic Road is designated as an All-American Road. You can drive this 145-mile scenic byway to see the cliffs and ruggedness of the shoreline on Lake Superior.
There are plenty of hiking opportunities where you can see waterfalls and streams along the way. You can also check out the Superior National Forest which is more inland but provides millions of acres of land to explore.
Beer and Wine Trails
There is nothing better than visiting the places that make our favorite adult beverages. And Minnesota does not disappoint when it comes to this. Head down to Southern Minnesota for the Minnesota Beer Trail where you will find more than 20 Microbreweries to visit and do taste tests. Please drive responsibly!
If wine is more your speed then you will want to check out The Great River Road Wine Trail where you will find 4 of the 10 wineries on the Minnesota side of the Mississipi River.
Mississippi
Located deep in the South, Mississippi offers some of the coolest back road scenic trails loaded with historical sites.
Natchez Trace Parkway
The Natchez Trace Parkway spans 3 states and there is plenty to see and do on the 300 miles located in Mississippi. You can experience both Native American History and Civil War History on the trail. Choose a theme for your road trip or do both! Either way, you will be driving through 10,000 years of history.
The Trail follows the "Old Natchez Trace" a historic travel corridor used by American Indians, "Kaintucks," European settlers, slave traders, soldiers, and future presidents. There is also hiking, biking, horseback riding and camping along the trail.
Mississippi Music Trail
There are actually 2 trails to choose form in Mississippi. One for Country Music Lovers and the other for Blues Lovers.
The Mississippi Country Music Trail has 34 markers that you can visit. Country Music greats like Conway Twitty, Elvis Presley and Tammy Wynette all have a marker on the trail.
Ride down Highway 61 on the Mississippi Blues Trail in the Mississippi Delta. Check out the charming small towns along the way. Your travels will show you some of the most famous Mississippi artists who lived near Highway 61 included: B. B. King, Robert Johnson, Charley Patton, Son House, Muddy Waters, Howlin' Wolf, Ike Turner, Robert Nighthawk, Sunnyland Slim, Honeyboy Edwards, Sam Cooke, James Cotton and Jimmy Reed.
The markers on both tours will tell you the history of the person represented and how they impacted the State of Mississippi. Check out the Gateway Blues Museum in Tunica that also doubles as a visitor's center.
Missouri
Missouri offers many things for the serious road trip. There seems to be a rivalry between St. Louis and Kansas City when it comes to BBQ and Music. You will want to make sure to see both perspectives while traveling through Missouri! And don't forget the largest beer producer in the world, Anheuser-Busch is located here too.
Missouri's Route 66
Here are a few things that Missouri's Route 66 has to offer while you are leisurely traveling down memory lane. Route 66 is well preserved in Missouri and for good reason.
Your trip starts in St. Louis, where you will see the St. Louis Gateway Arch and walk across the Chain of Rocks Bridge. Cross another signature bridge in Devils Elbow, visit landmarks from the Trail of Tears in Waynesville. Cool off in the Meramec Caverns where Jesse James allegedly hid out! Make sure you plan to spend a day in Springfield, the official birthplace of Route 66.
Missouri Historic Water Mills Trip
Fall is a great time to get in the car and visit Missouri's picturesque water mills but they are a sight to see all year long. There are literally dozens of mills that are both private and public in the state of Missouri.
Many of the Mills are in state park systems so you will have the best access to those. You can start at the northern spot near the Mark Twain Forest, where the Dillard Mill sits, and work your way south through the Ozarks. The Alley Mill is the most popular with tours available for visitors.
Montana
Montana has miles of open roads that makes it perfect for road trips. The first thing people love to do here is Yellowstone National Park Gateway and Glacier National Park. The Beartooth Highway is a 68-mile route through the Beartooth and Absaroka Mountains that is often heralded as the most beautiful road in America. And while these road trips will not disappoint by any means there are so many things to do it may be worth it to book some extra time here.
Lewis and Clarke Trail
Lewis and Clark and the Corps of Discovery had a rough time in Montana and you can follow along their path. Starting with the Missouri River and meeting at the Yellowstone River. Heading east they followed the waterway all the way to its headwaters in the east.
You will find many museums and markers showing you the way. Lewis & Clark National Historic Trail Interpretive Center is overlooking the Missouri River.
Indian Country Road Trip
Drive along the clear waters of Flathead Lake as you head down to Phillipsburg. Spend time at the National Bison Range in Moiese. Look for bison, bighorn sheep, elk, deer, and black bears.
Mine for Montana sapphires as you loop back around to head north. End your trip to Columbia Falls which is the gateway to Glacier National Park.
Nebraska
Located in the Great Plains of the United States, Nebraska is more than just cornfields and flatlands. From lakes and lazy rivers to unusual rock formations like Chimney Rock or fossil hunting at the Ashfall and Agate Fossil Beds, there is something for everyone in Nebraska!
Scenic Byways Road Trip
There are plenty of scenic byways that you can explore in Nebraska.
Outlaw Trail Scenic Byway – South Sioux City to Valentine offers some of Nebraska's top outdoor playgrounds.
Bridges to Buttes Byway. Wyoming border to Valentine's high bridges of Valentine to the high plains near the Wyoming border. Check out the Toadstool Geologic Park and Agate Fossil Beds National Monument.
Gold Rush Byway. Chadron to Sidney US 385 is considered one of the most scenic and historic roads in the nation.
Western Trails Byway. Wyoming border to Ogallala see towering formations and pine-shaded bluffs just like the folks did in covered wagons.
Lincoln Highway. US 30 across the state offers pioneers, cowboys and Pony Express riders with cultural and natural treasures.
Heritage Highway. Edison to Brownville explore the Missouri, America's longest river.
Lewis and Clark Scenic Byway. Follow in the footsteps of Lewis and Clark as the follow the Missouri River and make their way through Nebraska.
Sandhills Journey. Grand Island to Alliance see world-class natural wonders, sand dunes, Sandhill Cranes and the Nebraska National Forest rise from the plains.
Loup Rivers Scenic Byway. Dunning to Wood River and see farmlands, red barns and silos, and views of the Sandhills area and Calamus River.
Lazy River Road Trip
Have you ever heard of Tanking? Neither had I until I did some research on fun things to do in Nebraska. Water tanks are not just used to get water to their livestock, they also use the water tanks to go down the lazy rivers and waterways of Nebraska! Cold weather does not stop the fun either!
Nevada
Did you know Nevada is the second-largest gold producer in the world? Me neither! Even though Nevada is the gambling and entertainment capital of the work this state has so much more to offer than just casinos! There is much to see while traveling the back roads of this western state!
Great Basin Highway
From sandstone canyons to alpine lakes there is a lot of history to learn on the Great Basin Highway, which follows Nevada's U.S. 93.
It will take you through eight Nevada state parks. You will end up at Great Basin National Park, so you can see Wheeler Peak and the Lehman Caves system.
Reno to Lake Tahoe Loop
Starting in Reno you will work your way southwest to Lake Tahoe. See the crystal clear waters of Lake Tahoe which are surrounded by towering peaks.
You can make stops around Lake Tahoe, Carson Valley, the capital town of Carson City, historic Virginia City where Mark Twain got his start.
New Hampshire
If you like mining and gemstones then New Hampshire is the state for you! You can experience the White Mountains and their lakes and rivers along the way. There is ample opportunity for hiking, SUP, kayaking and whitewater rafting on level IV rapids!
New Hampshire even offers 18 miles of seashore on the Atlantic. There are literally 100s of options since New Hampshire roads often crisscross giving you many different paths.
Great North Woods
See wildlife including moose, black bear and deer in this less populated section of New Hampshire. It is a must-see for nature lovers. Visit the Mahoosuc region, which will bring you to the White Mountain National Forest and Nash Stream State Forest in eastern New Hampshire.
Seacoast Byway
Yes, it is only 18 miles but it is packed with history and beautiful seaside towns so plan on spending more than a day here. The Byway connects ten units of the State Park system as well as numerous local and private parks and recreational attractions.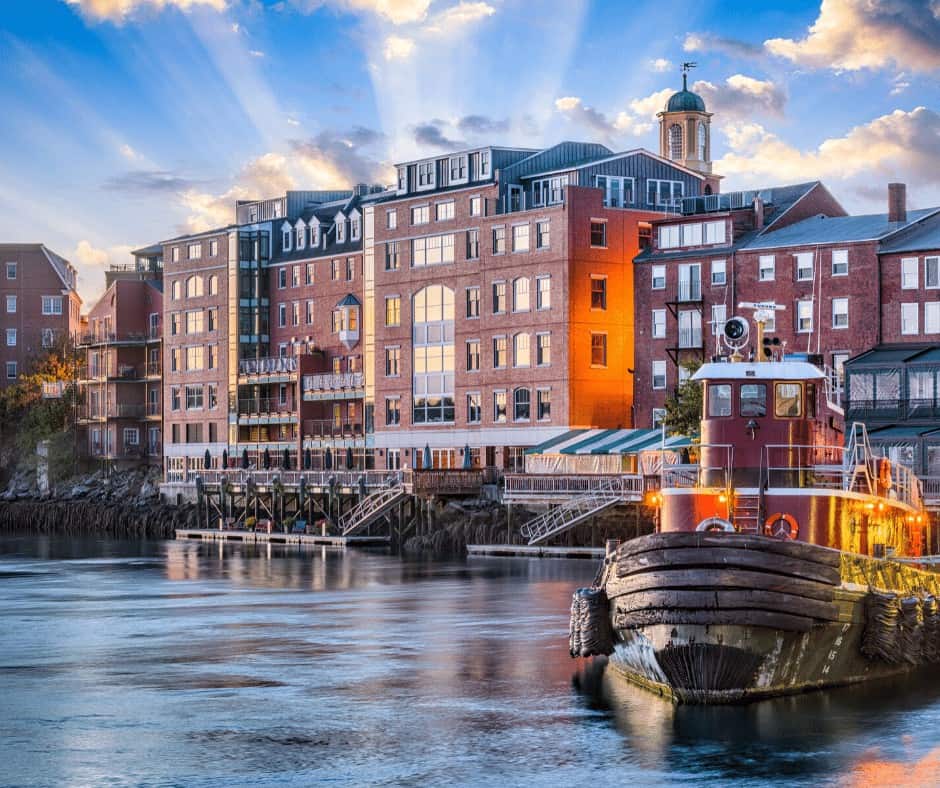 Take an excursion to visit the islands of New Hampshire. White Island is off the coast and owned by the Coast Guard and can be seen on an excursion. It is an active lighthouse used today, fog horn and all.
New Jersey
NJ is the most densely populated state so taking a road trip may seem a little daunting with traffic. Just getting down the shore brings memories of packed roadways of everyone trying to enjoy their summer homes and rentals. But New Jersey may surprise you. Southern NJ and the far north of the state offers more of a country feel. The state has many small towns that have a history to tell.
The Jersey Shore
I have fond memories of spending my summers at the Jersey Shore with my mother and my father coming over for the weekends. We had a house on the bayside and there was nothing better than approaching the bridges going over the marsh to make our way to Avalon, where I could swim right from our dock.
Starting in Historic Cape May you can make your way up the Jersey Shore visiting the small towns that line the coast. Visit the boardwalks and find Ocean Drive in your favorite towns. Make sure to hit stops like Absecon Lighthouse in Atlantic City or Barnegat Lighthouse. There are 18 lighthouses in total and 11 are open to the public.
Historic Delaware Valley Road Trip
If you love history and a scenic drive you can leave Cape May travel through the famous New Jersey Pine Barrens while headed to the western side of NJ. The Delaware Scenic Byway officially starts in Historic Frenchtown and ends in Trenton at the Washington Crossing Historic State Park.
On December 25th, 1776, George Washington crossed the icy Delaware River at Johnson's Ferry at night. This act would forever change the Revolutionary War when they marched towards Trenton and defeated their enemy.
New Mexico
New Mexico has 3 main sites you will want to visit. They have more UNESCO World Heritage Sights that any other state in the US, which shows why New Mexico is The Land Of Enchantment.
Chaco Culture National Historical Site – The center of ancestral Pueblo culture between 800 and 1250.
Carlsbad Caverns National State Park – 300-limestone caves notorious for their size, mode of origin, and abundance
Taos Pueblo – the oldest continuously inhabited communities in the United States
You will find a variety of Natural Wonders on the 25 Scenic Byways on your road trip to New Mexico!
Route 66
Route 66 cuts right through the center of New Mexico starting at the Blue Swallow Motel. If neon signs, classic cars and retro motels are something you love then Route 66 is a great choice. Be sure to stop at the Route 66 auto museum.
The best part about starting your road trip on this iconic route is about halfway through, you can go north or south to see some other interesting points of interest in New Mexico.
Enchanted 8 Road Trips
If you are looking to explore the whole state, NewMexico.org has put together the best one I have seen called The Enchanted 8 Road Trips. 1100+ miles and 17 stops will not cover everything there is to see in New Mexico but it certainly covers most of it.
You will start in Carlsbad to visit the caverns, a UNESCO World Heritage Site, then off to Roswell for all of the creepy alien stuff! Continue through the state visiting Native American towns, White Sands National Park and meet Smokey Bear!
The trip covers many of New Mexico's other national and state parks but more importantly you get to see Pie Town. The perfect stop for all pie lovers! You will end up in the northern part of the state where you can experience the Cumbres & Toltec Scenic Railroad.
New York
New York state has so much to offer the road tripper. Being one of the 13 original colonies there is plenty of history in every corner of the state. Some of the top places to visit?
Niagara Falls
Adirondacks
The Catskills
Long Island – including their barrier islands like Fire Island and Shelter Island
1000 Islands
Albany to Niagara
Start your trip on Route 20. This iconic back road has been nicknamed America's Main Street. Head west and make your way to The Great Lakes Seaway Trail and drive along Lake Ontario where it meets with Niagra Falls.
One of the first roads in America to be designated as a National Scenic Byway, the Great Lakes Seaway Trail includes unique historical locations and cultural heritage sites you definitely do not want to miss. The trail connects popular sites like Presque Isle, Niagara Falls, and the Thousand Islands.
Adirondacks Road Trip
With 14 Scenic Byways, there is a good reason to choose the largest protected natural area in the lower 48 states. There are over 100 communities waiting to welcome you to this diverse area of mountains, lakes and waterfalls that offer world-class rafting, hiking and kayaking. There are 12 regional destinations to choose from.
Here are a few of our favorites!
Adirondack Coast. Lake Champlain
Adirondack Seaway. Five Ponds Region – Star Lake, Cranberry Lake and Wanakena Lake.
Lake George Region. Queen of the American Lakes," with 109 miles of shoreline and 300+ islands.
Lake Placid Region. From the coast of Lake Champlain where American Revolution battles were waged to Schroon Lake where a pristine wilderness hugs the lakeside village.
North Carolina
North Carolina is one of my favorite east coast states. You have the Appalachian Mountains and the Great Smoky Mountains National Park in the west and miles of gorgeous beaches in the east. What's not to love where friendly people and good food are in abundance?
Blue Ridge Parkway
The Blue Ridge Parkway runs all the way from Cherokee to the North Carolina State Line. You will be able to stop in scenic areas like Asheville and Blowing Rock.
Mount Mitchell is the tallest mountain peak in the Eastern United States with an elevation of 6,684 ft. It is only accessible from the Blue Ridge Parkway. Linville Falls is the deepest gorge east of the Grand Canyon and hosts 350,000 visitors annually.
Outer Banks National Scenic Byway
The Outer Banks National Scenic Byway begins in the north at Whalebone Junction, the joining of US 64-264, US 158, and NC 12, in Nags Head, Dare County. Byway travelers following the Byways NC 12 south are in between the Atlantic Ocean on the east and Pamlico Sound on the west. See 137 miles of North Carolina's famous Outer Banks coastline where you will take a couple of ferries to make your way to the beaches.
Here are a few of our favorite sights!
Cedar Island Wildlife Refuge.
Bodie Island Lighthouse in Nags Head, NC.
Pea Island National Wildlife Refuge.
Chicamacomico Lifesaving Station.
Canadian Hole.
Cape Hatteras Lighthouse.
Graveyard of the Atlantic Museum.
Ocracoke Island Lighthouse.
North Dakota
North Dakota is the nineteenth largest state in area, the fourth smallest by population so the roads are not crowded at all. They are known for their parks, The Badlands, Theodore Roosevelt National Park and the International Peace Garden. The Great Plains give way to the rugged Badlands near the border with Montana, where the Theodore Roosevelt National Park spans the Little Missouri River.
Theodore Roosevelt National Park South and North Unit
The South Unit 36-mile Loop Drive will take you to several points of interest like Sunset at Wind Canyon, Painted Canyon Visitor Center Overlook, Ridgeline Nature Trail, Roosevelt's Maltese Cross Ranch Cabin, Boicourt Trail, Buck Hill Trail, Oxbow Overlook, River Bend Overlook, Cannonball Concretions Pullout. Continue about 70 miles away on the much less traveled 14-mile North Unit Scenic Byway to extend your drive.
In addition, you will most likely see animals who call the Theodore Roosevelt National Park home. For the best viewing hit the park early in the morning to view bison, elk, pronghorns, longhorn cattle, horses, mule deer, prairie dogs, and hundreds of bird species.
Standing Rock Native American Byway
The Standing Rock National Native American Scenic Byway spans 35 miles of the beautiful landscape while you drive alongside the Missouri River.
Catch glimpses of buffalo and explore the deep historical roots of the great Lakota spiritual leader Sitting Bull, Meriwether Lewis and William Clark, and visit the final resting place of Sakakawea.
Ohio
Regardless of the time of year, you can find interesting and fun experiences in Ohio.
Rock & Roll Hall of Fame.
National Museum of the US Air Force.
Cedar Point Amusement Park.
Hocking Hills State Park.
Amish Country.
Columbus Zoo and Aquarium
Coastal Ohio Lighthouse Road Trip
Ohio is home to several lighthouses along the coast of Lake Erie. There are 8 lighthouses located on the mainland. Your trip will start at Ashtabula Harbor Lighthouse which is 100 years old. You will continue for 162 miles following along Lake Erie and ending at the Marblehead Lighthouse Historical Society.
You will take I-90 most of the way but there are some opportunities to stay close to the lake on some of the back roads.
Hocking Hills State Park- Logan, OH
If you enjoy hiking and spending time outdoors, hocking hills is the perfect Ohio park to visit on your road trip. The southernmost point of Hocking Hills is Ash Cave is the most spectacular feature of the entire park. Ash Cave is the largest recess cave in the state.
Southern Ohio has some beautiful scenery. Spend time hiking at Old Man's Cave, and explore all of the beautiful hiking trails and waterfalls the park has to offer.
Oklahoma
In Oklahoma, Cimarron County is the only county in the U.S. that touches four states: Colorado, New Mexico, Texas and Kansas. Oklahoma has parts of four mountain ranges: Ouachitas, Arbuckles, Wichitas and the Ozarks.
Oklahoma Waterfalls Road Trip
There are 5 waterfalls located in some of the most magical places in Oklahoma. You can discover them in this 300+ mile loop road trip that starts in Oklahoma City and ends in Davis, Oklahoma at Turner Falls. And don't worry, if 5 waterfalls are not enough there is, even more, to add to your itinerary.
Here are our top 5:
Bricktown Falls
Wichita Mountain Wildlife Refuge
Medicine Park
Chickasaw National Recreation Area
Turner Falls
Southeast Oklahoma Mountain Gateway Byway
Head to Southeast Oklahoma and check out the Mountain Gateway Scenic Byway. You will follow Hwy 59/270 for 22 miles between Heavener and the Arkansas state line.
The byway winds through the valleys of the Ouachita Mountains and the 26,445-acre Winding Stair Mountain National Recreation area. There are several side roads and other scenic byways that you can take explore these heavily forested mountains in Oklahoma.
Oregon
Oregon is one of the most unique and geographically diverse states. It offers volcanoes, mountains, rivers, waterfalls. ocean, forests and even a high desert. With its mild climate and impressive scenery, it makes it the perfect place to road trip! Oregon has more scenic byways and tour routes than any other state.
Pacific Coast Highway – Oregon Coast
Oregon's coast stretches for over 360 miles and makes for the perfect road trip. If you have the time. plan to take this slow because there are many stops along the way. There are plenty of public lands so you can experience the Oregon Coast. You will start out in Astoria and make your way to your final destination of Brookings, which is located in the famous Banana Belt known for its mild temperatures.
Here are some must stop towns and sights along the way:
Astoria – Visit Fort Stevens State Park, where the Columbia River meets the Pacific.
Cannon Beach – National Geographic listed Cannon Beach one of the 100 most beautiful places in the world in 2013.
Garibaldi – A quaint fishing village and ride the Oregon Coast Scenic Railroad to Rockaway Beach.
Depoe Bay – Gray Whales love it here and you will see the smallest navigable harbor in the world.
Newport – Yaquina Bay Lighthouse, Oregon's last remaining wooden lighthouse.
Yachats – Sea Lion Caves, Heceta Head Lighthouse and the Cape Perpetua Scenic Area
Florence – Cross the Siuslaw River bridge and see miles of high dunes and sandy beaches heading to Coos Bay. Visit the Oregon Dunes National Recreation Area,
Coos Bay – Charleston to Bandon Tour Route hugs the coast. US-101 in Bandon is at the mouth of the Coquille River.
Brookings – Drive the byway that hugs along cliffs and rocky shores dotted with tide pools. Beyond Pistol River, a famous windsurfing spot, 12 miles of coastline are designated as the Samuel H. Boardman State Scenic Corridor, with overlooks, hiking trails and beach access. Just south of Brookings, the banana belt, you can see the largest area of coastal redwoods in the state.
Hell's Canyon Scenic Byway
Hell's Canyon is America's deepest river gorge. You will start in La Grande and make a horseshoe drive for over 200 miles through the scenic Wallowa Mountains and Hell's Canyon National Recreation Area and finalize your road trip near Baker City and I-84 .
Le Grande – The stopping point for many pioneers who headed west on the Oregon Trail in the 1800s.
Elgin – Eagle Cap Excursion Train, will take you through the deep canyons of the Grande Ronde and Wallowa rivers.
Minam – Minam and Wallowa rivers flow through canyons and just beyond you will see the snowcapped Wallowas. The Minam State Recreation Area has riverside camping for fishing and rafting. The byway descends into the Wallowa Valley, known as the "beautiful valley of winding waters."
Enterprise – See the scenic farms and ranches with an Old West feel with its 19th-century architecture.
Joseph – Wallowa Lake is a deep-blue alpine lake formed by glaciers and wedged between high peaks of the Wallowa Mountains. Wallowa Lake State Park offers a recreational area. The Wallowa Lake Tramway whisks passengers toward the summit of 8,200-foot Mt. Howard for easy access to high-altitude hikes.
Pennsylvania
Pennsylvania is my birth state and home to many historical sites from the Revolutionary War. They also have an abundance of mountains and lakes that offer beautiful views for an epic road trip!
PA Route 6 Heritage Trail
The Route 6 Trail is over 400 miles and takes you through Crawford, Erie, Warren, McKean, Potter, Tioga, Bradford, Wyoming, Lackawanna, Wayne and Pike Counties. Integral to America's early history, US Route 6 was designated as the Grand Army of the Republic Highway through the 14 states it crosses. You will find historical sites, small quaint towns, museums and an art community boasting over 400 artisans, crafters, galleries, and artist studios.
Some notable stops on Route 6:
PA Grand Canyon – Hike Pine Creek Rail Trail and train rides on the Tioga Central Railroad.
Kinzua Bridge State Park and Skywalk – The Kinzua Viaduct, constructed in May 1882, is the highest and longest viaduct in the world, measuring 301 feet high and 2,053 feet long.
Steamtown National Historic Site in Scranton – Steamtown National Historic Site is a railroad museum and heritage railroad located on 62.48 acres.
Grey Towers National Historic Site – The ancestral home of Gifford Pinchot, first director of the United States Forest Service.
Pennsylvania Lumber Museum in Galeton – The Pennsylvania Lumber Museum documents the history and technology of the lumber industry of Pennsylvania and is located near the Allegheny Forest.
Drake Well Museum and Park in Titusville – The Drake Well Museum and Park is a museum that interprets the birth of the American oil industry in 1859.
PA 7 Wonders Road Trip
There are seven natural wonders to explore in Pennsylvania. With over 500 miles you will visit the most scenic areas of Pennsylvania.
Pine Creek Gorge – Located in the PA Grand Canyon
Coudersport Ice Mine – Ice in the summer that melts in the winter?
Cherry Springs State Park – Perfect for star gazing!
Archbald Pothole State Park – See the 38-foot glacial pothole.
Ringing Rocks County Park – See a field of 10-foot high rock piles that make ringing sounds when struck.
The Glen Natural Area at Ricketts Glen State Park – The highest concentration of waterfalls in PA. 22 Waterfalls in all.
Penn's Cave & Wildlife Park – America's only all-water cavern & farm-nature-wildlife park.
Rhode Island
This small but mighty state offers coastal views and historical sights in its seaside colonial towns. It is known as the Ocean State for a reason!
Coastal Rhode Island Road Trip
For our coastal trip, we will be starting in Providence and ending up in Westerly, Rhode Island. A Rhode Island coastal trip follows U.S. 1 and 1A, otherwise known as Coastal Rhode Island where you will see ritzy homes, lighthouses, islands, bays and inlets.
Some notable stops:
Slater Mill Historic Site
Providence
Bristol
Wickford
Newport
Jamestown
Saunderstown
Point Judith and Block Island
East Beach and Misquamicut State Beach
Watch HillWatch Hill
Natural Wonders Road Trip
Rhode Island has some of the most beautiful spots to visit that are a part of the natural landscape.
Here are some spots to see:
Stepstone Falls, West Greenwich – Arcadia Management Area
Misquamicut Beach, Westerly – Amazing sunsets and the most popular beach in RI!
Ninigret National Wildlife Refuge, Charlestown – The refuge is situated along Ninigret Pond.
Kettle Pond, Charlestown – Great swimming and fishing. also known as Watchaug Pond.
Marsh Meadows Wildlife Preserve, Jamestown – Conanicut Island with their beautiful marshland and wildlife.
Beavertail State Park, Jamestown – Conanicut Island offers ocean and rocky cliffs to explore and a historic lighthouse.
Cliff Walk, Newport – 3.5-mile scenic walk in Newport.
Sakonnet Point, Little Compton – Beach and harbor views with a historic lighthouse!
South Carolina
Take a trip to the Palmetto State to discover all the rich Civil War history, sandy beaches and beautiful scenery a South Carolina road trip has to offer! While in the Low Country you will want to check out the fresh seafood and natural wonders on the marsh islands.
Lighthouse Coastal Road Trip
Check out 8 historic lighthouses that follow along the South Carolina Coast. You will see many of the sights in the Low Country of South Carolina. Coastal Charleston is a historic city, and along the way see southern plantations. Fort Sumter is where the Civil War's opening shots were fired. To the north is the Grand Strand, a roughly 60-mile stretch of beachfront known for golf courses and the vacation town Myrtle Beach.
Georgetown Light or North Island – South Carolina's oldest light
Cape Romain's 1827 Lighthouse – via boat tour Cape Romain National Wildlife Refuge
Cape Romain's 1857 Lighthouse – via boat tour Cape Romain National Wildlife Refuge
Charleston Lighthouse – Sullivan Island
Morris Island Lighthouse – Folly Island
Hunting Island Lighthouse – Hunting Island State Park
Harbour Town Light House – Hilton Head Island
Leamington Lighthouse – Hilton Head Island. Located in a gated community, but you may be able to get in when you let them know you want to photograph the lighthouse.
South Carolina Plantation Road Trip
In the antebellum period, it is estimated that there were over 2,000 plantations in South Carolina, with most of them in the historic Low Country area. Today you will find several plantations open for tours. We recommend staying close to Charleston for a Plantation Road Trip as many folks spend a couple of hours at each plantation.
There are 6 Plantations you can visit within 45 minutes of the Charleston area.
Magnolia Plantation
Boone Hall Plantation
McLeod Plantation Historic Site
Drayton Hall
Middleton Place Plantation
Charleston Tea Plantation
South Dakota
The state of South Dakota is expansive and located in the mid-west. Rolling prairies lead to twisting mountain roads and the dramatic Black Hills National Forest.
The Black Hills is home to 2 historical monuments carved right into towering granite peaks. You will want to see Mt. Rushmore, the iconic depiction of 4 revered U.S. presidents, and Crazy Horse Memorial, a tribute to the storied Native American tribal leader.
The only traffic jams you will experience in South Dakota may be the wild Buffalo who decided to get on the road with you!
Badlands and Black Hills
You will leave Rapid City head towards Wall. Just south of Wall you will find the Badlands National Park where you can hop on the Badlands Loop Scenic Byway.
You will want to stop at the Scenic Overlooks to admire the views and take photos. Explore the expansive, awe-inspiring cave system on a specialized tour or try your hand at gemstone panning.
Here are some points of interest:
Rapid City – Bear Country, USA is a drive-through wildlife park.
Wall – Visit the famous and funky Wall Drugs and the National Grasslands Visitor Center
Badlands National Park – Drive along the Badlands Loop Scenic Byway
Deadwood – No rules. No regrets. That is the Deadwood Motto. See where the Goldrush of the 1800s was.
Hill City – Second oldest city in SD.
Keystone – Mount Rushmore.
Wind Cave National Park – One of the longest and most complex caves in the world.
Hot Springs – Six major thermal springs.
Custer Park – Drive the 18-mile loop to see the wildlife.
Native American Scenic Byway
Breathtaking views of the Missouri River, diverse landscapes, and tribal history and culture are showcased on the Native American Scenic Byway running north and south through central South Dakota.
You will see the following Indian Tribe Reservations:
Yankton – Lewis & Clark Lake and the Meridian Bridge.
Crow Creek – The Crow Creek Indian Reservation is located on the east bank of the Missouri River.
Lower Brule – Drive the beautiful country on the western side of the Missouri Valley.
Cheyenne River – Indian Reservation located on the tributary.
Standing Rock Sioux Tribes – Sitting Bull Monument
Tennessee
Tennessee offers so much when it comes to road trips! Its capital, Nashville, is centrally located and is the heart of the country-music scene. Visit sights like the long-running Grand Ole Opry, the Country Music Hall of Fame and Museum. Check out the legendary stretch of honky-tonks and country music dance halls. The Northeast portion of Tennesse offers the Appalachian Highlands with beautiful mountain views and pristine mountain lakes and streams. Memphis is deep in the southwest corner and is the home of Elvis Presley's Graceland, Sun Studio and the blues clubs of Beale Street.
East to West Road Trip
Depending on how much time you have, the Ultimate Tennessee Road Trip would be a drive across the state from the northeast corner at The Tri-City area of Bristol, Kingsport and Johnson City, through the Great Smoky Mountains National Park to Knoxville, Gatlinburg and Pigeon Forge. I-40 continues with stops in Nashville all the way down to Memphis in the Southwest corner. Much of Interstate 40 follows along Rt. 66! Interstate 40 is the third-longest interstate highway in the US.
This is really two road trips in one. If you are not interested in driving the entire state of Tennessee, you can break this up into sections. I would recommend either choosing East Tennessee and sticking to the Appalachian Highlands and mountains going from Bristol to Chattanooga or opt for doing the drive from Nashville to Memphis.
Here are some notable stops, in addition to the ones mentioned above, along the way:
Eastern Tennessee
Bristol, Tennessee – The birthplace of Country Music. Home to Bristol Motor Speedway.
Carvers Gap – Hike to Roan High Knob on the Appalachian Trail from Carvers Gap
Jonesborough, Tennessee – Tennessee's Oldest Town
Knoxville – Scenic Newfound Gap Road through Great Smoky Mountain National Park.
Pigeon Forge and Gatlinburg – The Tail of the Dragon scenic road offers more than 300 curves on this 11-mile stretch of beautiful mountain views.
Nashville to Memphis
Nashville – Check out the Natchez Trail and get off the Interstate
The Elephant Sanctuary – After leaving Nashville, take a detour from I-40 to visit these magnificent animals.
Jackson, Tennessee – the largest town in between Memphis and Nashville. Jackson is home to the Casey Jones Home and Railway Museum.
Loretta Lynn's Ranch – Located 65 miles west of Nashville.
Music Highway – refers to the section of I-40 between Memphis and Nashville.
Texas
Texas is the second largest state in both area and population. There are 4 regions to explore while in the state of Texas, Central, East, West and the Gulf Coast.
Gulf Coast Texas Road Trip
With over 300 miles of coastline, there are plenty of opportunities to see wildlife, museums, aquariums and lighthouses. And don't forget about the water activities! If putting your toes in the sand is your jam then the Texas Coastline is sure to please.
You will start your trip at Galveston and make your way from Galveston to Padre Island. Unlike other coastal areas, there is not just one road that hugs the coastline. You will have to do some zigzagging to get back to the coastal areas.
Here are some notable stops on the Texas Gulf Coast:
Galveston Island – A historical town where the Hurricane of 1900 hit. Stop at the Brazoria National Wildlife Refuge after leaving town.
Rockport – A quaint laid back town full of art galleries and festivals.
Port Aransas – If you are looking for a quieter area Port A is the place to visit.
Corpus Christi – On the island side of Corpus Christi, the Padre Island National Seashore is the longest stretch of uninhabited beach in Texas. See the USS Lexington and the Texas State Aquarium.
South Padre Island – Just a few miles from the border, you will love its clear water and white sand beaches.
Port Isabel – Charming and historic Port Isabel offers a historic lighthouse and is one of Texas' oldest towns.
South Texas Loop Road Trip
Start in the capital city of Austin, the Live Music Capital of the World, where you will find amazing restaurants, as well as many parks and lakes that are popular for hiking, biking, swimming and boating.
You will leave Austin and head west to the Big Bend National Park. There are 100 miles of paved roads in the park. Dagger Flat Auto-Trail is an improved dirt road that will take you from khaki-colored desert to a forest of giant yuccas.
Santa Elena Canyon – Carved out by the Rio Grande you will see beautiful natural rock formation as well as a great hiking area.
Hot Springs – Rest those aching muscles in a hot spring!
Search for Ruins – Search out these ruins and historic buildings to look for the Mariscal Mine, Dorgan House
After Big Bend, you will head back east to San Antonio where you will find the historic Riverwalk Area among other historical neighborhoods there.
Some notable spots in San Antonio are:
Alamo Heights – See the Blue Hole and the starting point of the San Antonio River.
Downtown Riverwalk – See the banks of the San Antonio River.
King William Historic District – Do a half-day walking tour in this historic art district.
As you head back to Austin from San Antonio, on your final leg of the loop, be sure to stop by Blue Hole Regional Park, a swimming hole with rope swings in the lush forest.
Utah
Utah is known for having some of the best skiing in the country, and the mountains near Salt Lake City receive an average of 500 inches of snow per year. They also have 27 state and national scenic byways for you to be able to view those inspiring landscapes Utah is famous for.
All-American Road: Scenic Byway 12
Highway 12 from Panguitch to Torrey passes through twisting canyons, red rock towers, pine forests and pioneer towns. Scenic Byway 12 is considered one of these nation's most beautiful drives. You will find incredible landscapes, national parks and monuments, recreation areas and state parks.
There are many points of interest on Scenic Byway 12:
Panguitch – Visit the Bryce and Red Canyons
Henrieville – Located in Bryce Valley and is an original Pioneer town.
Kodachrome Basin State Park – 5,800 feet above sea level, offering 2200 Acres of Canyon Country.
Lower Calf Creek Falls – Grand Staircase Escalante hike leading to a 126-foot-high waterfall and refreshing swimming hole.
Burr Trail Road – Originally a cattle driving road, you will see Grand Staircase-Escalante National Monument, Capitol Reef National Park, and Glen Canyon National Recreation Area.
Boulder – See yellow domes of ancient sandstone across deep green fields.
Escalante – Grand Staircase–Escalante National Monument is partly named for the Escalante River, which flows from Boulder Mountain to the Colorado River.
Spooky Gulch – Hiking through the slot canyons.
Torrey – The gateway community for Capitol Reef National Park.
Trail of the Ancients National Scenic Byway
You can travel from Monticello to Monument Valley, Blanding to Mexican Hat via Natural Bridges or Bluff to Hovenweep. These routes can take you on a wide swing east into Colorado and south into Arizona. There is more than one way to view the sites on this scenic byway.
A tour of the Utah portion of the Trail of the Ancients has some of these points of interest:
Four Corners Monument – Ancestral Puebloan history and it is the only place where four states meet, Arizona, New Mexico, Colorado and Utah.
Edge of the Cedars State Park and Museum – largest collection of Ancestral Puebloan (Anasazi) pottery on display in the Four Corners Region
Natural Bridges National Monument – See the stunning natural bridges carved by water over thousands of years.
Hovenweep National Monument – The Monument contains six separate prehistoric ruined villages dating from the Pueblo period.
Monument Valley Navajo Tribal Park – See a red-sand desert region on the Arizona-Utah border, is known for the towering sandstone buttes.
Moki Dugway – This is a narrow two-lane gravel road. Containing several tight switchbacks and sheer drop-offs. It's not for the faint of heart and considered one of the most dangerous roads in Utah.
Vermont
Vermont. also known as the Green Mountain State, is well-known for its natural landscapes, which are primarily forested. In the New England region, it's also known for being home to more than 100 19th-century covered wooden bridges, and as a major producer of maple syrup. Thousands of acres of mountain terrain are crossed by hiking trails and skiing slopes.
Vermont Lighthouse Road Trip
Heard to Northern Vermont and the shores of Lake Champlain to see the lighthouses of Vermont. Hop on to the Spirit of Ethan Allen to see the Lighthouses that can only be seen from the lake.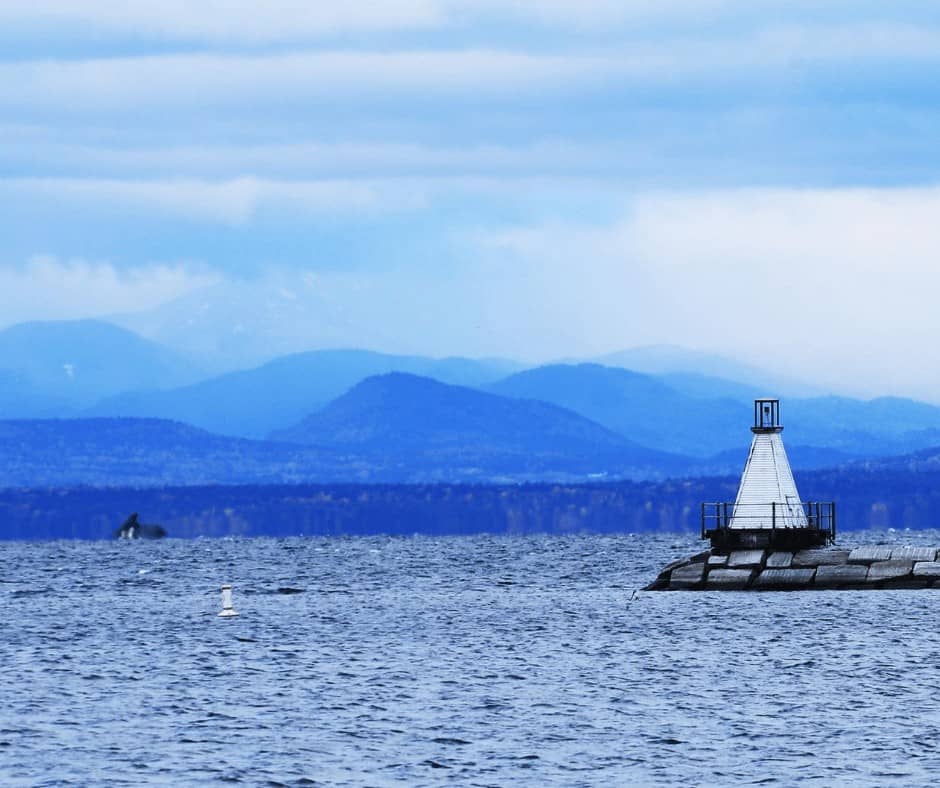 Windmill Point Lighthouse in Alburgh – located on a private property, you can still see the lighthouse from the road.
Isle La Motte Lighthouse on Isle La Motte
Juniper Island Light, Juniper Island in South Burlington – Oldest Cast Iron Lighthouse in the US.
Burlington Breakwater Lights – South and North Tower in Burlington – 2 Lighthouses in one town. They are not open to the public but can be seen from the shore or a sightseeing cruise.
Colchester Reef Lighthouse and Museum in Shelburne
Covered Bridge Road Trip
It is a New England tradition to see the more than the 100 covered bridges in Vermont. There are more covered bridges in Vermont than any other area in the US. Most were built in the 1800s and Vermont holds claim to the longest covered bridge in the US. See a Covered Bridge replica in Bennington's Covered Bridge Museum and explore how covered bridges were made.
Here are the top Covered Bridges in Vermont:
Kissing Bridge
Windsor-Cornish Covered Bridge
Pulp Mill Covered Bridge
West Dummerston Covered Bridge
Brown Covered Bridge
Montgomery, Vermont has the most Covered Bridges:
Comstock Covered Bridge
Fuller Covered Bridge
Hopkins Covered Bridge
Hutchins Covered Bridge
Longley Covered Bridge
West Hill Covered Bridge
Virginia
If you are thinking about Old Dominion for a road trip, you will not be disappointed. Virginia has a diverse landscape with the Blue Ridge Mountains, The Shenandoah Valley to the Atlantic Seashore.
Natural Wonders Road Trip
There are eight Natural Wonders in the State of Virginia. Starting from Washington, DC you will head west and south to see all of these sites. Spend some time in the Shenandoah Valley after you leave Washington to extend your trip.
Great Falls Park – Great Falls is located on the Potomac River just 15 miles outside of DC. A unit of the George Washington Memorial Parkway, the park's origins date back to 10,500 BC.
Luray Caverns – Founded in 1878, the Registered Natural Landmark reaches peaks up to 10 stories high.
Crabtree Falls – Located in Lexington, Crabtree Falls is the tallest cascading, picturesque waterfall, east of the Mississippi.
Virginia Natural Bridge – This bridge was once counted as one of the Natural Wonders of the World. George Washington surveyed the Natural Bridge site for Lord Fairfax.
Burkes Garden – Described as God's Thumbprint due to its bowl-shaped valley, Burkes Garden is the Commonwealth's highest valley and largest rural historic district.
Breaks Interstate Park – This park is often referred to as the "Grand Canyon of the South" and is located just on the border of Virginia and Kentucky.
Natural Tunnel – This tunnel was once described as the "Eighth Wonder of the World."
Jefferson Pools – The natural hot springs of Jefferson Pools spa structures were visited by Thomas Jefferson himself and are known for their healing properties. The Gentlemen's Pool House is the oldest spa structure in the entire country.
Eastern Shore Road Trip
Virginia's Eastern Shore is among the most isolated regions of the country, and you can see dozens of small towns and villages that have stayed the same since the start of the original colonies in the US.
Here are the points of interest:
Assateague Island – Okay, I know this is in Maryland but sometimes you have to break the rules to see the cool things. Although popularly known as Chincoteague ponies, the feral ponies actually live on Assateague Island, MD.
Chincoteague National Wildlife Refuge – The Refuge faces the Atlantic Coast and offers the only ocean beaches in this part of the state.
Eastern Shore Peninsula – Here you will have access to the Chesapeake Bay waterfront.
Accomac, Onancock and Eastville – Three small towns, none of which has changed much since Revolutionary times.
Norfolk – Cross the mouth of the Chesapeake Bay via a 23-mile-long bridge and tunnel that brings you to the maritime jewel.
Virginia Beach – Virginia's most southern point, before the route, turns inland and south into North Carolina.
Washington
Washington State is full of many types of geological wonders where the mountains are also volcanoes. It has some of the best landscapes in the country, including beaches. With over 3,000 miles of shoreline, be sure to take advantage of its proximity to the Pacific Ocean: the beaches, the tidal pools and whale watching are out of this world.
Pacific Coast Scenic Byway
Starting in Olympia, this 350-mile byway is what the Evergreen State is all about. The byway goes around the entire Olympic Peninsula. You will see the national park and rain forests, along ocean beaches, then extends south to the border with Oregon.
Some points of interest on this scenic byway:
Olympia – Olympia, the capital of Washington state, is at the southern end of Puget Sound.
Squaxin Island Museum Library and Research Center – The Museum Library Research Center shows how nature and the Squaxin Island Tribal culture relate.
Port Townsend – The town was supposed to be the New York of the west and is one of only three Victorian Seaports in the United States.
Dungeness National Wildlife Refuge – The refuge is a sanctuary for over 250 species of birds, 41 species of land mammals and eight species of water mammals.
Hurricane Ridge and Hurricane Ridge Visitor Center – Located in the Olympic National Park, it is the most easily accessed mountain.
Marymere Falls – One of the most popular waterfalls on the Olympic Peninsula.
Hoh Rain Forest – During the winter season, rain falls so frequently in the Hoh Rain Forest that it contributes to the yearly total of 140 to 170 inches (12 to 14 feet) of precipitation each year.
Ruby Beach -This is one of the most visited areas of Olympic National Park. There are thousands of marine species where the coastal waters are a safe haven for them.
Lewis & Clark Interpretive Center – The center stands high on the cliffs of Cape Disappointment.
Long Beach, Washington – This century-old North Head Lighthouse was completed in 1898. Long Beach is located on the 28-mile Long Beach Peninsula.
Cascade Loop
This is a 440-mile road trip that includes several road trips in one. But if you are going to go … GO BIG!
If you really want to see everything Washington State has to offer this is the only way to do it. You will start out from the waterfront city of Everett, head east over Stevens Pass, into the alpine villages and snowy capped mountains.
Here are the points of interest on this road trip:
Everett – Explore this waterfront community and the downtown area before heading to the mountains.
Snohomish– Located right in between the Puget Sound and the Cascade Mountains, it is also known as the 'Antique Capital of the Northwest'.
Monroe – If you love agriculture then Monroe is for you.
Skykomish – Mount Baker-Snoqualmie National Forest and Steven's Pass
Leavenworth – Their architecture is right out of Bavaria and you will feel like you are in the Swiss Alps.
Wenatchee – Located on two rivers, the Columbia and Wenatchee, sitting right at the foothills of the Cascades. Also known as the "Apple Capital of the World".
Entiat – Visit the Ribbon Cliff landslide along the shoreline of the Columbia River. For the best views visit Daroga State Park.
Lake Chelan Valley – Wineries and outdoor recreation.
Pateros – Visit where the Columbia and Methow Rivers meet.
Twisp – Check out the North Cascades Highway and the Loup Loup Pass crossing to the Okanogan Trails Scenic Byway.
Winthrop – A western town right by the Okanogan National Forest.
Washington Pass Overlook – Liberty Bell Mountain, North Cascades Highway Trail and the Pacific Crest Trail.
Diablo Lake – At glacier-fed Diablo Lake you will see the wildlife habitat and snow-topped mountain peaks, islands, and waterfalls and the North Cascades Environmental Learning Center.
Sedro-Woolley – Visit their historic downtown with a colorful past.
Deception Pass Bridge & State Park – Cross over Deception Pass to get to Whidbey Island for this great photo opp!
West Virginia
West Virginia is the only state completely within the Appalachian Mountains. This gives it its nickname, The Mountain State. There are several regions that are uniquely special and visiting them is its own unique road trip.
New River – Greenbrier Valley -Coming from its mountain sources, the Greenbrier River meets the ancient New River.
Eastern Panhandle – This area is full of history, scenery and small-town charm and located just a short drive from Baltimore and DC.
Hatfield-McCoy Mountains – These mountains have true stories of Native American leaders, feuding families and coal mining history.
Metro Valley – Charleston, the state's capital, and Huntington, home of Marshall University.
Mid-Ohio Valley – A gentle landscape of peaceful farmsteads, and historical sites.
Mountaineer Country – Visit Morgantown, Fairmont, Clarksburg and Bridgeport
Northern Panhandle – Lies along the Ohio River and has a more mid-western feel.
Mountain Lakes – Visit the shores of five big lakes located in the region.
Potomac Highlands – Outdoor activities and historical sites are located between West Virginia's highest mountain peaks and dramatic scenery.
Byways and Scenic Trails are always our favorite choice when visiting. You can see several regions from one Byway in West Virginia.
The Staunton – Parkersburg Turnpike National Scenic Byway
From Parkersburg to Elkins you will see mountain vistas, dense forests and quaint small historic towns. You will visit 5 distinct areas when following The Staunton – Parkersburg Turnpike which is a historic highway from Staunton, Virginia across West Virginia to the Ohio River.
Parkersburg Area
Weston Area
Beverly Area
Durbin Area
Staunton Area
Mountain Parkway Byway and Mountain Parkway Backway
There are two routes in northern Webster County, West Virginia. The Mountain Parkway Byway is a scenic byway that follows West Virginia Route 20 for 9.8 miles, traversing the headwaters of several mountain streams including the Right Fork Little Kanawha River, Jerry Run, and the Left and Laurel Forks of Holly River.
The Mountain Parkway Backway explores the backroads in the same area, is 32 miles long, and follows stretches of the Right Fork Little Kanawha River and Left Fork Holly River for portions of its route. Some of the Backway roads are gravel.
Here are some points of interest for the Byway:
Cleveland
Jerry Run Summer Theater
Hacker Valley
Holly River State Park
Here are some points of interest for the Backway:
Boggs Mill Stone
Johnson Home
Mollohan Mill
Hanging Rock
Wisconsin
Wisconsin has coastlines on Lake Michigan and Lake Superior. Milwaukee is the largest city in Wisconsin. It is known for the Milwaukee Public Museum, where there are re-created international villages. There is also a Harley-Davidson Museum, displaying classic motorcycles. There are several beer companies headquartered in Milwaukee where you will find many brewery tours.
Lower Wisconsin River Road and Wisconsin Dells Road Trip
Located on the Wisconsin River, a tributary of the Mississippi River, the Wisconsin Dells offers scenic beauty for miles. The Wisconsin River is described as the hardest working river in the world. You will want to look for its unique Cambrian sandstone rock formations and tributary canyons.
The Wisconsin River originates in the forests of the North Woods Lake District of northern Wisconsin, in Lac Vieux Desert near the border of the Upper Peninsula of Michigan. It flows south across the glacial plain of central Wisconsin, passing through Wausau, Stevens Point, and Wisconsin Rapids.
The Lower Wisconsin River Road is a designated Wisconsin scenic byway that travels 100 miles along WIS 60 following the Wisconsin River from Lodi to Bridgeport/Prairie du Chien. From Prairie du Chien, it is about a 30-minute trip north to Wisconsin Dells.
Here are the many activities you will find along the Lower Wisconsin River and Wisconsin Dells:
Outdoor Activities: Hiking Canoeing, Kayaking
Casino
Street music and festivals
Winery Tours
Boat tours
Trolley Tours
Highway 33 Scenic Drive
Highway 33 is one of Wisconsin's "Coast to Coast" routes, reaching both Lake Michigan and the Mississippi River. It is 200 miles across the state from Port Washington to La Crosse. It is also apart of the Kettle Moraine Scenic Drive. You can also continue your trip along the Mississippi River or Lake Michigan.
Some points of interest:
Wildcat Mountain State Park
Grandad Bluff
West Bend
Baraboo
Milwaukee
Port Washington
Sheboygan
Wyoming
Wyoming is broken into four regions. Wyoming is home to Grand Teton and Yellowstone National Parks. The regions are meant to guide you through parts of the state that shouldn't be missed, including national forests, state parks, mountain ranges, historical sites and more.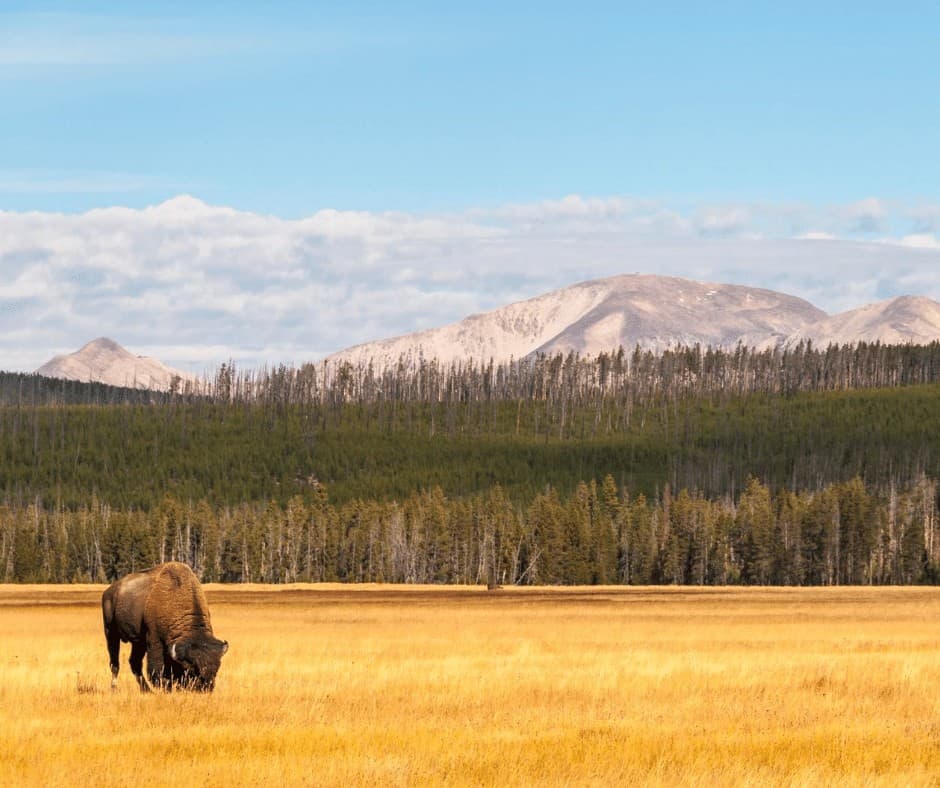 The most popular road trips in Wyoming are Yellowstone and Grand Teton and for good reason. We are going to combine two of them because of their popularity. But if you do not have this kind of time then you can certainly break them up.
Grand Teton and Yellowstone Road Trip
There are several scenic routes to explore on your way to arriving at Yellowstone National Park and Grand Teton National Park, many of which are accessible from Rock Springs and Green River, Wyoming.
All of this will however depend on where you fly into. Many folks opt for Salt Lake City due to affordable flights and make the 8-hour trek into Wyoming.
Here are some Scenic Byways to consider using to get to Yellowstone and Grand Teton:
Flaming Gorge Scenic Byway
Mirror Lake Scenic Byway
Bridger Valley Historic Byway
The Wyoming Centennial Scenic Byway
I would love to hear about your bucket list road trip ideas in the comments!