I have never met anyone who was not interested in seeing the Big Apple. New York City has famous museums, great eats and of course Broadway, New York offers so much it is difficult to cram it into three days. But we were able to do a lot in those three days.
Book Highly Recommended Activities and Attractions Below
The Planning
You will never run out of things to do on your weekend in New York City. It may take several weekends to see everything you want while in the city. We wanted to hit the top sites while staying there for a few days.
Jack had never stayed long enough in New York City to see much. Last time we were there we spent most of our time on Fire Island and Long Island. I wanted to make sure we covered as much ground as possible. We happened to be going to the New York Times Travel Trade Show in January. The trade show is free for consumers to visit on the weekend but we were going on Friday for travel industry professionals. This left us with even less time to explore.
We decided to stay at a Marriot, near Times Square, which is a couple of blocks from the Javits Center where the event was being held and is located in the middle of Manhattan. This way we were centrally located to see the sites and still be within walking distance of the Javitz Center. Just about every weekend there is some type of show or event there that you may want to look in to.
Transportation
You will have a few different options for getting around. Most people know this, but I would not recommend bringing your own car while staying there. You can pay anywhere from $8-95 per hour depending on the location of the garage. If your hotel even offers to park it can cost upwards of $100 per night and you will not use it once you are there as the parking can be offsite with no in and out privileges.
Getting There
I have made the mistake of flying into JFK in the past when traveling to New York. We happened to get great prices flying into Newark. JFK is much more congested than Newark and you can get stuck on the tarmac which can add an additional hour or more to your flight. I wanted to try the Newark route. It was much faster than being stuck on the plane waiting to get cleared for a gate or take off. This is a common problem at JFK whether you are coming or going.
Transportation Options
Once we were in Newark we chose to take the train right into Penn Station which was really close to our hotel. If you choose to come to Newark make sure the trains are running when your flight is coming. I made this mistake when I was returning to FL. Our flight was leaving so early that we had to get a car to take us back since the trains were not leaving that early.
Your other options are the subway (train), walking, taxis and car services. The subway system in New York is your least expensive option for going more than 10-15 blocks. You will walk quite a bit too. It is not really worth it to take the train for less than 15 blocks.
Tip: Make sure to put your phone's GPS on the walking route option once you are in the city.
NYC Trains
When we arrived at Penn Station we purchased our unlimited weekly MetroCard. Even though we were only there for a few days it was worth it to get the card. We had plans to go all over the city and I did not want to be stuck in traffic in a taxi wasting precious time.
One thing you want to do is to become familiar with the train system before you go. You will not know it well but at least you will be somewhat familiar with how it works. Once you are there, train attendants and New Yorkers are usually pretty helpful in telling you how to get to your destination. There are maps as well that you can use on various walls around the station.
Restaurant Week
In addition, it was Restaurant Week in New York so there were a bunch of great deals that you can get at the top restaurants in the city. The event runs for 3 weeks two times per year. It is a great way to experience NYC restaurants at a great price. Getting a reservation can be tough at the more popular restaurants. If you are having a hard time getting in, try for a lunch reservation or a Sunday reservation.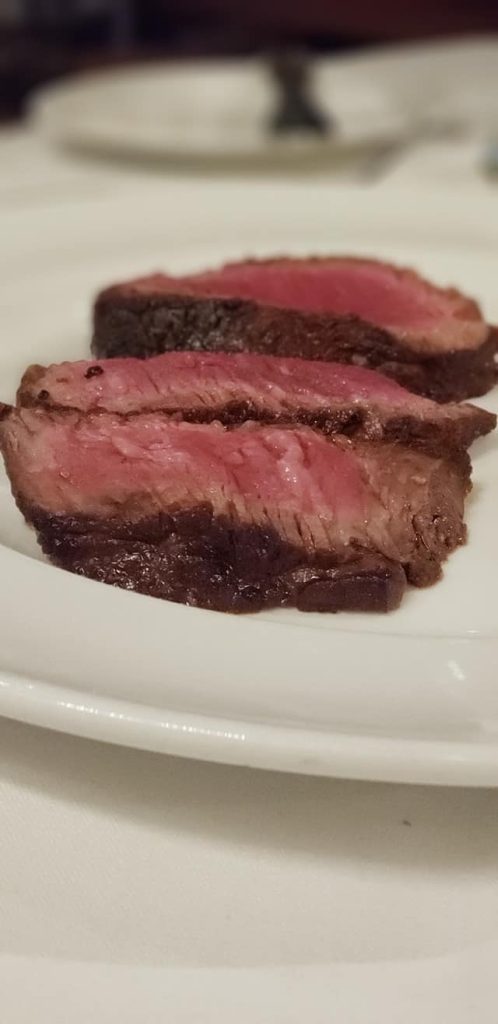 Must-See Sites
You will want to purchase a New York CityPASS, saving you about 40% on the entry fees to these attractions. You have the option of choosing 6 sites with your City Pass, which you can easily do on the weekend.
The New York City Pass will save you about 40% off of normal ticket prices. They also have special lines for City Pass holders at some of the museums.

Explore New York City With The Amazing Offers! Book Now
This was our first stop and it was the most impactful of all of our stops.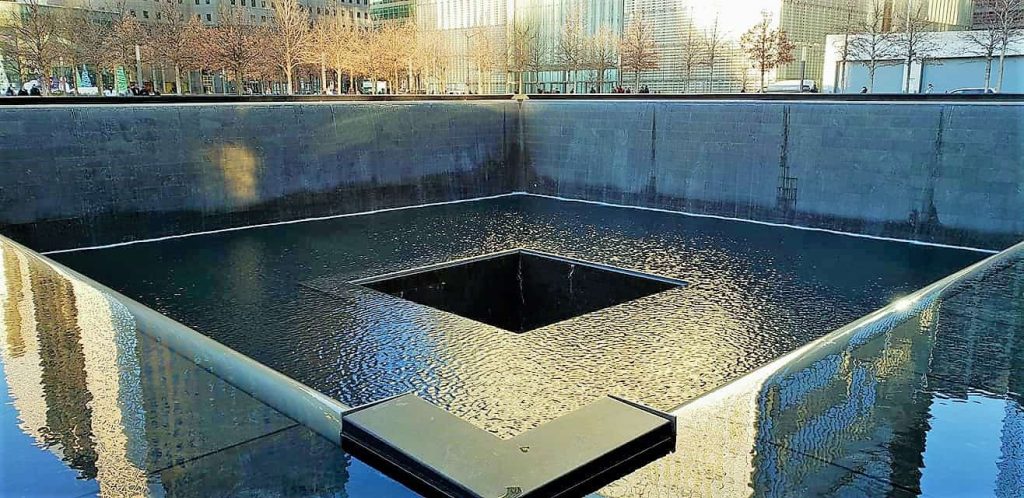 The National September 11 Memorial & Museum is a memorial and museum in New York City commemorating the September 11, 2001 attacks, which killed 2,977 people.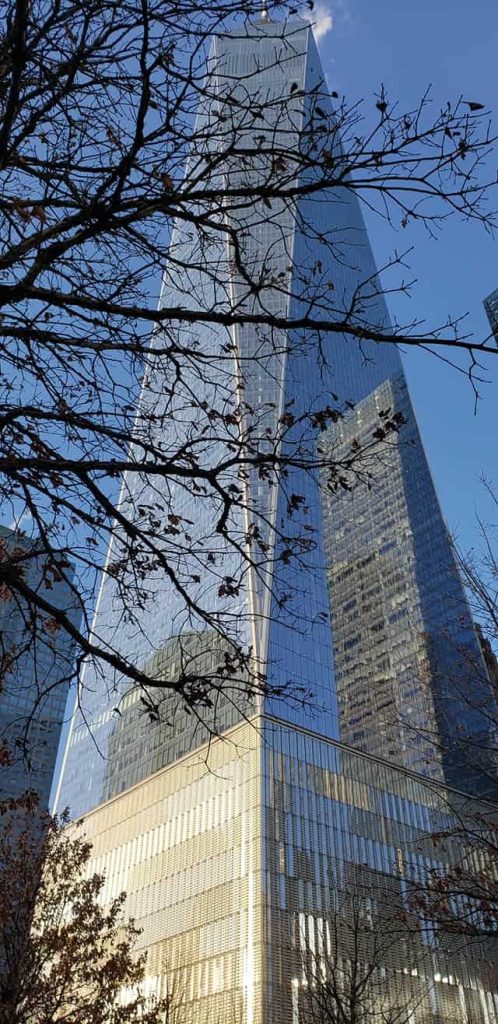 There are a memorial and a museum and it is located in lower Manhattan. It occupies eight of the 16 acres at the World Trade Center. The 9/11 Memorial and Museum are tributes to the past and a place of hope for the future.

Book 9/11 Memorial and Museum Below
The National 9/11 Memorial Museum is located within the heart of the original World Trade Center site. The Museum serves as the country's main museum concerned with exploring the historic implications of that tragic date. You will find state-of-the-art multimedia exhibits, archives and monumental artifacts.
You will be able to pay homage to the nearly 3,000 victims of the attacks. The museum also recognizes the thousands who survived and all who showed extraordinary courage & compassion in the events and aftermath.
In the heart of the museum, you'll find the September 11, 2001 galleries with all the images and videos from that day. There's a warning in front of the entrance, "The exhibition may not be appropriate for visitors 10 years old and younger. Adults accompanying younger visitors should exercise discretion before entering."
You also may not take photos and they make it clear you will be asked to leave. The more intense scenes, like people jumping out of the buildings, are in alcoves, but even in the main space, there's a succession of photographs of the burning towers and TV coverage from 9/11.
It is definitely intense.
Metropolitan Museum of Art
The Met presents over 5000 years of art from around the world for everyone to experience and enjoy. The entrance fee for NY residents is free. Others will have to pay $25.00. If you have the City Pass this will be included. We were unable to make it during their operating hours which are quite short.
The Metropolitan Museum of Art was founded on April 13, 1870, "to be located in the City of New York, for the purpose of establishing and maintaining in said city a Museum and library of art, of encouraging and developing the study of the fine arts, and the application of arts to manufacture and practical life, of advancing the general knowledge of kindred subjects, and, to that end, of furnishing popular instruction." according to the MMA charter that has guided them for 140 years.
"The Metropolitan Museum of Art collects, studies, conserves, and presents significant works of art across all times and cultures in order to connect people to creativity, knowledge, and ideas."
Unfortunately, we did not have time to visit. It is an impressive museum and is a must-see on your trip to New York City. I had been as a child so we will definitely be going back so Jack can see it. I was a little disappointed to say the least, but other things took longer than I expected.
Circle Line Sight Seeing Cruises
This really gave you a lot of bang for your buck. If you are interested in seeing a lot of sights in a short amount of time, Circle Line is the way to go.
You will be able to tour around the entire island of Manhattan. We chose to upgrade our tickets to the Best of NY Tour. A tour guide will tell you the sotries of the city while on the boat.
You'll cruise along all three NYC rivers, pass under 20 bridges and see over 130 of the city's most iconic landmarks including the full Manhattan skyline, the One World Trade Center, the Brooklyn waterfront, Yankee Stadium, beautiful Gracie Mansion, the stately George Washington Bridge and, of course, an up-close look at the Statue of Liberty and Ellis Island!
We chose to sit outside so I could get photos. We were freezing on our tour to say the least, but it was a sunny day so it was not too bad. There is also an enclosed area that is heated. You may not bring drinks or food on but they have a cafe, restrooms and photos that you can purchase.
You will want to walk through Central Park at a minimum and you can also take tours. Central Park was designated as a National Historic Landmark in 1963 then as a New York City scenic landmark in 1974.
The park's main attractions include landscapes such as the Ramble and Lake, Hallett Nature Sanctuary, the Jacqueline Kennedy Onassis Reservoir, and Sheep Meadow; amusement attractions such as Wollman Rink, Central Park Carousel, and the Central Park Zoo; and the Delacorte Theater, which hosts Shakespeare in the Park programs in the summer.
If you are fans of the television show Friends, you can also see some of the famous spots that have been featured on the show.

Book Central Park Activities Below
The Empire State Building is a 102-story Art Deco Skyscraper in Midtown Manhattan, New York City. It was designed by Shreve, Lamb & Harmon and built from 1930 to 1931. It was named after New York's nickname, the Empire State.
This is always a favorite. Many movies have been made with the Empire State Building. You will get the full history on your way to the top. Once you are there you will be able to view the city skyline. We chose to go at night and I am glad we did! It was a beautiful scene.
The original plan of the building was 50 stories, but was later increased to 60 and then 80 stories. You can make your way to the top so you can see panoramic views of the city. We chose to go at night. It was actually nice during the winter. The crowds were pretty small and they had heaters working on the observation deck.
Rockefeller Center
You can see a multitude of things at Rockefeller Center. Not only will you get admission to Top of the Rock with your City Pass tickets there is plenty of famous spots all over the property.

Book Now: Empire State Building Tickets & Skip-the-Line
The first thing Jack wanted to do was see the Today show. Since it was January and it was 34 degrees out, getting a spot was not a problem. My daughter was able to capture us on TV. It is a little blurry but we still have the moment.
We had the best time! When the crew and the cast came out to greet us Hoda was super sweet and offered to take a selfie with us. She is really genuine and warm. It is a real treat to get to meet her.
After the show, we headed over the Rockefeller building. We wanted to get to the Top of the Rock early to avoid crowds. When you are ready to visit there you can go to their website to make a reservation. We did this but it was pretty empty. During the busier summer months or holidays, this is something you will want to do.
Since we were there in the winter we were able to see the skating rink. Not many people were there that early in the morning. During the holidays it will be packed so again call for reservations.
The American Museum of History is located on the Upper West Side. It is definitely a museum you could spend all day in if not multiple days. It is one of the largest Natural History Museums in the world.
The museum is located in Theodore Roosevelt Park across the street from Central Park. The museum complex comprises 26 interconnected buildings and houses 45 permanent exhibition halls. There is also a planetarium and a library. The museum collections contain over 34 million specimens of plants, animals, fossils, minerals, rocks, meteorites, human remains, and human cultural artifacts.
Only a small fraction of what has been collected can be displayed at any given time. This place is huge. They occupy more than 2 million square feet.
Included in our City Pass ticket we were able to view a film as well.
Book Now: American Museum Activities
Times Square
Times Square is on everyone's list and I wanted to go at night. The lights and ads are something you must see but more importantly, the people-watching is the most fun.
Times Square is a major commercial intersection in central Manhattan at the junction of Broadway and Seventh Avenue. It acquired its name in 1904 when Albert Ochs, publisher of The New York Times, moved the newspaper's headquarters to a new skyscraper on Longacre Square.
Millions of people have gathered for the well-known and much-anticipated ball drop ceremony. It is also adjacent to Broadway so you can walk there to see the theaters and get some more photo opportunities. There are many attractions there like the Madame Tussauds Wax Museum and ABC's Times Square Studios where Good Morning America is filmed.
There are no bathrooms available so be prepared to by a drink somewhere if you need to use a restroom.
Little Italy
Little Italy was something I wanted to see and I had to have dinner there at least once while I was in the city. I had not been there since I was a kid. Growing up in Philadelphia, Italian is a must-have when you are in the northeast.

Book Little Italy, San Diego Activities Below
Little Italy borders on Chinatown and is comprised of Italian Americans and Italian Immigrants. We stopped at Ferrera's Bakery first before moving on for dinner.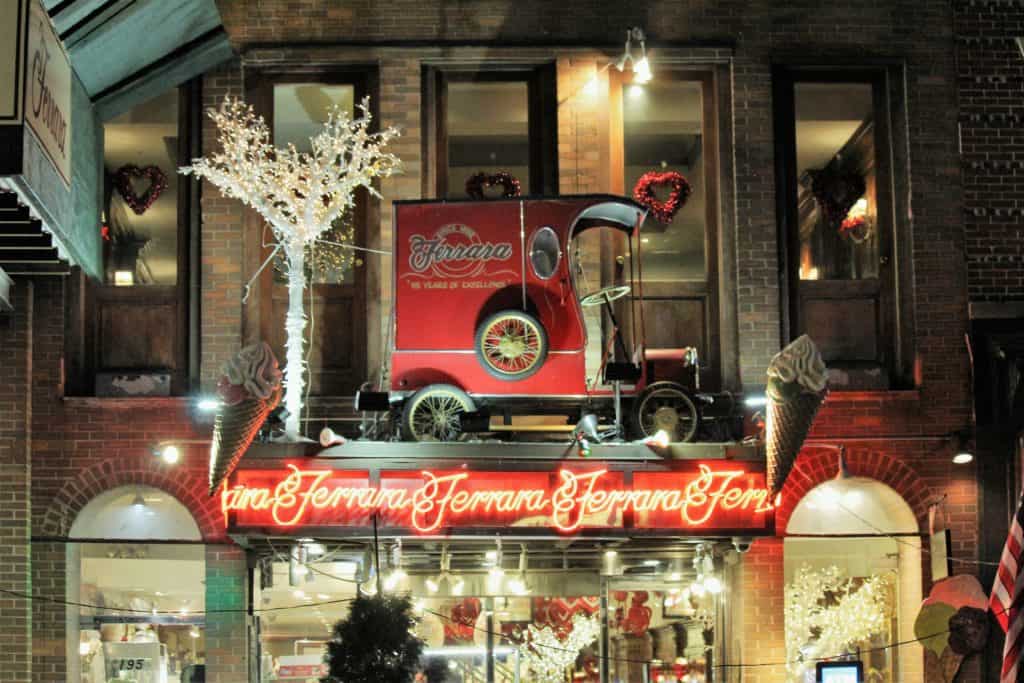 Since it was restaurant week there were some great deals on the menus. After dinner you can stop at a gelato stand or check out the cheese shops and bakeries.
There is fresh Gelato that you can order while walking around the area and working off your dinner with a nice walk.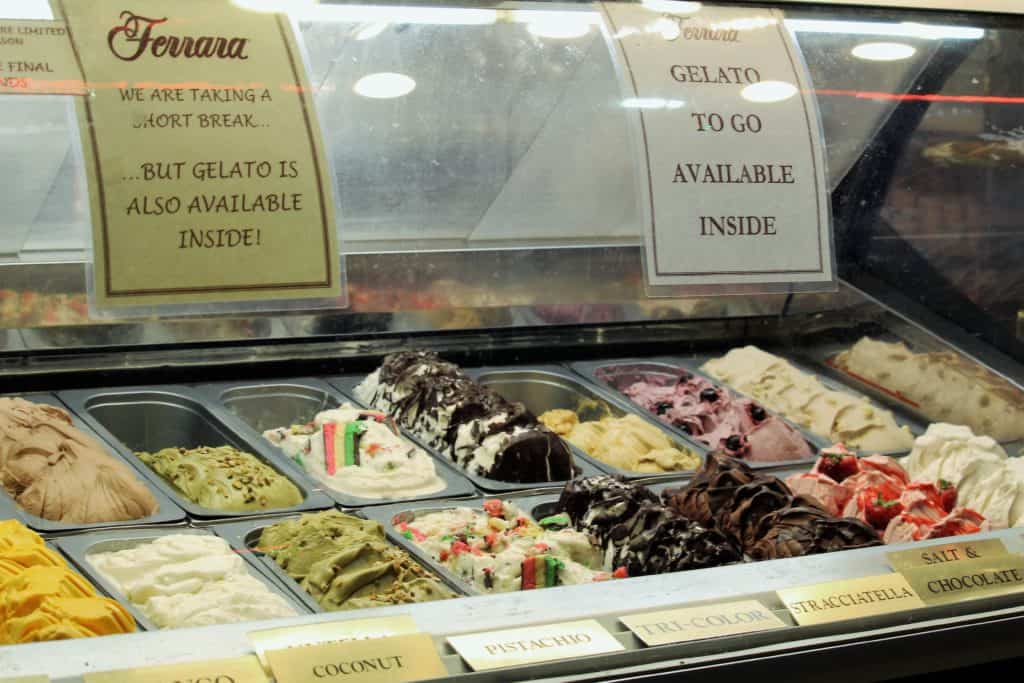 If you are looking for entertainment, great food, the arts, culture and history a weekend in New York City is the place to find it. It is America's greatest city!
Be sure tell me all about your experiences when you visited New York City for the weekend in the comments! What was your favorite thing about New York City?