Jimmy Buffett is in the real estate business!? Last year I heard from my best friend, who is also over 50, and she said, "You will never believe it but Jimmy Buffett is building new 55+ developments for Baby Boomers and there is one right in Daytona!" We had to go check out Latitude Margaritaville, in Daytona Beach, Florida and see everything they have to offer!
Location
Daytona Beach is less than 2 hours from us in Vero Beach so we hopped in the car to see what all of the excitement was about.
Latitude Margaritaville, one of his newest Baby Boomer, 55 plus communities is close to I-95 for interstate access. Exit on LPGA Boulevard, it is one of the main thoroughfares in Daytona, and the Latitude Margaritaville is just west of the interstate giving it easy access to shopping, events and the beach.
Daytona has many events throughout the year that retirees would love to be a part of like Bike Week and the Daytona Motor Speedway. Florida is the place to be for people who are looking to retire.
Construction started in 2017 so there is an opportunity for resales at this point or you can build your dream home with Minto Construction.
We pull up to the Latitude Margaritaville Daytona Sales Center and immediately see there is a bus to take people to the 55 plus community to view the models. We hop on and we drive through the gates to get to the model home area.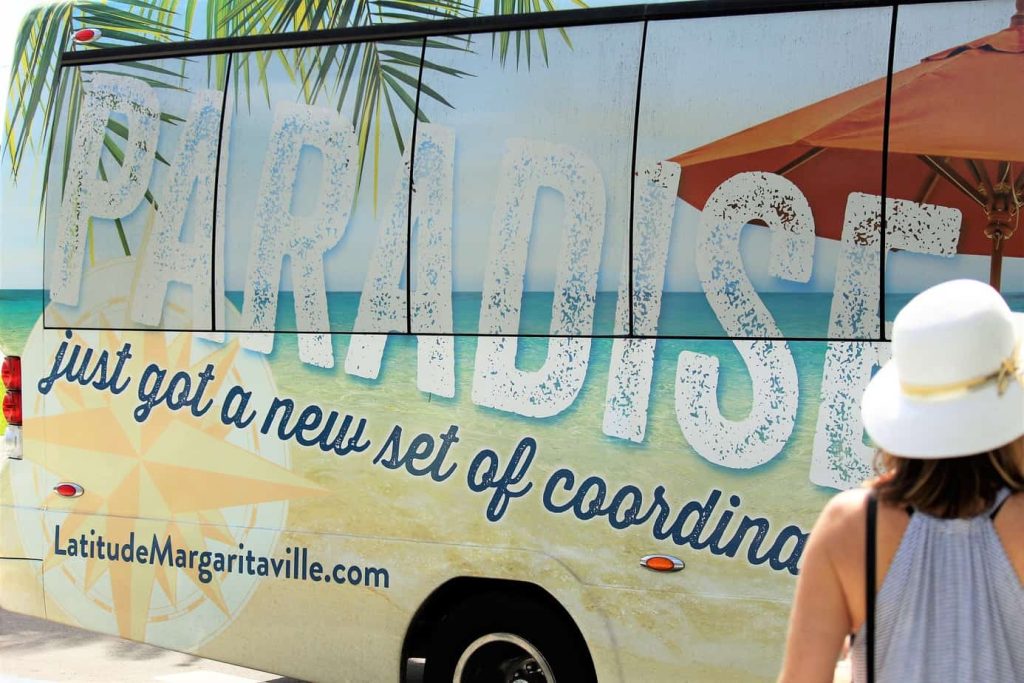 Once being dropped off you will find a tiki bar with an attendant who hands out water to prospective Baby Boomer buyers. She explains where to go to view the model 55 plus homes at Latitude Margaritaville.
Model Homes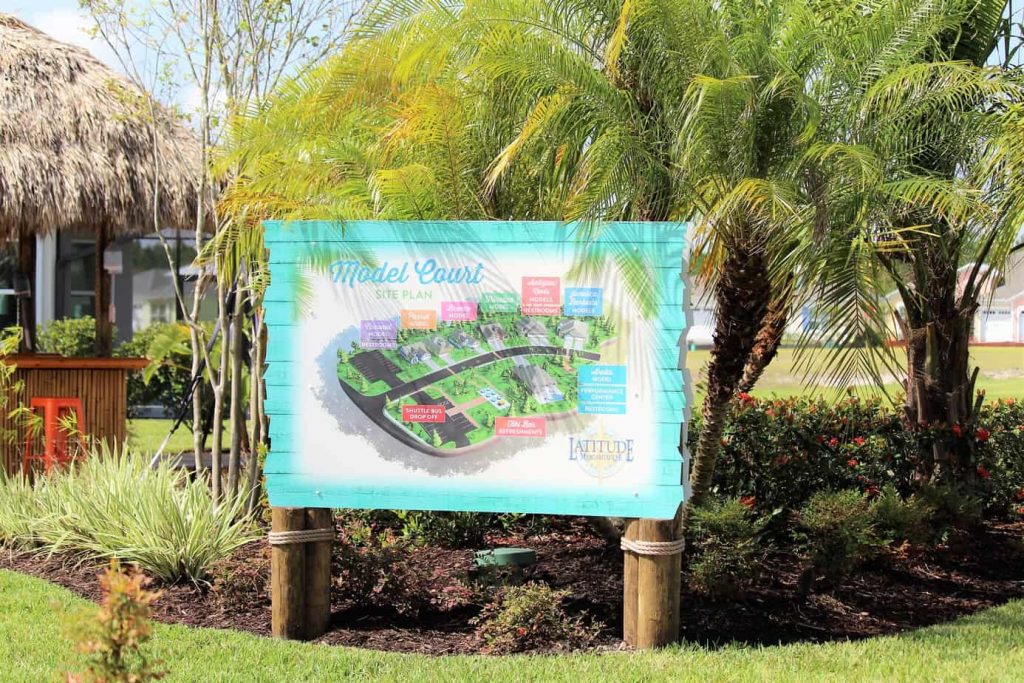 There are currently 19-floor plans. This allows Baby Boomer residents to choose a home model that best suits their needs and lifestyle.
The Caribbean Collection includes six-floor plans for the attached villas. For detached single-family homes, the Beach Collection features five-floor plans and the Island Collection features four-floor plans. The Conch Cottages Collection offers four-floor plans. Currently, interested Baby Boomer homebuyers can check out 13 model homes at the Model Court with a couple of homes in each category.
We head down the sidewalk and walk into our first model home. Well appointed with high ceilings I could totally see myself living there. This is not your typical 55 plus community in Florida.
The nice thing about Latitude Margaritaville Daytona is that you are able to purchase a two-bedroom villa as well as a larger home with more bedrooms. This way if you are looking for a smaller second home this is a great option or if you know you will have guests frequently you can opt for more bedrooms.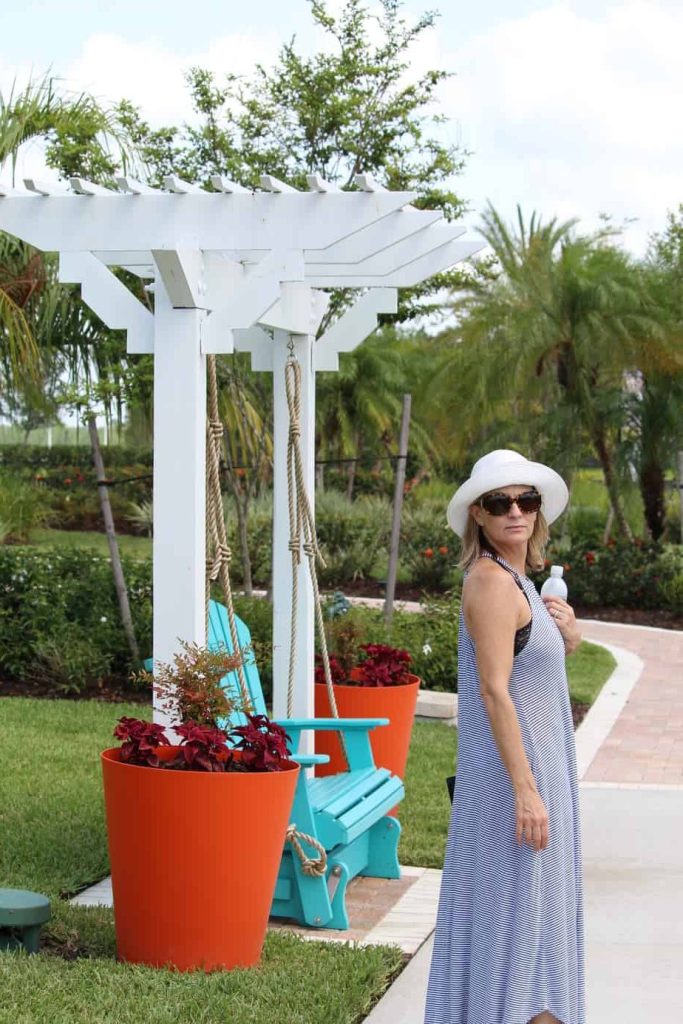 Home prices range from $200-$400k and of course, the model homes have every option available to view so you can see what the features look like. The community itself has also been recognized and is the winner of 17 National Association of Home Builders awards including Best 55+ Community of the Year and Best 55+ Builder of the Year.
Once we tour the homes we head back to the welcome area and grab some much-needed water.
Amenities At Latitude
The plans for amenities are impressive at The Town Square! From the Latitude Bar and Chill restaurant, a fitness center, and theater to Barkaritaville Pet Spa! We all know how much Baby Boomers love their pets!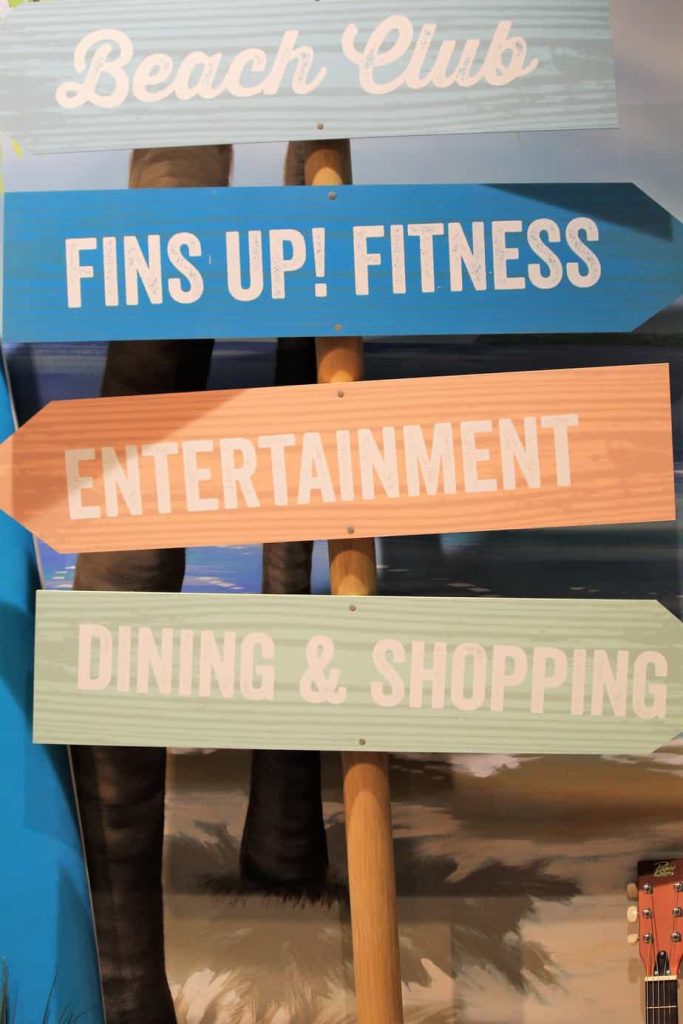 There are also plans for tennis, bocce ball, and pickleball courts and a walking trail. This is going to be Boomer outdoor living at its finest!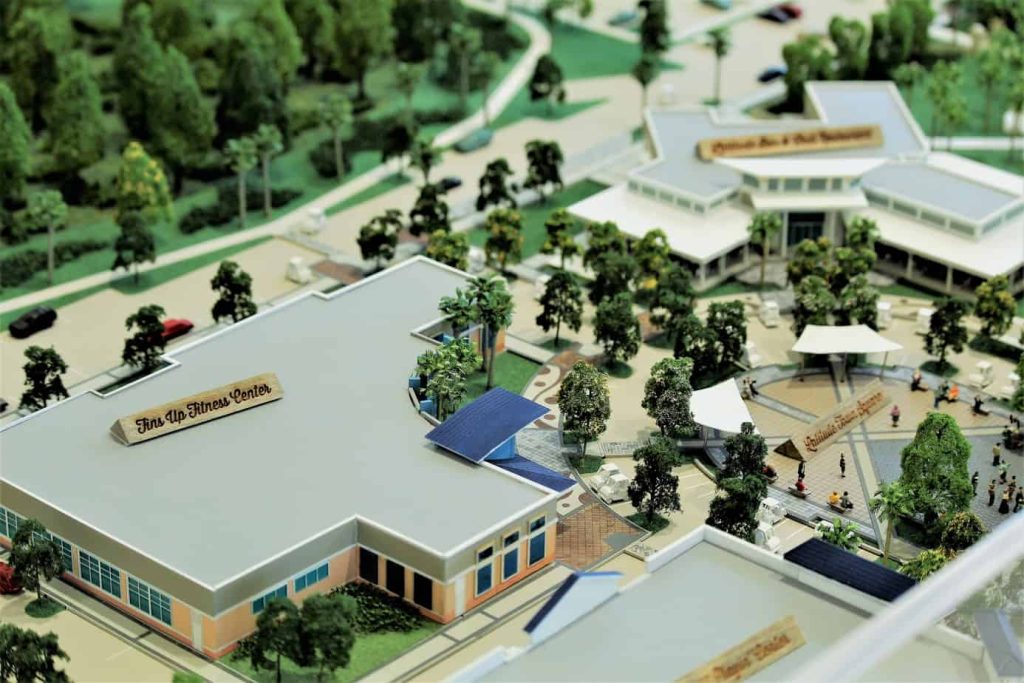 You will, of course, be able to add a pool to your home, visit Paradise Pool, the community pool with its own sandy beach, or visit the Latitude Margaritaville beach club that the community owns for the residents to have access to. There will be a continuous shuttle to take the residents over to the beach which is only about 5 miles away.
List of Amenities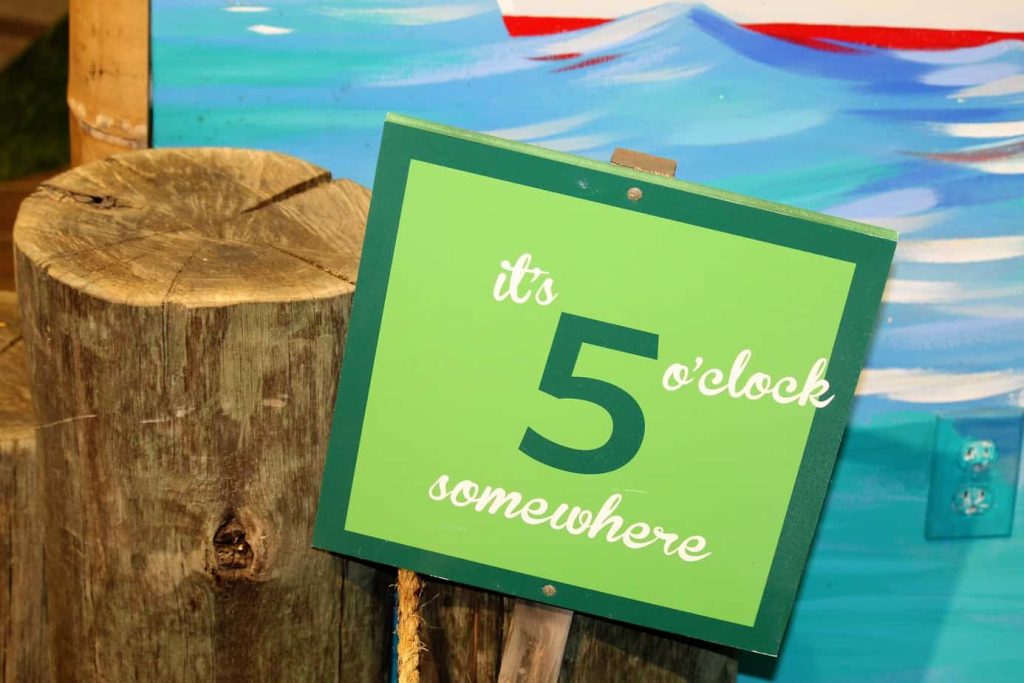 The Beach Club.
Latitude Town Center.
Latitude Bar & Chill Restaurant.
Changes in Attitude Bar.
Town Square bandshell.
State–of–the–art Fins Up! Fitness Center with fully outfitted gym, spin room and aerobics room, virtual personal trainer, private massage room and sauna.
Lagoon–style Paradise Pool and Tiki Island.
Tennis, pickleball and multi-use sports courts.
Nature trails.
Additional future amenities include:
Workin' N' Playin' Center where arts, crafts and other programs will be offered .
Coconut Telegraph Business Center.
Last Mango Theater for shows, dances and banquets.
Bocce ball courts.
The Hanger workshop for golf cart repairs.
In addition to the existing Barkaritaville Dog Park, canine residents will have a Barkaritaville Pet Spa.
Margaritaville Daytona Sales Center
The sales center was huge with a design area and a museum-like room. There was lots of info on Daytona Beach and Latitude Margaritaville. Of course, it was loaded with a lot of cool Jimmy Buffet paraphernalia!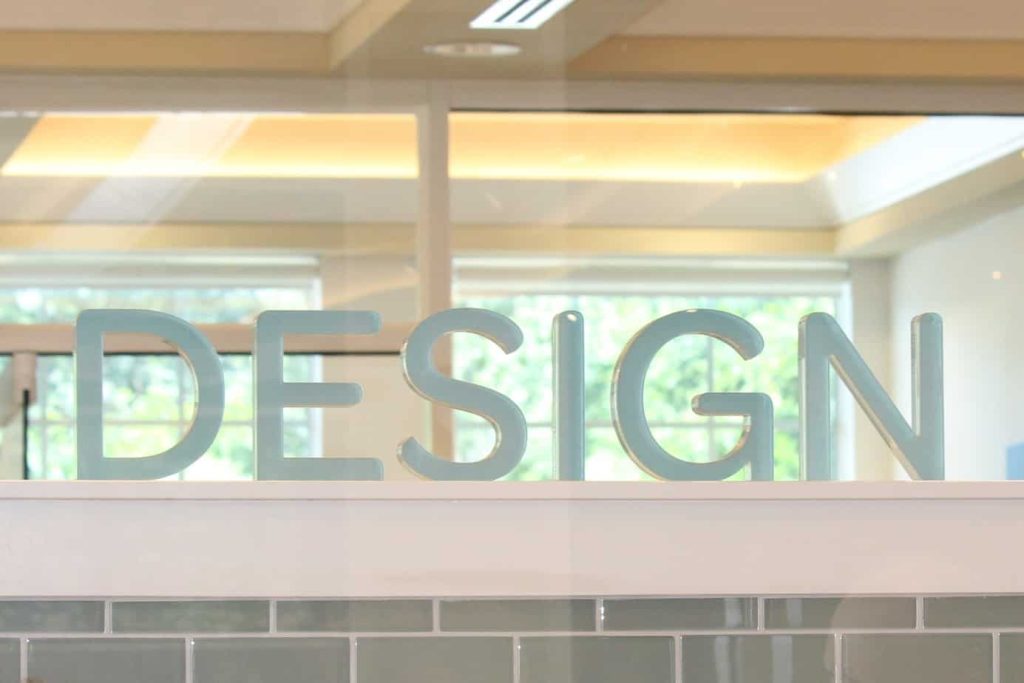 The Design Center is where you will choose your flooring, colors, appliances and other appointments for your new Minto home. Your new home will feature a low maintenance lifestyle and green features most 55+ community home buyers are looking for. These green features will ensure a lower cost of living here at Latitude Margaritaville Daytona.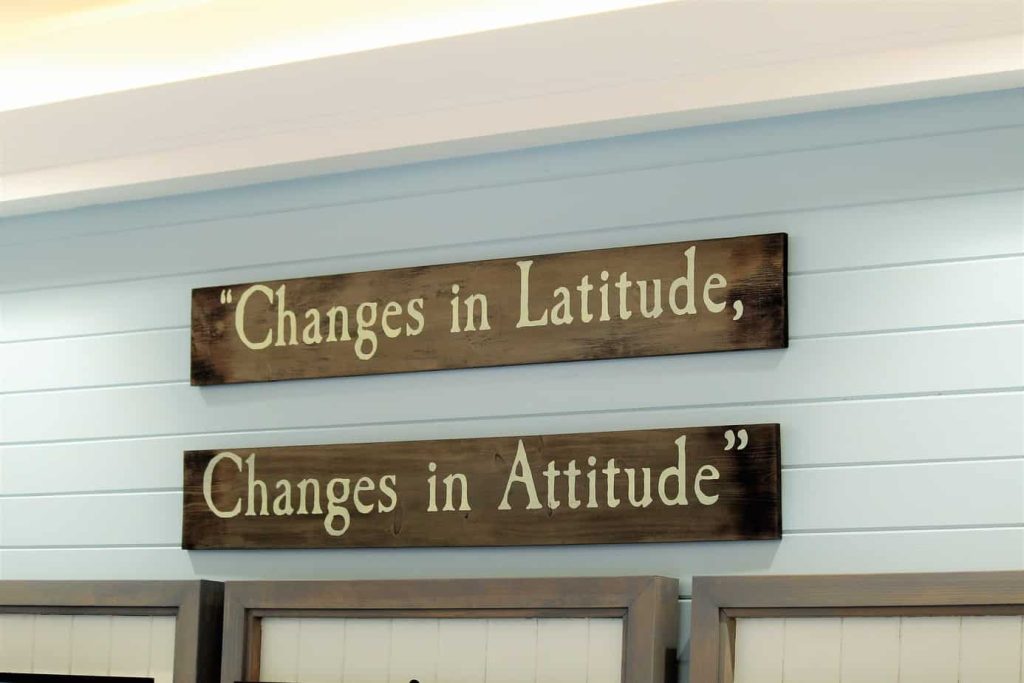 Minto states they are building homes with the finest "Green" technologies. Latitude Margaritaville homes are energy efficient so you will lower energy costs as well.
There are no high-pressure sales tactics here. We were able to look around and helped by one of the salespeople when we were ready to ask questions. And in case anyone is wondering, Jimmy does own a home here!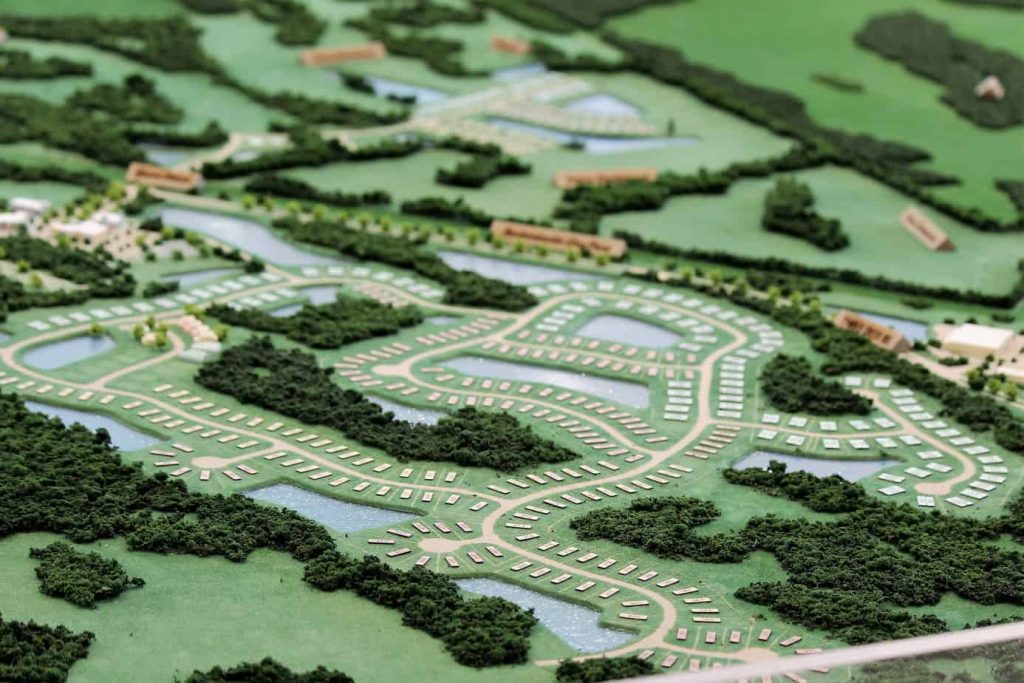 We were shown the models for the Town Center and the community and he answered any questions we had and explained the time frames, HOA costs at the time and expected build times. These are prices that change so I would recommend visiting them to view the models and get up to date information.
Monthly Maintenance at Latitude
Gated communities with amenities also come with monthly maintenance fees. Right now they are fairly low at an approximate range of $221-264 per month, due to many of the amenities not being available.
As the amenities are built out you can expect the fees to go up. All of the amenities are included in the monthly maintenance. The fee also covers your lawn and shrub maintenance.
Daytona Beach
I think Baby Boomers who love Jimmy Buffett and the Florida lifestyle will love the Latitude Margaritaville lifestyle. This is a self-contained Baby Boomer 55+ community. They will have the amenities most of us are looking for as we enter into the next chapter of life.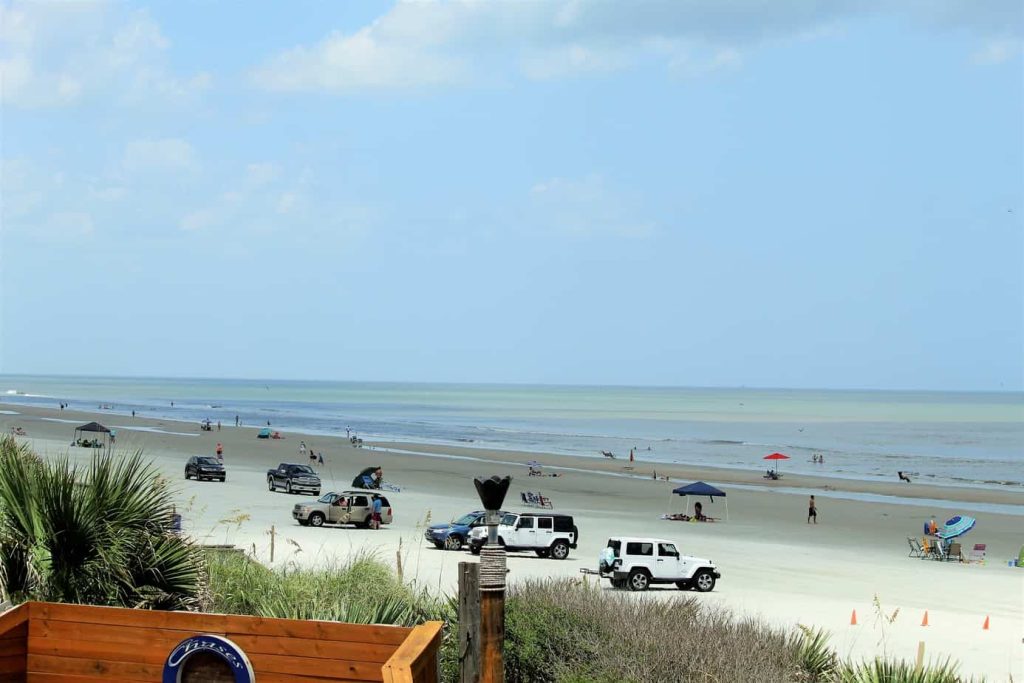 I did ask the salesperson why they chose Daytona Beach as a place to build a Latitude Margaritaville 55+ community. He stated, there are more events in the Daytona Beach area than any other area in comparison. The events are geared towards Baby Boomers and the over 50 crowd.
If you love the beach, NASCAR, Bike Week among other large events, and all things Florida then Latitude Margaritaville, Daytona may just be the place for you!
Check out our other retirement articles here!