La Guarida is one of the top spots in Havana and was on the top of our list to visit! I looked for 4 other top spots to visit while in Havana, Cuba where others in our group had traveled to. The one restaurant consistently on everyone else's list was the Paladar called La Guarida.
The family-owned private restaurant or "Paladar" in Central Havana, about a ten-minute ride from the Port. Private restaurants in Cuba are scarce.
Keep reading for a list of 4 other top spots to experience nightlife in Havana. They all get rave reviews, and some of the locals referred me to them. We chose the Paladar and boy am I glad we did!
You will have to book a reservation a few weeks before you arrive. They have intermittent internet service there, so it can take a few days to get a response. The restaurant also books up quickly, so make the reservation early.
Opened in the mid-'90s, the restaurant has an excellent reputation for its food and service.
La Guarida, this top spot in Havana, has been featured on two US television shows that I saw since we visited the restaurant. The Profit on CNBC and Keeping Up With the Kardashians. Madonna also visited the restaurant in 2016. Watching the Profit showed me why La Guarida is definitely one of the top spots in Havana. The restaurant has a history of many famous people visiting.
Once the economic reforms came in 2010, many other private restaurants have popped up.
La Guarida, One of the Top Spots in Havana
We have a 7:30 reservation and now I am an expert at Cuban culture! So we decide we will take a cab to the restaurant. We had no idea how far it was from the port and when I looked it up it was not within walking distance.
Being from the north-east and knowing how some cab drivers can be I decide to negotiate the price of the trip upfront using my tourist Spanish….
We negotiate a price of $8….. and let him go! I honestly thought it was around the corner. I had no idea how far it was so the next 4 cabs were anywhere from $12 to $15. My last one we settled on $10 and after taking the ride realized it was pretty far so I made sure I tipped him well.
We Arrive at the Paladar
The driver can not get us to the front of the restaurant because there is a traffic jam to get into La Guarida, the top spots in Havana, so he drops us off at the corner. We walk to the entryway with the sign over the door, but there is nothing really there, just an empty room.
Several young men are sitting in the doorway. I guess we looked hesitant, so one of the guys said, "The second floor." and pointed up. We headed up the marble stairs. We get to the second floor, another empty room.
I guess I didn't remember the pictures on the website, so I was a little nervous when there was no restaurant on the second floor. Maybe in Cuba, this is considered the first floor. So we both look at each other nervously and hike up another flight of stairs. Same thing!
Now I am nervous we are completely in the wrong place! But wait! I smell food! It must be close.
We head up another flight and turn on the landing and look up again, and two lovely hostesses are waiting for our arrival! After that, we hike up the final stairwell and give them our names. The hostess seated us on the veranda outside overlooking the street.
Nothing is New, Which Makes It Really Cool!
My pictures are not the same as La Guarida's website so make sure you go on the website and look around.
Every table and chair are different.
Every glass, plate and fork are different. I am sure everything was the same back then but the circa 1950's feeling was pretty cool.
Our table was actually an old sewing machine. I kept bumping into something with my foot, and I lifted the table-cloth and saw the pedal. The sewing machine actually had a pedal, and it was made of wrought iron with a wooden top!
The artwork on the walls is beautiful, but the restaurant itself is a work of art.
The food is outstanding! Some interesting items on the menu we had are the Duck Salad and Filet Mignon with chocolate sauce and blue cheese. And, of course, a Cuba Libre for me and Cuban beer for Jack! I can see why La Guarida is one of the top spots in Havana!
It was awesome! Perfect weather, and it was really cool to be sitting outside and be able to watch the city at dusk.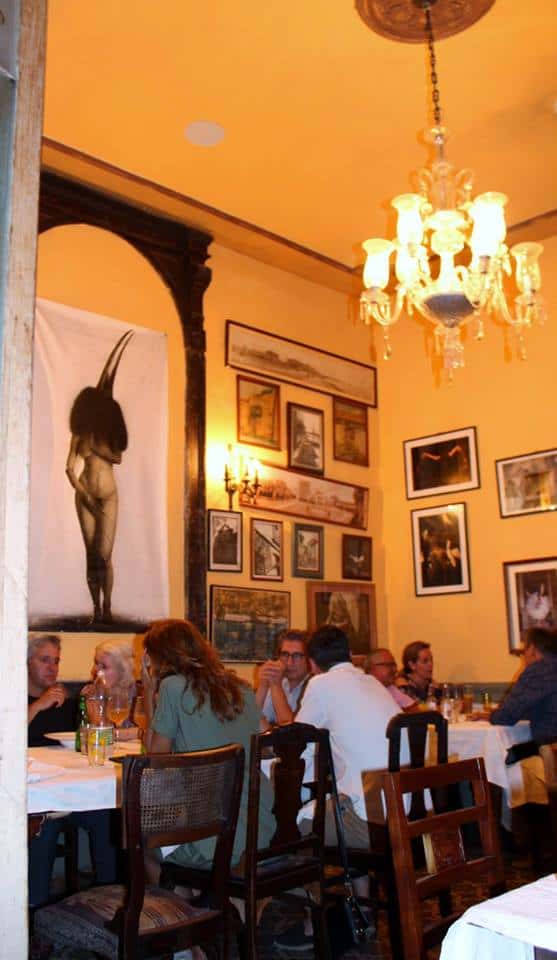 Propaganda on the Stairwell Leaving the La Guarida
One other thing about Cuban restaurants you will need to know is that your gratuity is included in most places. They only expect 10%, so we always put extra for them.
Back to the Port
When we returned to the port, we decided to walk around and see any nightlife. By the time we got back, around 10:30, things were pretty much closing down in that area. I did get some nice pictures of the architecture and some locals hanging out.
There was a photoshoot of this model. I started to take photos of the model, which quickly drew the attention of her photographer. Not thinking that my flash would mess with their lighting, I apologized and moved on to photograph what I could in the port area.
Again, I became fascinated with the people in Havana. I wanted to see how people lived. So we decided to walk around and check it out in the evening.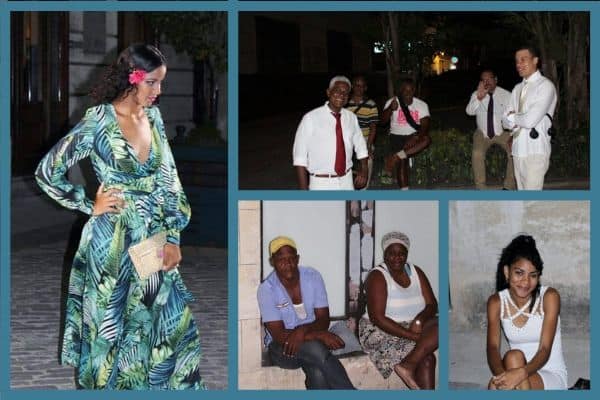 Everyone in the area was very friendly, and we felt very safe. I really had a terrific time being in such an eclectic place. I highly suggest you go. There is nothing else like this!
A few people in our group chose other top spots in Havana.
The Tropicana is still in existence today and offers a cabaret-style show that was started in 1939. The facility is located on a 6-acre estate with beautiful gardens.
Havana Jazz Cafe offers jazz and food.
Think Sloppy Joe's in Key West is the original? Think again! Sloppy Joe's in Havana was re-opened in 2013. I want to go back and see that piece of history. A friend of ours on the cruise had a photo visiting Sloppy Joe's when he was a little boy back in the '50s on a trip with his parents. He loved going back to revisit the iconic bar more than 50 years later.
Submarino Amarillo is a club our guides showed us while we traveled in the classic car. They said the club's theme, Yellow Submarine, was a tribute to the Beatles since all Cubans love the Beatles. Just down the street is a statue of John Lennon in a park.
Before you go check out our classic car tour earlier in the day!!
Leave a comment about your experience at Havana's top spots below!
Pin this image so you can refer back to this when you need to find things to do on your trip to Havana!
[mv_create key="1″ type="list" title="Read More About Havana, Cuba" thumbnail="https://borntobeboomers.com/wp-content/uploads/2018/07/Cuban-Entry-Center.jpg"]