Is Limon, Costa Rica, worth visiting? What are the top attractions? Well, it depends on which Limon you are speaking of. There is Puerto Limon, a port city, the largest city in Costa Rica, and the capital of Limón province, located in the larger Limon Region. We pulled into Puerto Limon when we took our cruise. However, we did not stay there for long. Instead, we ventured into the region of Limon, where we will show you the top attractions to visit. In short, the answer is yes, but there is plenty to know about the region and what it has to offer.
Limon, the region, and Puerto Limon, where many cruise ships come into the port. Costa Rica's Caribbean Province has a great atmosphere and an even more interesting history. Limon is mainly known for its creole and black population. It differs from the rest of Costa Rica. It has unique styles, languages, and ways of life.
Let me explain. In discussing Limon, it is first helpful to take a step back and review how the country is set up. Costa Rica has seven provinces, which are broken down into 81 cantons. Within those 81 cantons lie 473 districts. Limón province is broken down into cantons and districts. The city of Puerto Limon exists in the canton of Limon, which exists in the province of Limon.
If you're from Puerto Limon, you're technically from Limon, Limon, Limon, Costa Rica.
So to answer the question, should I visit Limon, Costa Rica, you would need to know precisely what that means. Which town are you visiting in Limon? We started in Puerto Limon because we took a cruise. So that is an easy way to get to this region in Costa Rica.
Also See: Top Tips for Exploring the Panama Canal on a Cruise
This is a hugely significant city in Costa Rica because it is the most important port and biggest city in the country. This port is located on the eastern coast of Costa Rica on the Caribbean side of Costa Rica. It is easily accessible by cruise ship, making it an ideal place and a prominent port for the country.
It has an exciting history dating back to 1502, when Christopher Columbus landed at this port while exploring the New World. The port, however, was founded much later, in 1870.
The port provided grain and bananas to the rest of the world. As a result, we could tour a banana plantation on our trip. Nowadays, this city is more famous for its cashews and chocolate, an up-and-coming crop in Limon.
There is an international airport in Puerto Limon. We drove by it, and it is tiny. The only airline that flies into the city of Limon is Sansa. Therefore, you will have to fly into San Jose, the capital of Costa Rica, then take a Sansa flight to Limon. However, if you drive, the trip will take about 2.5 hours to get to Puerto Limon from San Jose.
However, the trip by car takes you right by many beautiful landmarks and exotic wildlife, such as the Brava Volcano and the Brauilo Carrillo National Park. Therefore, it would be well worth it to take a flight that arrives in the morning, or you can stay in San Juan overnight to see the sights on the way to Limon.

Highly recommended Puerto Limon Book now
What Town Do I Stay In, Limon?
I might spend a day or two in Puerto Limon, but it would not be where I would stay for my whole vacation. However, there are many beautiful areas in Limon to stay near. National Parks offer beautiful beaches and jungle habitats stocked with local animals.
The city was also hit by an earthquake that brought hardship to the region. This has given the buildings a bit of a rundown look, although many say this has only increased the city's charm. One cool thing to see is the coral in Limon was literally pushed out of the sea and can now be seen above the waterline. Unfortunately, however, that also means the coral reefs sustained much damage.
This region is also famous for surfing and white sand beaches. Playa Bonita beach is nearby. This is a coast famous for its exceptional surfing opportunities and cashew wine.
When we return, I will stay as close to Cahuita Park as I can. The City of Cahuita is charming and offers acceptable accommodations near the park and beach. Cahuita has a bit of a bohemian party atmosphere, but there are plenty of families there too.

Book Your Cahuita Park Ticket Below
We took a tour that we booked through Trip Advisor. Full-Day Tour to Cahuita National Park from Puerto Limon offered 5 of the best places that I felt were of value for our trip to Central America. In addition, I was interested in seeing a lot of wildlife.
There was one spot I would have liked to have stopped that was not on our list: The Sloth Sanctuary. If you have the time, make the trip to see this excellent spot.

Highly recommended things to do in Costa Rica Book now
Hill Overlooking Puerto Limon
I know this does not sound like much, but you will get a beautiful view of the city here. This will be the first stop on tour. I also included a photo I took from and of our ship. The mountains are impressive in Costa Rica.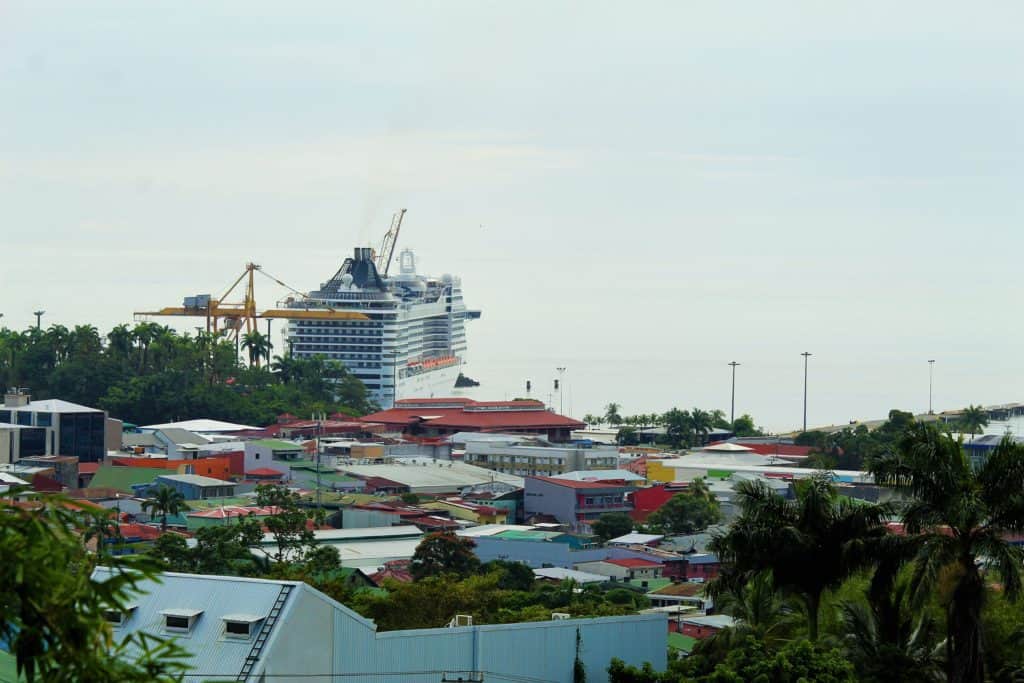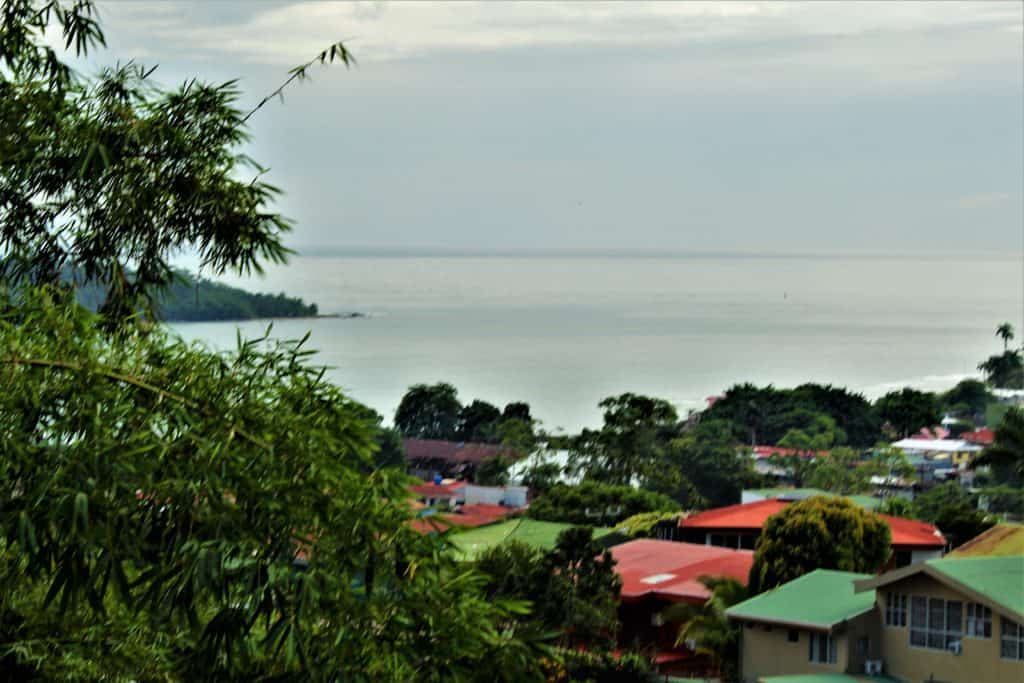 View from the top of Puerto Limon over the bay.
Sloths are everywhere in Costa Rica, but it takes a trained eye to find them. Two-toed sloths are entirely nocturnal. Although three-toed sloths are both diurnal and nocturnal, they're primarily inactive during the day.
Sloths don't do all that much on the whole, but what they do, they do at night. They move incredibly slowly, so even when they move. It is so slow you may not notice. However, you can see these incredible animals up close at the Sloth Sanctuary. It is the perfect place to learn everything "Sloth" on your trip!
The Tortuguero Canal National Park is the third most visited park in Costa Rica and offers a boat tour. The park has a large variety of biological diversity due to its existence within the reserve of eleven different habitats. You will see a lot in this park, which is the best way to see the rain forest, mangrove forests, swamps, beaches, and lagoons.
Boats are waiting to take tourists out.
We hopped in a boat and headed down the Tortuguero canals to get to the wildlife. The local inhabitants around the park are only permitted to collect forest products to supplement their income and for domestic use. Fishing and tourism are major activities in their daily life. There is regulated guidance for visitors to access creeks, lakes, nature trails, and watch wildlife.
Homes of local people who live on the canals
You will see Sloths, Crocodiles, Birds, and Iguanas in the canals. We could hear the monkeys but never saw them on the canals. However, we did see the monkeys and sloths from the side of the road on our way there. Watch our video showing our canal tour through the jungle.
Frutería El Almendro – A Green Grocer
What was remarkable about it was that we could learn more about tropical plants and their fruits and watch them prepare the food in traditional ways. We were able to see the actual plants and trees that are native to Costa Rica. We also have samples of these delicious fruits at a rustic fruit stand before heading to Cahuita National Park. If you feel like shopping, you can also visit the souvenir shop.
Fruit Stand and Farm
Finca Comendador – A Banana Plantation
Bananas are a big part of the Costa Rican economy and a significant activity in Puerto Limon. Stop beside Chiquita's banana plantation to learn about cultivating, harvesting, and shipping the fruit. Unfortunately, the plant was closed the day we went, but our tour guide was knowledgeable and told us how the bananas were managed and harvested.
Banana Plantation
Cahuita National Park
Monkeys Cahuita National Park
This was my favorite stop. It was well worth the drive on our Puerto Limon Shore Excursion. The next time we go to Costa Rica, we want to stay here or someplace similar. There were plenty of mom-and-pop properties with villas for rent, dirt roads, palm trees, and the hippie lifestyle.
It was created in 1970 as a National Monument to preserve the coral reefs off the Caribbean coast. Later, the area was reformed as a national park where many families hang out on the sandy beaches.
Monkeys Cahuita National Park
Currently, it relies on donations and does not charge an admission fee. You will see a wide array of Costa Rican wildlife at the park, from raccoons, snakes, tropical birds, lizards, sloths, and white-faced monkeys. It is imperative that you do not feed the animals in the park and protect your food if you bring it. They are crafty and brazen in getting people's food, so honestly, it is better not to bring any in the park.
The monkeys and raccoons will try to take your stuff if you leave it to go in the water. You can see in the photo below that people are trying to hide their stuff from the raccoons, who have no problem coming up to you and taking your things right in front of you.
Raccoons Cahuita National Park
There are wheelchair-accessible paths at the beginning of the park, so you can make it in to get to the beaches.
Walking Paths Cahuita National Park
The beach is one of the least developed ones in the country, but there are plenty of things to see.
Cahuita National Park Beaches
It's a nesting ground for sea turtles, and you can go scuba-diving or snorkeling. Eels, sea cucumbers, manta rays, three species of sharks, and sea urchins call the coralline reef home. There are at least 35 species of coral, 123 species of fish, and many mollusks and crustaceans. Green Turtles can be seen poking their heads up from the surf. It is the perfect spot for nature lovers and animal lovers!
Mas X Menos
We headed back to the City of Puerto Limon, and our guide took us to Mas X Menos. This is their Walmart. They had Walmart brands even. Chocolate is an up-and-coming crop in Costa Rica and is expensive for tourists. So she suggested we get our chocolate here.
On the drive back, our guide had fresh cacao plants for us to touch and feel. She explained the crop and how Costa Rica is trying to take their place in the chocolate market. Once we arrived back in Puerto Limon, she took us to this store since it has the best prices for local chocolate.
You will want to buy more than I did. It had a tangy fruit filling. It was delicious.
Once we left the tour, we were dropped off back at the city of Puerto Limón so we could walk around and see the rest of Costa Rica and the shops. Before we left, the tour guide gave us a coupon for a free cup of coffee. So we grabbed our coffee at G & E Chocolate Adventure Company and tried the new cacao lotions and oil they had for sale.
I spoke with the owner, and he has huge plans for his storefront. He took us upstairs and offered to show us around and explain his plans for a gathering spot with a library, local art, bar, and seating. It is one of the main attractions at the port.
While you are there, you will also be able to take tours and learn all about the processing of cacao beans.
The Port Shopping
After visiting the cacao shop, we returned to the port, where there is a flea market type of venue for shopping and beauty services. You can get anything from massages to pedicures with goldfish that will feast on your dead skin. Not my cup of tea.
You will also be able to shop right in the port. You will find the usual trinkets, T-shirts, and jewelry. At this port, though, they offer massages and pedicures. If you are taking a cruise, it can be a significant discount on getting your nails done or getting a massage on the ship.
All in all, the region of Limon has many national treasures for you to visit. From beautiful beaches, national parks, and tons of native animals, you will get the whole Costa Rican experience in Limon.