Last month we were invited to Hammock Dunes Club, located in the small but growing Florida coastal town of Palm Coast. Palm Coast is located just south of Saint Augustine and north of Daytona Beach on the east coast of Florida. Hammock Club is a member-owned, world-class, private golf and country club. It is located directly on the beautiful beaches of Flagler County bringing you a unique world-class property and facility.
This is a sponsored post. All opinions are 100% my own.
We arrived in Palm Coast and we were asked to start our tour at The Creek Clubhouse. We pulled up to the gates, which were obscurely designed for privacy. As we entered the gates, we took a winding road through a heavily wooded area. As we came to the end of the road The Creek Clubhouse revealed itself. Surrounded by native plants and landscape, you feel that you are witnessing something quite special.
Two Clubhouses
There are two different clubhouses for the members to enjoy at Hammock Dunes Club.
The Creek Course Clubhouse and dining facility is located on the mainland and has a more informal feel. The atmosphere of the dining room is reminiscent of old Florida. With rocking chairs on the porch, you can view the wildlife that lives in this very special and protected area. Since there are no homes in the area, the landscape is a pristine conservation area that will never be compromised from development.
The main Clubhouse, located at the Links golf course, is a 40,000 square foot, elegant oceanfront facility. It is located in the gated residential community of Hammock Dunes. As a member of Hammock Dunes Club, you will have the benefit of 2.5 miles of oceanfront property, world-class golf and dining as well as many other amenities. After a $7 million dollar renovation that took almost three years to complete, the clubhouse now offers a state of the art fitness center, splash pad and playground as well as the renovated tavern, bar and dining room.
The Dining at Hammock Dunes Club
The dining is one of the ways that Hammock Dunes differentiates itself from the typical country club dining experience. You have several options to choose from on varying days of the week. The one thing that stood out, it is all about the members, no matter which dining experience you choose.
When available, local ingredients are sourced for the members and it is always fresh. There is great attention to detail and special requests are welcomed for the members. As we entered the Creek Dining Room, we were greeted at the door and everyone knew our name.
The menus at both clubs are changed often to keep things fresh and different for the members. I repeatedly heard from the members they ALWAYS get the specials. Why? Because they are always amazing, fresh and creative! You will often find members in the kitchen asking for special requests or checking out what is new that week on the menu.
The Creek Dining Experience
We were seated at our table and the server went over the specials. To start we wanted to try the seasonal soups. For dinner, we opted for the filet mignon and Corvina, the fresh fish for the evening. I will venture to say the Filet was a prime cut, cooked perfectly rare, as requested. The Corvina was "bronzed" (lightly blackened) served with a lemon butter sauce. When I heard they had a dedicated pastry chef, I was not leaving without having dessert. Pumpkin Creme Brulee was the seasonal special so I had to try it!
The Oceanfront Clubhouse Dining Experience
The Hammock Dunes Oceanfront Dining Room is a more elegant and formal dining experience. Although they were not open the evening that we were there, the members we spoke to raved about the quality and uniqueness of the food served here. Hammock Dunes is certainly for the Food Adventurer!
The Dunes Tavern
During our tour of the facilities, we were scheduled to have lunch with a couple who were Membership Ambassadors. The Dunes Tavern has the feel of an English Tavern with an extensive menu of handcrafted pizzas, sandwiches, burgers and salads. I ordered one of the burgers and I can tell you I was really impressed. We also tried the Texan Prime Rib sandwich which was wonderful as well.
All of the dining rooms in the main clubhouse have an ocean view. In addition, the club will also serve food and drinks poolside or on their oceanfront terrace! While you are at the club you will feel like you are at an exclusive resort on vacation!
The Golf at Hammock Dunes Club
Rees Jones' Creek Course and Tom Fazio's Oceanfront Links Course are the two championship golf courses you will have access to as a member of Hammock Dunes. You will have two completely different courses to choose from as a golf member. Both Hammock Dunes courses are also Audubon-Certified, reflecting the Club's commitment to the environment.
As a private, oceanfront country club that is focused on golf, the members have access to outstanding practice facilities, which are present on both courses. They feature large driving ranges and short game chipping greens with sand traps.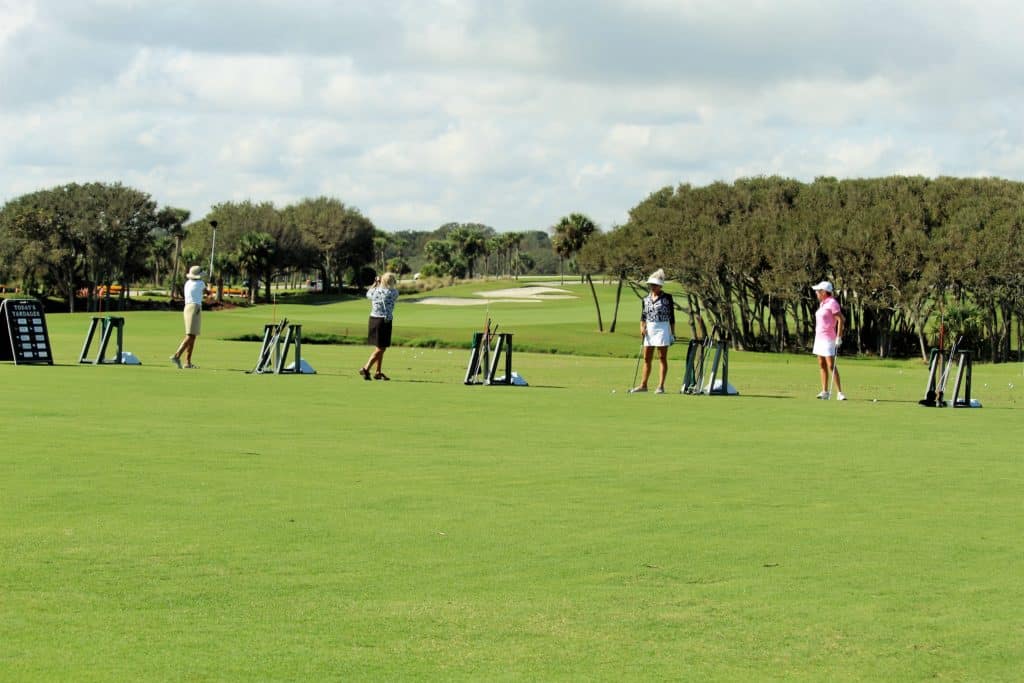 There is also a pro shop for members to stay in style while on the course or make reservations for their next game. All of the golf professionals at Hammock Dunes are class A certified by PGA of America.
The Hammock Dunes Creek Course
As you make your way through the 690 acre Creek Course, you will know there is something special about this course. Originally a tree farm, lined with a natural Florida landscape, you will encounter Florida wildlife, such as wild turkeys, boar and native birds, while on The Creek Course. I loved the marsh and pinelands as we traveled through this beautiful course to take in the sites. No homes will ever be built or developed on the land to preserve its unique character.
This is a challenging course that will test your abilities as a golfer! Designed by Rees Jones, The Creek Course offers 7 tees, ranging from the Reds at 4585 yards to the Blacks at 7351 yards. There are multiple sand traps and you will most likely find yourself in several of those traps. Many of The Creek's greens are elevated and very challenging. On our tour, it was noted the lengths a golfer would have to go through to make it to the next tee, helping to keep things interesting. There is a putting facility located at the Creek Course to assist golfers with their game.
The Hammocks Dunes Oceanfront Links Course
The Links Course was designed by Tom Fazio and is located in the residential area of Hammock Dunes Country Club. It is challenging as well, but it is designed for any level golfer to enjoy. Imagine playing on a course with ocean views and breezes. No wonder it was rated #9 in the state of Florida! It was also recently renovated in 2016. You will finish the course at the 18th hole overlooking the Atlantic ocean, which is what makes Hammock Dunes Country Club special. You will also land right at the clubhouse where you can head to The Dunes Tavern for lunch or a cocktail!
Fitness and Resort Style Pool
As I mentioned previously, they recently renovated and expanded Hammock Dunes to include a 5500 square foot state of the art fitness facility, enriching the lives of the members with a health and wellness program. The club wanted to make sure Health and Wellness were a part of the Hammock Dunes membership program. From stretching equipment, weights and treadmills you will be able to stay fit here with state of the art equipment. There is also a massage room for members to take advantage of.
With the new fitness facility, they hired, local fitness guru, Walter Sam, a local celebrity! A retired drill sergeant, Walter keeps the members laughing while they get their fitness on. The star of the club, you can often hear Walter, before you ever see Walter. As we made our way to the pool you could hear the music. We found him yelling out directives for the members taking his Aquatics Aerobics class the morning we visited the club.
It was all smiles as Walter kept everyone moving and grooving in the pool! As we spoke to members along our tour, everyone asked if we were taking the aquatics class. It is a club favorite! As the Fitness and Aquatics Director, you can schedule private sessions with Walter for personal training, by appointment.
In addition to the fantastic fitness activities, members can spend the day by the new resort-style pool with full food service from the Tavern, for lunch, snacks and even cocktails. The Hammock Dunes Club wants you to feel like you are on vacation whenever you are there!
Private Beach
Just a few steps away you will find 250 feet of private beach for members to enjoy the pristine waters off the East Coast of Florida!
Flagler's beach is pristine with crushed coquina sand beach and the third-largest surfing waves in Florida. Kick back and relax with your toes in the sand, comb the beaches for seashells, or keep an eye out for exotic wildlife including dolphins, manatees and whales.
If you are a beachcomber like me, enjoy surf fishing, catch a wave, or try your hand at paddleboarding. Whatever your choice of outdoor activities, you're sure to be blessed with amazing weather, great company, and beautiful views at Hammock Dunes.
Pickleball and Tennis
Hammock Dunes Club prides itself on being the best place to play Pickleball. We did not know a whole lot about the game when we arrived at the Pickleball courts. We are tennis players, but after hanging out with the Pickleball lovers at the club we are looking to take some lessons. This game is fun and fast but much easier on those 50 plus year-old joints!
The club just added four new Pickleball courts that are state of the art. They explained that there is special padding that goes into the courts to make them more comfortable for folks to play on. For the tennis lover, there are five Har-Tru tennis courts with a viewing pavilion.
Hammock Dunes Club is offering Weekly Clinics, Round Robins and a Full Racquet Sports Program. Tennis and Pickleball lessons are available by appointment.
We visited the Pickleball area and there were several people there playing who offered to give us a demonstration. We were still a little confused about the scoring, but the game looks like it will be a lot easier on our joints and not quite as vigorous as tennis. I am definitely going to be looking into lessons when we return home!
Croquet
Offering one of the largest Croquet Clubs in Florida, you will be able to play with a nationally recognized group, at Hammock Dunes Club. The best part is the three Croquet lawns Hammock Dunes has to offer are right along the ocean. You will be able to play with oceanfront views and enjoy the ocean breezes!
Many of the members compete nationally but do not let that intimidate you! There is instruction available for those interested in learning as well. Hammock Dunes Club is especially unique to offer the sport of croquet, with either competitive American or golf croquet. There is something for everyone!
So Much More!
At Hammock Dunes they really offer much more than the typical Country Club. The members are very tight nit so they also have plenty to do socially. Often during the evenings, you will find members playing cards or other fun games here, after dinner in the dining room.
There is also a library for the members to enjoy and check out books or just read quietly at the club. The club offers members a board room with a conference table and services as well for meetings and work-related activities.
Awards and Accolades
Creek and Links Courses ranked in the top 100 of GOLFWEEK Magazine's 2019 list of the Top Residential Golf Courses.
One of only four Private Clubs with TWO Courses Ranked.
The only Oceanfront Private Club on the List of Top Residential Golf Courses Creek Course ranked #2 and Links Course ranked #15 on the list of the 50 Toughest Golf Courses by the Jacksonville Business Journal, 2014, 2015, 2016, 2017, 2018, 2019.
Distinguished Emerald Club of the World Award from Boardroom Magazine, 2013 – 2019
#1 Reader's Choice for Private Club in Central Florida by Orlando Style Magazine, 2015.
USCA Croquet Club of the Year, 2011, 2014. USCA Senior Player of the Year, 2011
Membership Offerings
Regular Membership
Regular Membership – Full/Sports
Non-transferable, non-refundable, with two votes on matters affecting the Club
Restricted to the Full/Sports dues category
Regular Membership – Social
Non-transferable, non-refundable, with two votes on matters affecting the Club
Restricted to the Social dues category
Corporate Membership
Access to Hammock Dunes Club facilities, services and privileges consistent with dues category chosen
Unlimited dining, social, recreational and entertainment opportunities
Available to operating legal entities only (corporations, trusts, LLCs, partnerships)
Membership includes one to five dues-paying designees per year.
Each designee must be an employee, officer, trustee, etc. of the entity.
Each designee will pay applicable annual dues. In the category of their choice. Young Executive dues discount applies up to age 50.
Membership privileges may be transferred to other qualifying designees one time per year.
National and International Memberships
The National Membership is designed for those who want to enjoy all that Hammock Dunes Club has to offer, but aren't quite ready to purchase a home in the area.
National Members enjoy all the privileges of membership whenever they're visiting the area, including access to both the Tom Fazio Links Course and the Rees Jones Creek Course. Whenever you're ready to get away to sunny Palm Coast, Florida, Hammock Dunes Club will be at the center of your fun and relaxation!
Green and Cart Fees at "Sports" membership and guest rates.
No annual Food and Beverage minimums.
Advance Tee times made through the Golf Shop.
National Members may not own property or have a long-term lease (over 10 days) closer than a 150-mile radius of the Club.
2 foursome limit per day.
Non-equity, non-refundable, non-transferable and non-voting.
The initiation fee may be credited toward the purchase of Non-Equity Membership.
If you are currently looking for a private country club membership, Hammock Dunes has been for me, an eye-opening experience. Having come from a hospitality background, Jack and I were very impressed with this club's amenities, food quality, attention to detail and sense of community. We have been to several clubs over the years and you will be hard-pressed to find one with so many wonderful amenities in one spot. When we arrived home, my husband told someone we visited the club and they knew someone who moved there just to be a member. I can see why.
You may contact Colleen Albrecht, Membership Sales Director or Kim Laxton, Membership Director at 386-445-0747 to schedule your own private tour of the club and its amenities! You can view the club's website here!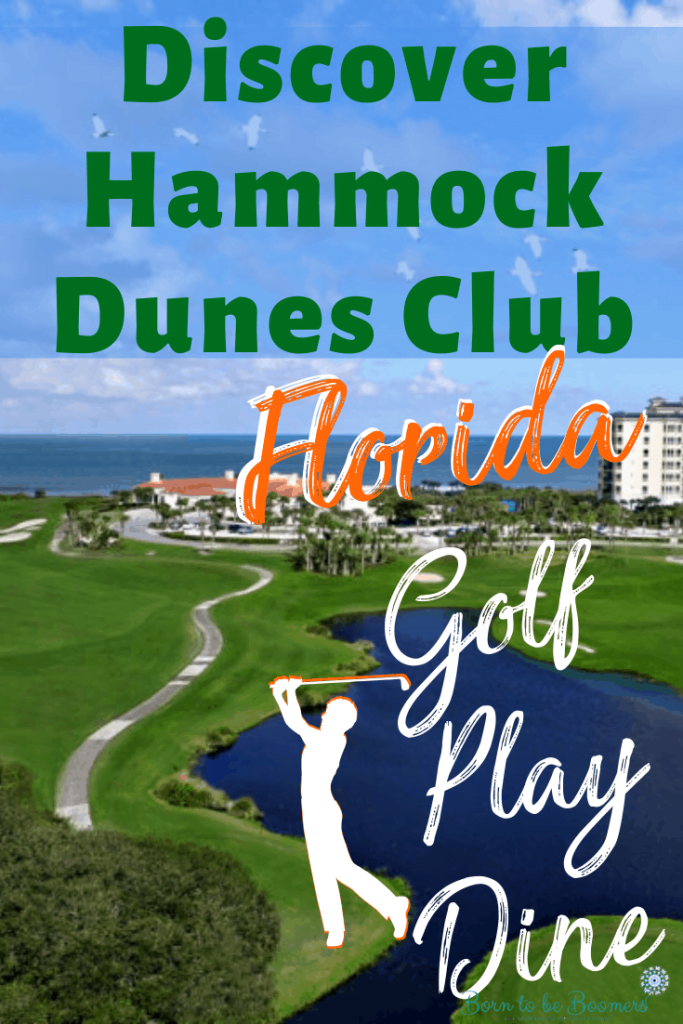 We would love for you to check out our other Retirement Articles!