Trying to Make Kale Work in Your Life?
This is my Organic Warm Roasted Carrot and Kale Salad which is a staple for fall meals in my home.
This perfect fall kale salad is always a hit for my guests and works for any holiday. For us, I like to make it in the fall for Sukkot or in the Spring for Passover.
It is a great accompaniment for any meat but especially good with Lamb! I also will make this kale salad when I am craving a nice soup but need more than that and bread is not going to cut it. It is hearty and filling!
Layers of Flavor
You will find many layers of flavor in this salad and I am a flavor junkie! When people eat it they are surprised by the many flavors that complement each other and will literally say that. That is when I know I have done my job. You will not get the usual "great salad" or "thanks for the salad".
The layers….. lime, cilantro, cinnamon, pears or apples and sweet roasted carrots. While eating it people will discuss the individual flavors they find and comment on how they would have never thought of it and then ask for seconds!
You will need pickled onions which are almost always in my kitchen. The best part is it does not take long for the lime to do its work on the onion so you can prep right before making the salad.
How to make the pickled onions:
Slice a medium red onion thinly and place in stainless or glass bowl.
Zest a lime and set zest aside to sprinkle on the salad later as a garnish.
Juice the lime over the onions.
1 Tablespoon of Olive Oil (optional I use this if I am making a dressing from the lime juice)
Salt and Pepper to taste
Toss a couple of times and chill for 30 minutes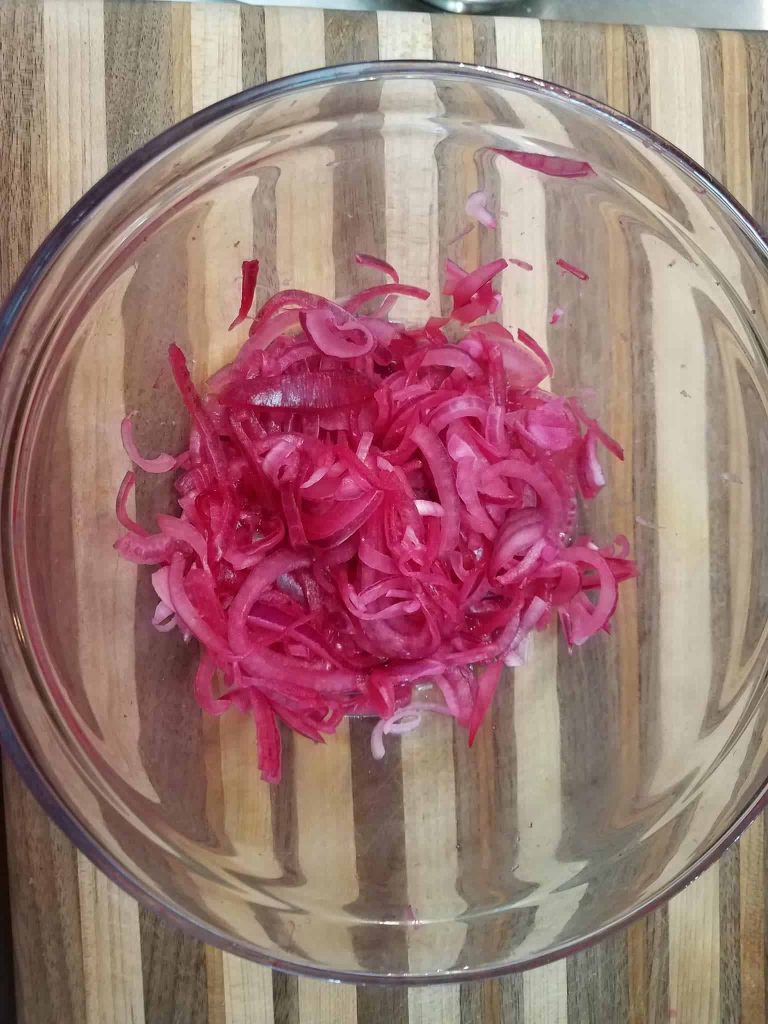 Warm Carrots and Kale Salad
1 large or 2 smaller bunches of regular Curly Kale or 3 bunches of the Tuscan or Lacinto Kale
4 large carrots sliced diagonally or on an angle
2 medium apples (I like Fuji) or 2 pears depending on the season
pickled onions with lime juice and lime zest
Grape tomatoes (optional)
Allspice, cinnamon, nutmeg to taste
Sea salt and Pepper to taste
Olive Oil
1/4 cup of cilantro
Turn on oven to bake @ 350 degrees. Wash all of your veggies and pat dry.
Slice carrots on the diagonal about a 1/4 of an inch thick or less and place in a bowl. Lightly drizzle olive oil over carrots and toss. I lightly coat carrots with allspice, cinnamon and nutmeg. Toss until all carrots are coated.
Place on cookie sheet and lightly dust with sea salt and pepper.
Place in oven for 20 minutes or until soft. They will shrink. Cook less if you like them firmer.
Prep Kale – chop or pull apart leaves after removing from the spine. Place in large salad bowl.
Chop Cilantro.
Peel apples or pears and chop into bite-size chunks and set aside.
Wrapping it Up!
Once the carrots are finished roasting add 1/2 picked onions with the lime juice to the salad. Drizzle the lime juice from the onions onto the kale. Then I lightly drizzle olive oil salt and pepper to taste over the salad and toss.
You can add your favorite dressing as well if the lime and oil combo is not enough for you. I found Brianna's Cilantro Lime dressing at my local Fresh Market that is fantastic over this salad which is one of the healthier bottled dressings I have found.
I toss the leaves with it after I toss the oil and lime juice. Yes, do it all!
Once the Kale is lightly coated add tomatoes, fruit, the remaining onions and then the warm carrots. I semi toss the toppings in so they do not go to the bottom of the salad but get some dressing on the toppings and you also get the warm spices on the kale.
Garnish with lime zest and Cilantro and serve. I promise this salad will be a huge hit!
Adjust as needed for your tastes!
I serve this salad with a side of soup or add freshly grilled steak, lamb or chicken after tossing.
Let me know how it turns out for you! Before you go check out my Chimichurri Mistake! It is delicious!