Often seniors will struggle with finding their purpose during retirement. Volunteering is a great way to give back to others and find fulfillment in your life once you leave your career. Here is our top volunteer list. But keep reading! There is more to know about volunteering in retirement than you think!
Habitat for Humanity
Humane Society and ASPCA
Veteran Organizations
Hospice and VNA
SCORE – Small business mentor
Libraries
Hospitals
Food Banks
Meals on Wheels
Red Cross
National Parks System
Tutoring
YMCA
Homeless Shelters
Retirement homes
Safe Space
Museums
Local Theaters
Peace Corps
United Way
Exchange Student Program
Volunteering is how many seniors choose to spend their time in retirement which helps you to stay healthy and active. You can use your skills obtained during your career and your life to benefit many organizations looking to fill roles within their organization and make a positive impact on your community.
What Are The Benefits of Volunteering?
Many people are asking if retiring early, or at all, is really the best thing for seniors. There are 6 stages in retirement. Often, many seniors will experience a sense of loss when they leave their job, In addition, the lack of direction or purpose for their lives can cause some seniors to suffer from cognitive decline, depression and loneliness.
Volunteering is a great way to combat those issues with retirement. You just need to decide what direction you want to take your focus during your second act.
How Can I Make The Most of My Volunteering Experience in Retirement
People work best when they are working within their own dreams and passions during retirement. Although we gave you an extensive list of volunteer opportunities do not let that list limit you in your search for the perfect spot.
As an example, you may be into crafting or art. Volunteering your talents and teaching a class at a retirement home may work but if you would rather work with kids talk to a local school and ask if you can come in and teach a class.
Do not forget about private schools too. Many private schools are open to having volunteers come in to help teach the kids a wide range of skills such as cooking, art and crafts, as well as tutoring.
Create a volunteer resume listing your skills and attributes.
Determine your level of involvement – do you want to do events once in a while or work a set amount of hours each week?
Be honest about your qualifications.
Set clear boundaries on your time before you call.
Ask other seniors what volunteer opportunities they like best.
There is nothing limiting you but your imagination. Don't necessarily assume that you should volunteer in the same capacity as you were working. Often volunteers can suffer from burnout if they get to close to their previous careers.
Determine What Type of Volunteering You Will Do
You may already be living life to the fullest and not want to dedicate a lot of your time to working for a local charity. Going into a volunteer situation with a vague plan will only frustrate you and your volunteer coordinator. You will want to determine your level of involvement before you call and make any commitments. Also, understanding how your skills will best suit the organization will be helpful in finding you a role.
There are 3 main categories of benevolence when considering volunteer roles.
Physical labor
Monetary, food or clothing donations
Knowledge or previous career experience
It is important that you determine what category you fall into when making your plans to help an organization. Making these determinations early may even help you decide which organization to put at the top of your list.
As an example, Habitat for Humanity offers volunteer opportunities in their retail store, ReStore, or you can work on one of the homes they are building alongside the new homeowner.
How Do I Find Volunteer Opportunities In My Area?
Once you have your volunteer resume with your skills and past experience, I recommend that you make a list of your top 5 organizations that you would like to serve. The best way to find retirement volunteer opportunities is to go to their website. Often, calling is your best way to learn more about what small local organizations and schools have an immediate need for.
Organizations like the United Way often work with smaller organizations that need assistance. They will list their volunteer opportunities on the United Way website so you can search in your area.
Here is a screenshot of the opportunities I found in my area. This is a great tool to find events and other volunteer opportunities that you may not have heard about.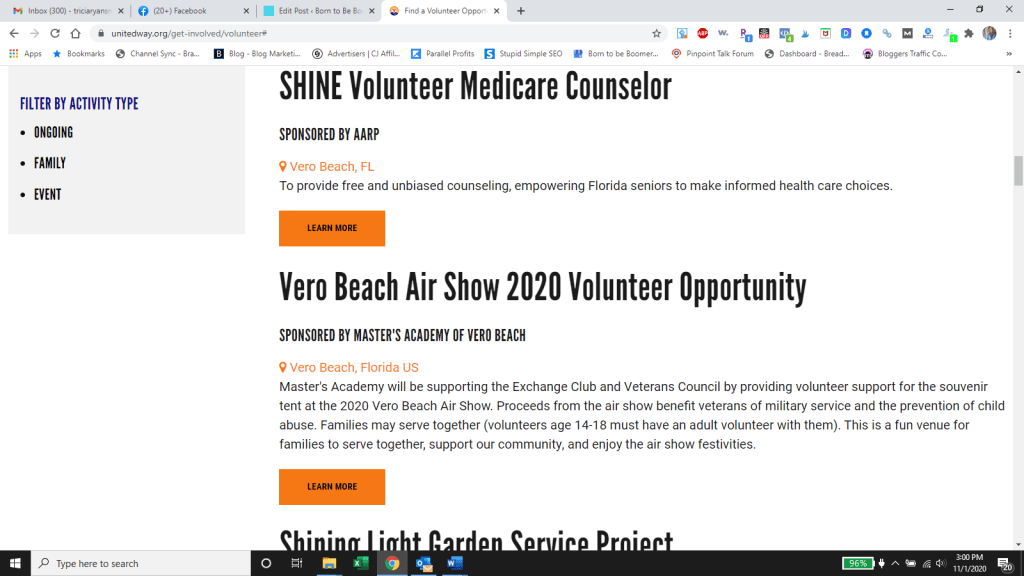 There are also organizations that specialize in helping match volunteers to organizations. Catchafire is the perfect place to start if you want to browse opportunities online.
Also, organizations that have websites often will list their opportunities and requirements online so you can look right from your home.
Sometimes Volunteering Is Not What You Think
It may not be all rainbows and unicorns when you sign on with an organization. Especially when it comes to dealing with hard-luck cases, budget concerns and lack of organization. You may have to deal with physical concerns, harsh weather conditions or complaints from people.
Often when a retiree wants to leave an organization they have feelings of guilt because there are issues which mean they need help. No one wants to feel like they are abandoning a sinking ship.
It is important to set boundaries upfront and make sure you have an exit strategy in place before you get started.
Start with short term opportunities that have an end date until you get to know how an organization is run.
Do not necessarily look for opportunities within your previous career path. If you were burned out when you retired you can feel that way again and resent volunteering there. Many opportunities do not require skills, they just need the body.
Be realistic. Often these organizations are short on staff and funds to get things accomplished. It is not your job to fix all of that. You are there to serve but not solve the world's problems.
Be honest about your feelings if you are struggling. It is okay to look for other ways to give back and find a different place to do so.
Volunteering is not the only way to find purpose during your retirement. It is important to remember there are other ways to feel fulfilled. May seniors are working a part-time job, going back to college, or helping their family members to find purpose. This is your retirement! Do what is right for the last leg of your journey.